As a knowledge entrepreneur, you know better than anyone that quality beats quantity when it comes to selling courses online. Courses that target a specific audience with well-structured, useful, and engaging content simply sell better.
Yet, they're not easy to create and not because instructors lack the knowledge and experience it takes to build them. In many cases, it's because they don't have access to the right data — including insights into what learners find engaging and useful. Course enrollment, sales, learner progress, or website performance data are also helpful.
All this valuable information is within easy reach if you use a learning management system (LMS) to build and sell courses online. The key lies in these systems' strong analytics capabilities. LMS analytics can provide you with a competitive edge and help you create the type of courses that sell, engage, and truly educate.
Why LMS analytics are key to a successful online course business
LMS analytics help you realize how effective your courses are. From sales reports to stats on learner progress, course completion status, or new enrollments, there are all sorts of aspects an LMS can track. Access to this information is the key to developing more successful courses in the future.
Here are the main reasons why the analytics LMSs provide are the foundation of a successful online course business.
At-a-glance information about learners and sales
In the LMS analytics dashboard, you can easily access course and learner information. All it takes is a few clicks in order to see:
How many new subscribers you've had over the past months;

How many courses you've sold in a specific period;

Which courses generated the highest sales;

Which courses had the highest completion rates;

How many customers abandoned their cart before making a purchase.
The best part is accessibility. These insights come in a user-friendly format such as pie charts or tables. Moreover, you can easily run and download related reports. There is no manual work involved. The platform automatically fetches data based on how people interact with your website and courses.
Data-driven decision-making
For knowledge entrepreneurs, continuous improvement is a must. The online environment is a competitive place for businesses. So, whether you sell photography, cooking, or personal development courses, chances are you're competing with hundreds of other experienced instructors. Therefore, you must always make an effort to stand out. And it's easier to achieve this if you know what your audience needs and fill that gap with quality content.
Studying your competitors and the general trends in your niche helps. However, it's also essential to learn from your own experience. And this is where analytics come in handy. You can use LMS reporting and analytics to understand the following:
What type of content your audience likes best;

What is the ideal course length and format;

The assessment methods your audience prefers;

The price range and discounts that can help you achieve steady sales.
All this information will help you know exactly what it is that your audience likes and dislikes about your courses. Then, you can make data-driven decisions.
For example, you can eliminate certain assessments learners usually skip, add more video content to your courses, offer more discounts, etc. Therefore, you'll be able to create more engaging courses that cater to your audience's needs and generate more sales.
Streamlined assessment
LMS data analytics are extremely important in order to review learners' performance easier and improve your assessment strategy. Ideally, you already have one by the time you start selling courses through an LMS. If not, don't worry, these platforms offer plenty of tools for evaluation such as quizzes, games, etc.
By analyzing your learners' results, you will be able to figure out how well they understand and engage with your courses. A high number of skipped or failed tests is a sign you need to change something in your evaluation process. You can do this by simplifying or shortening the assessment part. Moreover, you can also add gamification elements such as badges or points to boost motivation.
---
Read more: How to include gamification in your course design
---
After implementing the changes, continue tracking the evaluation process and measure the results. The aim is to achieve a high percentage of promoted courses. This proves you're doing a good job as people understand the essence of your courses and remember the key takeaways.
5
LMS analytics for course creators
Learning analytics LMSs offer are crucial for a successful online course business. These analytics show you how learners interact with your course, what type of content they prefer and what sort of materials don't appeal to them. More so, they also offer a quick overview of your sales and how well your website ranks on search engines, among others. Discover six of the most useful LMS data analytics you can rely on to boost your business.
1. Course enrollment analytics
Creating a subscription model for your website is always a good idea if you're a course entrepreneur. There are different ways to go about it. A free membership can be very useful for customer engagement and marketing purposes. Paid memberships increase your revenue and help you grow your business.
There is also the possibility to sell courses without necessarily creating a community of learners. No matter what option you choose, one thing is for sure — you need to constantly track the number of people who sign up on your site or buy your courses. This data allows you to focus on essential aspects that boost your number of learners and sales, such as more effective marketing strategies.
LMS analytics related to your courses and enrollments determine how well your online courses are doing.
For example, if the number of learners decreased over the past month, you can organize a webinar or offer a free e-book to bring them back. If sales are slow, start studying the market. What's happening there? Do you have a competitor who sells similar courses at lower prices? If yes, you might want to offer discounts or vouchers, especially to recurrent customers. All in all, subscriber and course enrollment stats are important because they tell you if your online course is doing well.
---
Read more: How to tell if your online course is doing well
---
2. Course completion analytics
Course completion analytics also help you understand how well your courses perform. Are they effective for learners or do they need improvement? Course completion rates analysis allows you to understand aspects such as:
The average time a person needs to complete a course or assessment;

How many learners fail to reach the end of a course;

Which courses have the highest completion rates;
Course completion analytics help you figure out the overall success of your courses.
In general, course completion stats are useful because they determine the overall success rate of your courses. Paired with the feedback you can automatically get from learners by running surveys in your LMS, this data allows you to significantly improve your course participation rates, performance, and sales.
3. User analytics
A number of user analytics are available for each new learner that joins your platform. User analytics allow you to see for how long a person has been active on the platform. What, when, and how many courses they've purchased or how many they've completed are other details you can instantly access from your LMS analytics dashboard.
Depending on your subscription/enrollment process, you might also be able to tap into additional information that can help you target your audience more efficiently. Some subscription forms are quite straightforward and only ask for a user name and email address. Yet, others are more complex and also ask for additional information such as the person's age, gender, location, etc.
User analytics help you understand who buys your courses so you can target specific buyer personas.
These details are essential for you to understand who buys your courses. They can help choose the topics and approach to use in your next courses. If your subscribers provide some demographic data while signing up, the LMS will help you run reports and access statistics based on this information.
Through these findings, you'll be better equipped for a successful online business course as you'll know exactly who your main audience is. Moreover, you'll also be able to divide your audience into sub-categories based on their location, for example, and build personalized courses accordingly.
---
Read more: How to define your learner persona and why that matters
---
4. E-commerce analytics
Even the most basic LMS allows you to get quick access to e-commerce data. These analytics include the sales you've generated, their source, and the correspondent amount. Many platforms offer revenue reports that help track and save important data on your earnings.
You can also apply filters to determine which period was the most profitable. Moreover, you are able to see if certain users have purchased more courses from you and check out how much each one has spent. Based on this information, you can offer discounts or vouchers to incentivize loyal customers.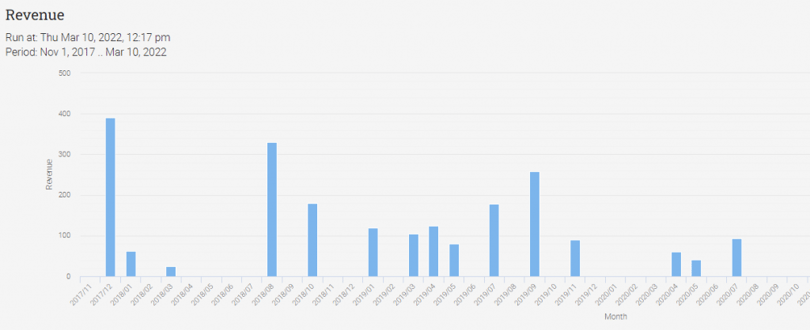 E-commerce analytics help you identify patterns and trends which you can later use to sell more courses.
Furthermore, e-commerce stats allow you to determine trends. For example, by knowing which courses sell more and which periods of the year are more profitable. Hence, you can concentrate your marketing efforts on those courses and on promoting your work when people are more likely to buy courses.
There are also different e-commerce hacks for generating higher sales you can later apply. But to achieve all these, you first need to find out where you stand, revenue-wise, and you can only do this with e-commerce LMS and reporting analytics.
---
Read more: 6 E-commerce hacks for getting higher sales on your online courses
---
5. Marketing and site analytics
These analytics help you understand how well your website performs in terms of visits and SEO strategy. At the same time, they offer a general overview of the content and users your LMS currently gathers.
Site analytics
Site statistics can include, among others, the following:
Total number of subscribers and/or learners;

Stats on courses and modules;

Active/inactive users;

Completed and archived courses;

Uploaded files;

Total number of assessment submissions.
If you use collaboration and communication LMS features such as groups you can also get stats on these. For example, you can see how many users joined a specific group or how many active users are in a group.
Collaboration groups help you build learning communities, which also enable you to segment your audience better.
Marketing analytics
Analyzing your sales is essential to be able to consolidate a robust marketing strategy. But it is not enough. To make the most of your online courses business, you also need to track your site's performance. For example, you can analyze how well your site works SEO-wise. This is essential if you want to make sure your courses make it to the top in online search results.
Luckily, LMSs offer plenty of tools and integrations that allow you to achieve this. From SEO ranking and conversions tracking, there are plenty of features you can leverage. Therefore, when you look for an LMS, make sure you get one that has built-in marketing features such as
SEO

Affiliate marketing

Email marketing

Social media integrations
Built-in marketing features provide a convenient way to market your online courses.
Additionally, there are plenty of integrations with tools such as Google Analytics that help you track your conversions and see how well your website performs on search engines.
Conclusion
LMS analytics is one of the most valuable LMS features you can rely on. By harnessing the power of LMS analytics, you can understand how well your courses sell and engage learners. You can use these insights to target your audience better, focus on sales growth, and improve your website's overall performance.