Elevate member training with CYPHER
CYPHER makes it easy to attract, retain, and engage association members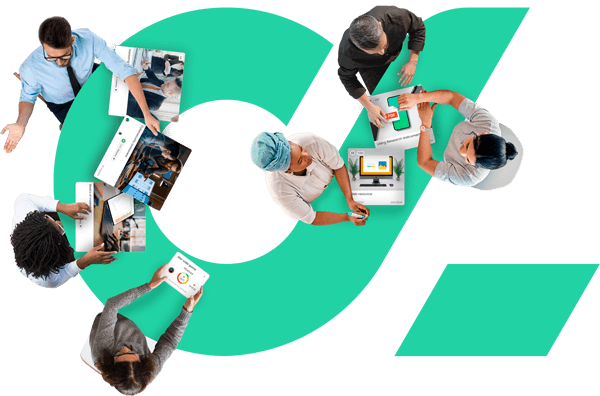 Optimize

offerings.

Attract

members.

Grow

your impact.

Associations play a crucial role in bringing industry members together to grow, network, and learn. But creating relevant and engaging content while growing your membership is no easy task.

Are you struggling to…
Create engaging, personalized learning experiences for your members, at scale
Increase your impact by creating, marketing, or selling engaging content
Scale training at the pace of your association's growth
Gain insights on business impact and training programs to optimize offerings and keep members engaged
Translate and localize courses in multiple languages to suit your global members
Develop, deliver, and sell training –
all on one platform
Only 14% of association leaders strongly agree that there is a wide variation in the quality of credentialing programs used by their members, according to ASAE Foundation research. Associations have the unique opportunity to vet and suggest resources to their members. By providing members with access to high-quality training, best practices and industry standards are upheld.
CYPHER is designed to foster global learning and collaboration. Vet and suggest courses. Group learners by goals to encourage collaboration. Set up mentorship programs to enhance retention. Provide certificates of completion. All on one platform.
Award-
winning

platform for training

CYPHER has received multiple awards for our innovative learning technology, including Forbes Advisor's "Best Overall Employee Training Software" and "Best LMS."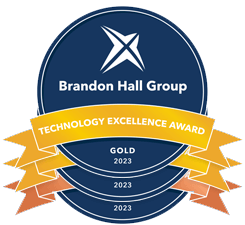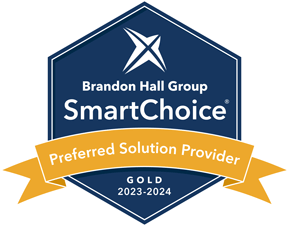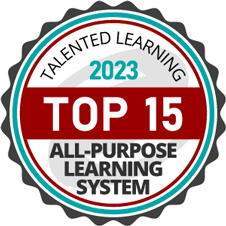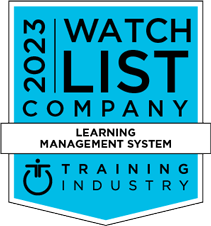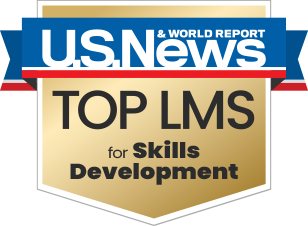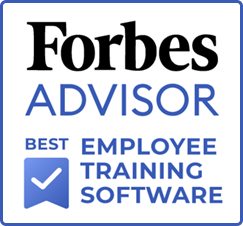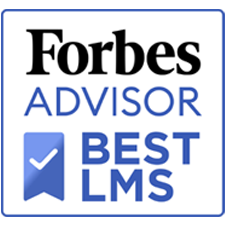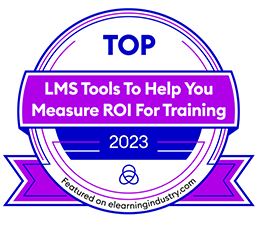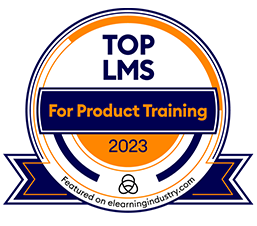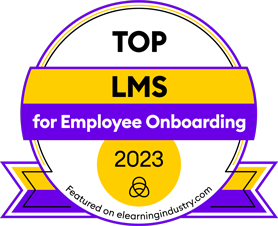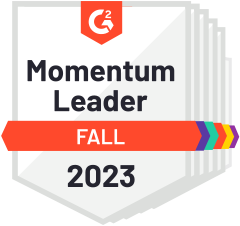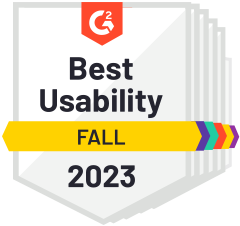 Supercharged

course creation for associations.

In minutes

.

AI 360 with Copilot on the CYPHER platform can supercharge the development of associations' courses and content – empowering you to deliver robust new, engaging, and inspiring courses for your learners fast. Imagine building competency-based, gamified, personalized content in just minutes!

This lets you:
Create highly personalized courses - using your own uploaded content from sources of your choosing - and launch it just in time!
Control your content quality, accuracy, and credibility
Ensure subject-matter proficiency for every learner, at scale
Traditional way vs.
CYPHER's approach
Association members who hold credentials are more likely to participate in more association events, be a leader in their field, be economically more successful, be retained as members, and comply with standard practices.

Creating a higher-quality and larger swath of course offerings doesn't just benefit your members, it also benefits your organization. In fact, the more difficult it is to retain a sponsored credential, the higher the perceived legitimacy of the association to be a voice for members to the government.

What if there was a way to cut the cost of course development and delivery while ensuring your members have access to high-quality courses from anywhere in the world? A way to develop, promote, and deliver training on the same platform?

The CYPHER platform unifies Learning Management System (LMS), Learning Experience Platform (LXP), and content development to streamline development and delivery, and give you more time to focus on growing your membership and your impact.
Traditional way
What you get with CYPHER
You must manually bridge the gap between content development and delivery by using multiple, expensive tools, and systems
Unified content development and delivery allows you to spend less time on course creation and more time growing your membership
No e-commerce options requires separate marketing initiatives and other tools to sell courses
Sell courses directly from the course catalog to easily raise money for your association. Create bundles, subscription plans, and more. Integrated with PayPal, Stripe, and other leading payment gateways
One-size-fits-all approach doesn't adapt to learners' progress
Personalized learning profiles, competency mapping to content, assessments, and reporting in minutes – helping to ensure learners can prove mastery of each subject before they are certified
Rigid, static content formats that leave learners bored and unengaged
Incorporation of new media and technologies, like gamification, to drive learner engagement and retention
Conventional reporting that provide basic and rudimentary data
Insightful analytics to track business impact and learner progress to improve your offerings
Time-consuming and manual course creation
Automation and AI-powered tools cut course creation to minutes - allowing you to scale learning at the pace of your association's growth
Manual and outdated assessments
Adaptive assessments tagged to specific knowledge help you understand what the learner knows or doesn't know
Minimal collaboration and connection
Human-centered connections and communities to facilitate discussion and knowledge sharing from anywhere in the world
A modern LMS to
expand

your association's offerings

See how CYPHER can help you deliver personalized courses and content, at scale.
Create personalized courses fast
INTERACTIVE TRAINING
With CYPHER, course creation is quick and simple. All it takes is a few clicks to set up instructor-led, self-paced, blended, or micro-learning courses that can be easily customized to the needs of your learners. Engaging and personalized learning leads to member retention, better adherence to best practices, and more courses purchased.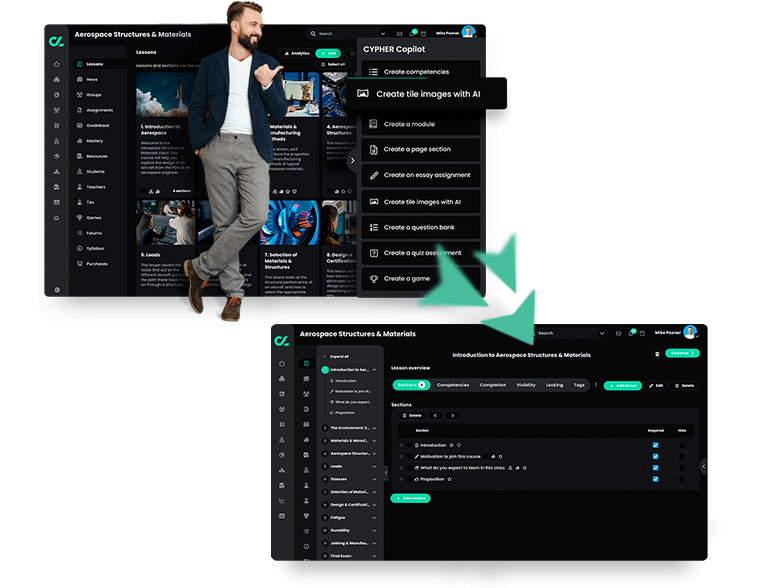 Easily encourage continual certification
CERTIFICATIONS
CYPHER's learning paths adapt to learners' journeys based on their demonstrated knowledge. Administrators can decide which courses are sequenced and in what order. As learners move along the path, CYPHER can automatically reward learners with certificates for their progress so they can demonstrate and market their knowledge.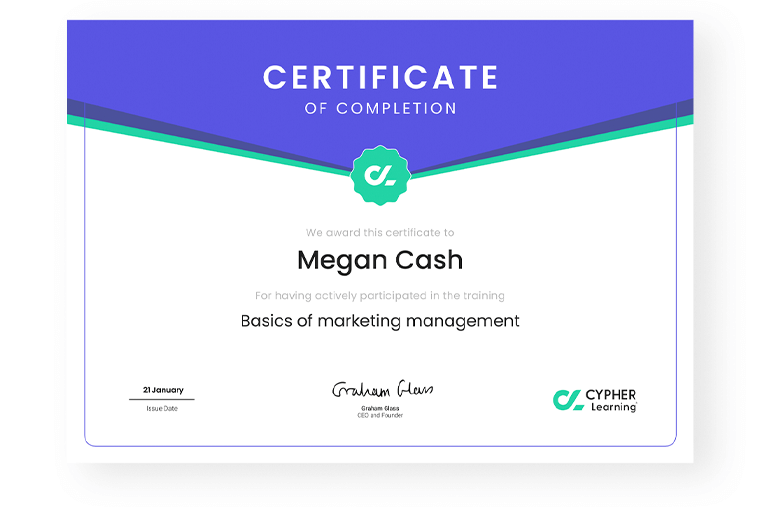 Combine the power of AI 360 with your unique content
UPLOADED CONTENT
Control content by uploading your own videos, PDFs, slide decks, and other resources to create customized courses that use your terminology, branding, and style to truly make your courses, yours. Rest assured, all of this is private.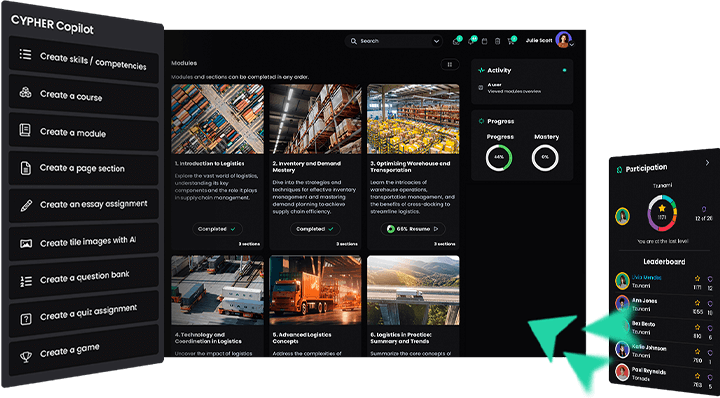 Sell online courses
E-COMMERCE TOOLS
The CYPHER platform offers all the e-commerce tools you need to easily market online courses to a larger audience. Sell learning paths, digital media content, bundles, and even subscriptions through our integrated course catalog to raise money for your association.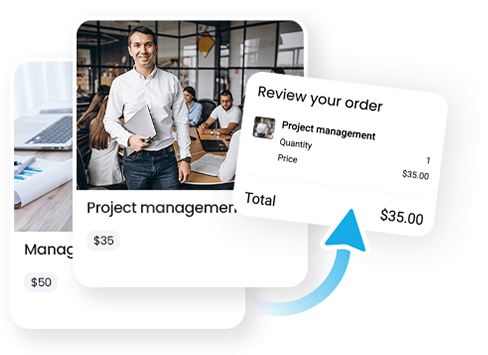 Develop assignments with ease
ASSIGNMENT TYPES
Choose from a broad portfolio of assignment types to target individual learning needs with interactive assignments. By creating quizzes that are both entertaining and informative, you can encourage better adoption of uniform best practices across your association.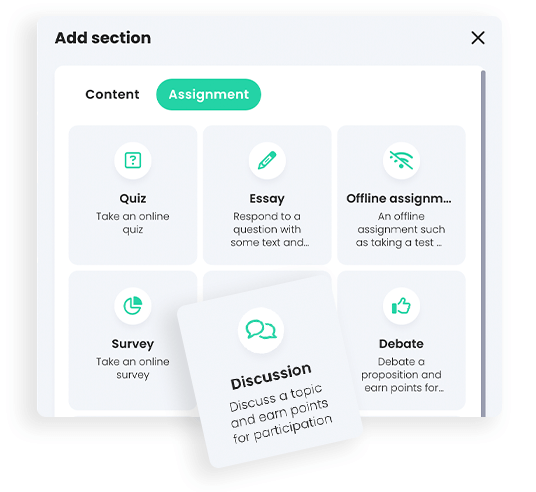 Measure and track progress
COMPETENCY-BASED LEARNING
Tailor courses to individual learners using 3,000+ pre-existing or AI-generated competencies to help them achieve mastery-level proficiency. Advanced analytics help you monitor learner progress and course effectiveness to continuously improve training programs.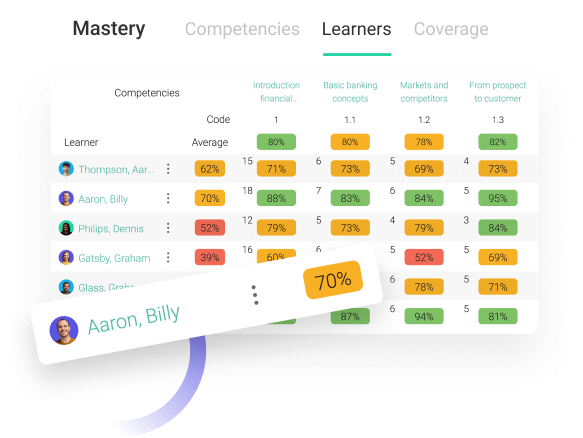 Create personalized learning paths
AUTOMATION & ADAPTIVE LEARNING
With automation rules, you can make training and learning paths more engaging for your learners. These rules trigger actions throughout the platform and ensure each learner sees personalized content based on their progress. No more aimless clicking through training!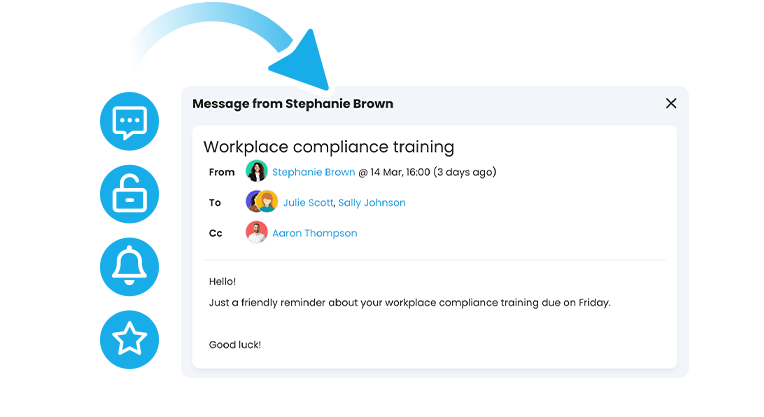 Make learning fun
GAMIFICATION
Get learners excited to learn by including gamified elements in your training courses. Learners are awarded points and badges each time they complete certain tasks. You can either upload existing badges or create them from scratch and watch member satisfaction, engagement, and retention soar.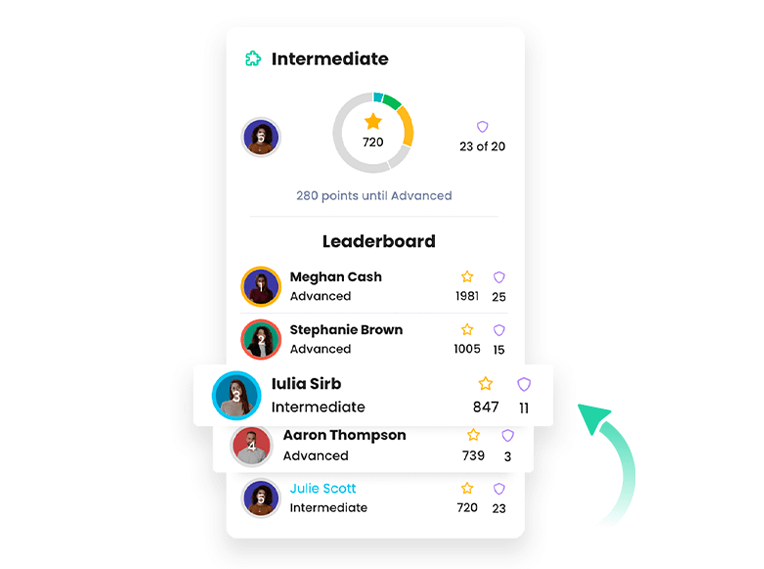 Customize your learning portal
BRANDING
No cookie-cutter or bland interface here! Showcase your association's branding by adding your logo, a custom color scheme, and related images to your CYPHER environment. A well-branded learning platform can enhance the credibility and trustworthiness of your association in the public eye.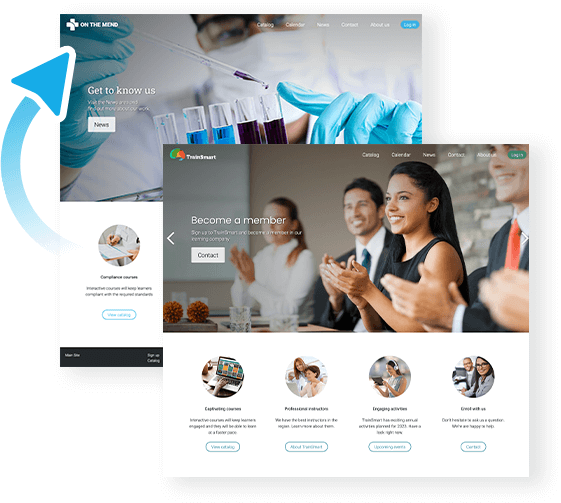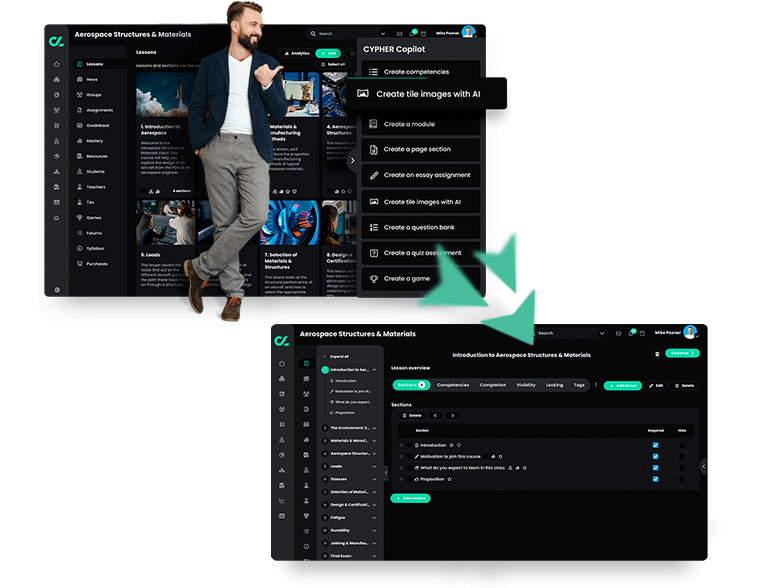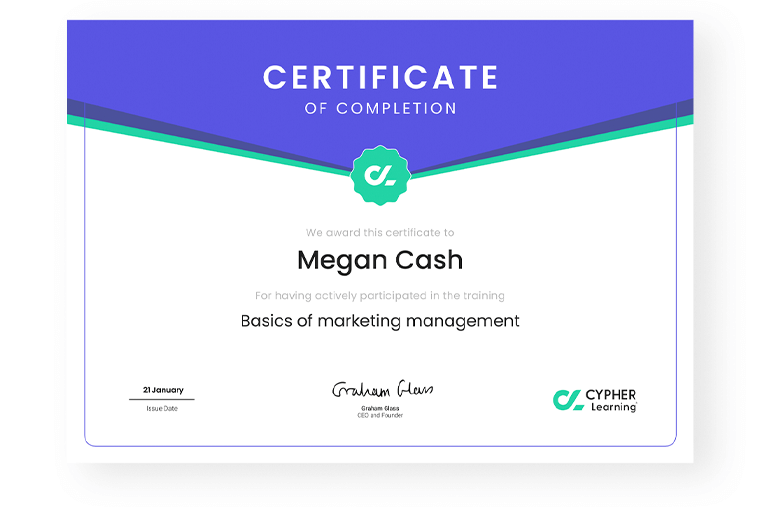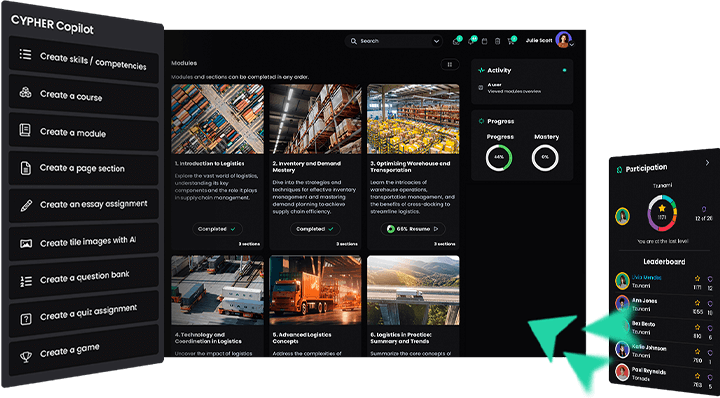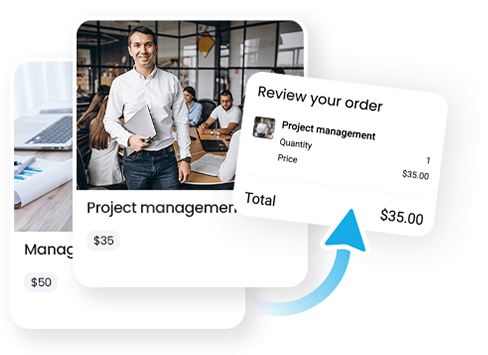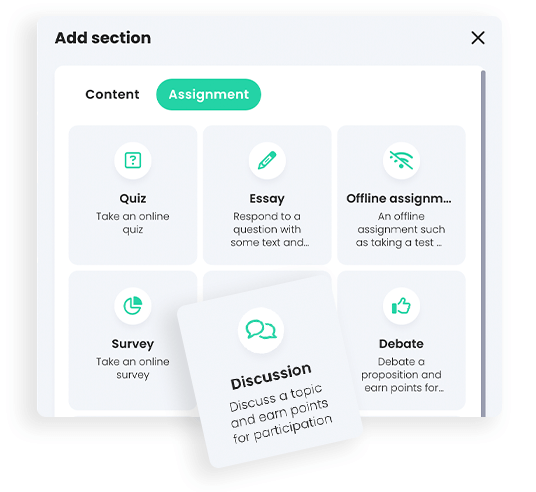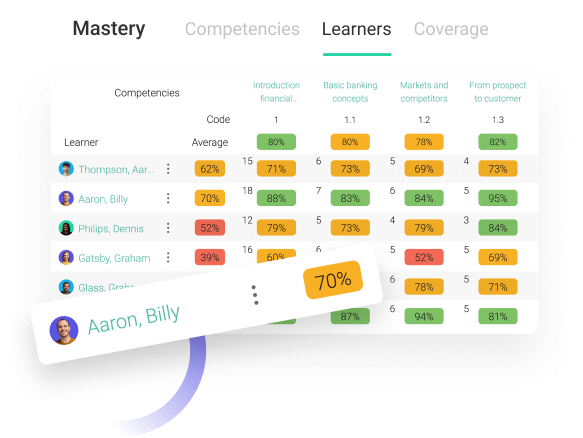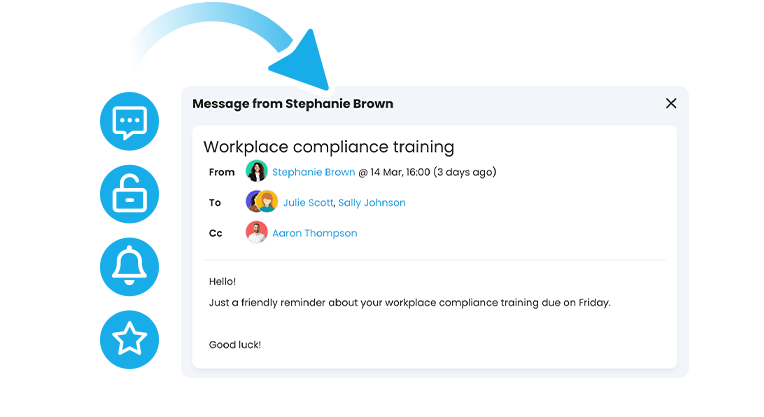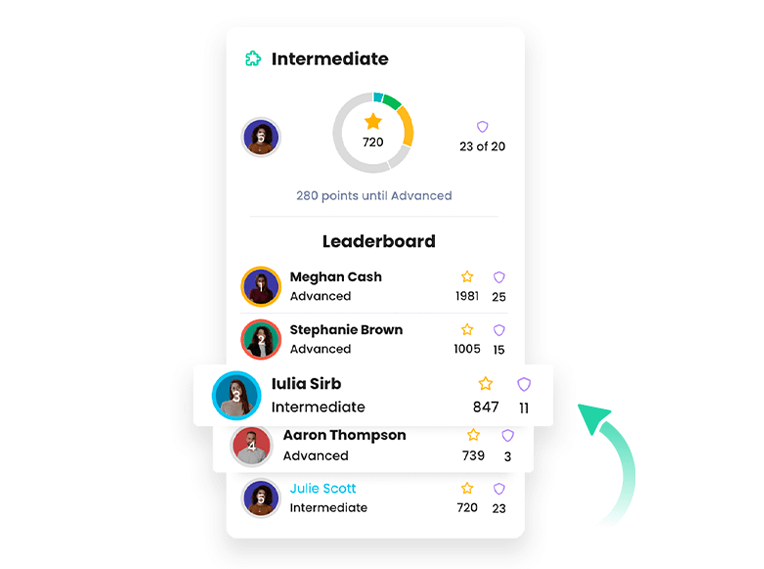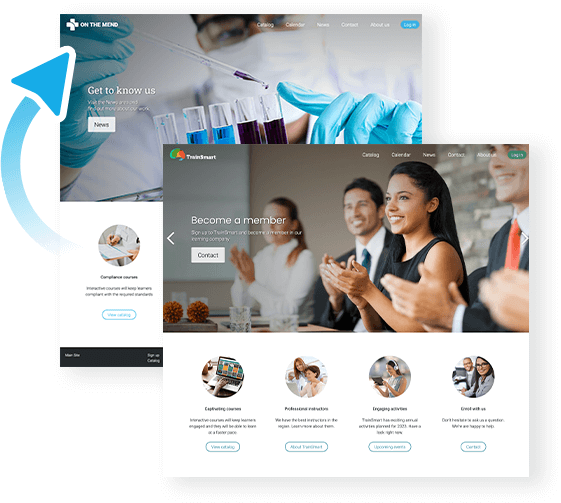 Did you know?
Around 37% of members join associations to continue their education, and 32% join to access specialized or current information.
2023 Membership marketing benchmarking report, Marketing General Incorporation
On average, 71% of an association's member base is composed of members over the age of 40.
2023 Membership marketing benchmarking report, Marketing General Incorporation
Only 6% of associations report offering virtual membership options.
Are you ready to see CYPHER Learning in action?