Turn your
knowledge

into

revenue

with CYPHER

So, you've spent years building and acquiring knowledge in one specific area, and you're ready to share your expertise with others. You know how many people could benefit from your content if you could just expose them to it. But with so much content widely available on the internet,
how do you make yours stand out?

Are you struggling to…
Effectively market and sell your content to a wider audience
Juggle a complicated course creation tech stack that strains time and resources
Translate training courses in multiple languages while maintaining meaning and localization
Create professional training courses at home, without having to outsource
Generate meaningful reports to track sales, customer learning, and growth and adapt courses based on findings
One

platform.

Countless

benefits for your business.

Fueled by the growing demand for accessible and specialized online education, the online course industry has grown to become a booming, $250+ billion industry. By 2030, the E-learning industry is expected to be just under $850 billion.

The vast number of LMSs and course catalog websites have decreased the barrier to entry for the industry, allowing more people to enter. However, that also means the competition is higher.

Make your courses stand out by offering tailored learning to all of your customers. With CYPHER's competency-based strategy, you help your learners better master goals, and suggest other courses for them to take, increasing customer satisfaction and boosting revenue at the same time.

As you track learner progress, you can see what works and what doesn't when it comes to your content, so you can continuously improve and stand out from the competition.
Award-
winning

platform for training

CYPHER has received multiple awards for our innovative learning technology, including Forbes Advisor's "Best Overall Employee Training Software" and "Best LMS."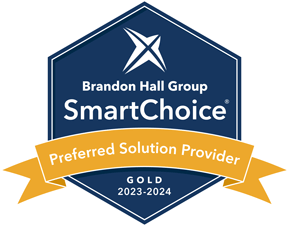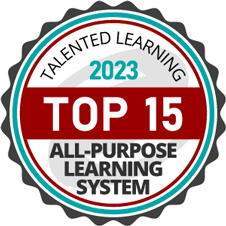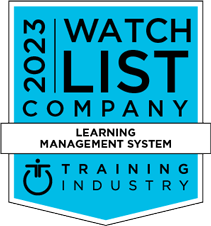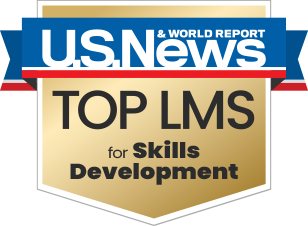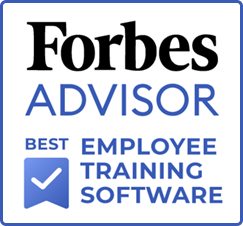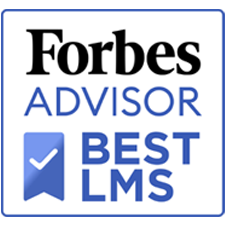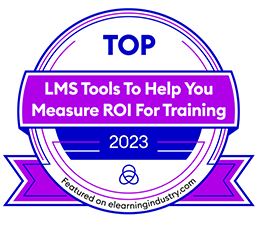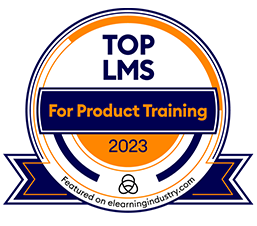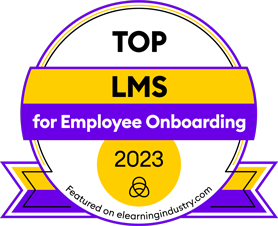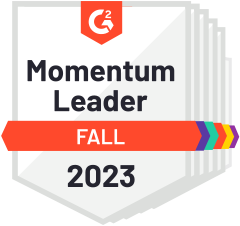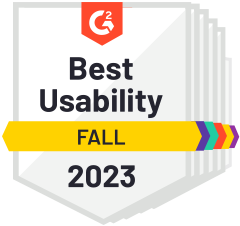 Supercharged

course creation. In

minutes

.

AI 360 with Copilot on the CYPHER platform can supercharge your offerings and deliver robust new courses fast. Build competency-based, gamified, personalized courses in just minutes. Imagine being able to create courses - using your own uploaded content - and launching them just in time! Imagine being able to control your content quality and credibility. Shorten time to delivery. Increase margins. Watch revenue skyrocket.
Traditional way vs.
CYPHER's approach
Traditional tools are outdated, cumbersome, and slow you down. Oftentimes, there's a steep learning curve involved, and you must buy subscriptions to multiple content creation tools to create courses that meet learning expectations.
CYPHER lets you work smarter, not harder. By fully integrating development and delivery on the same platform, you can throw out your other expensive subscriptions, and create courses without draining your time.
Traditional way
What you get with CYPHER
Time-consuming training that is difficult to update
AI-powered tools allow you to build personalized courses in just minutes, shortening time to market and increasing revenue
You must manually bridge the gap between content creation and delivery by using multiple, expensive platforms
Unified content development and delivery allows you to get courses up and running faster with less people, time, and money
No e-commerce options requires separate marketing initiatives and other tools to sell courses
Sell courses directly from the course catalog to easily cross-sell and upsell customers. Create bundles, subscription plans, and more. Integrated with PayPal, Stripe, and other leading payment gateways
Limited reporting and insights
Robust analytics and reporting tools empower you to make better decisions, track sales and ROI, and improve your course offerings
Generic training paths, one-size-fits-all approach regardless of role or skill level
Personalized learning profiles, competency mapping to content, assessments, and reporting in minutes, so you can differentiate from competition and keep customers happy
Rigid, static content formats
Incorporation of new media and technologies like gamification, videos, and AI voiceover to make courses engaging and fun
Limited or no integrations options, making for a disjointed and disconnected system
Thousands of enterprise-class integrations, allowing you to seamlessly combine the business tools that work for you with the CYPHER platform
Minimal collaboration and connection
Social learning in a community. Learners can connect through wikis, forums, chat, scrolling real-time widgets, and the Green Dot activity indicator
Your content, your way – ready, custom, or enhanced!
CYPHER offers easy and comprehensive content solutions, so you can uplevel and update your course offerings with less resources.
A
modern

LMS to help you grow your brand

See how CYPHER can help you deliver personalized courses and content, at scale.
Customize your learning portal
BRANDING
No cookie-cutter or bland interface here! Showcase your unique branding by adding your logo, a custom color scheme, and related images to your CYPHER environment. CYPHER also allows you to create separate portals for your different training needs.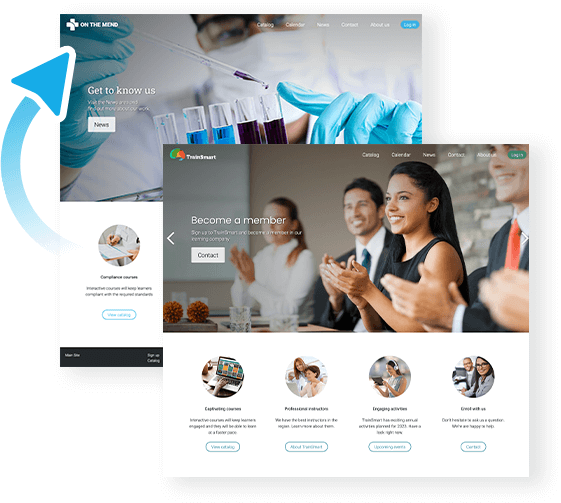 Market your courses
E-COMMERCE
CYPHER provides robust e-commerce options so you can better market your courses. The platform supports bundles, subscriptions, discounts, and popular payment gateways including PayPal, Stripe, and Authorize.net. Streamline the purchase process to encourage customers to buy more courses.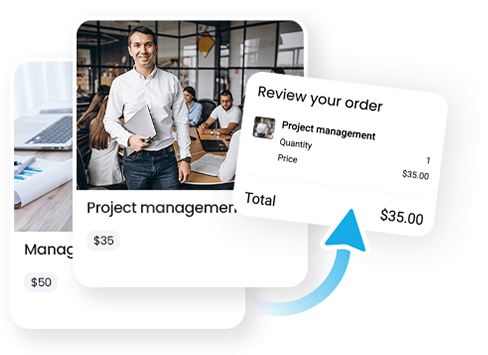 On-demand insights into performance
REPORTING
Robust reporting capabilities allow you to track sales directly from your dashboard, generate revenue reports, and make informed business decisions. Leverage data with built-in or custom reports on users, groups, and more. Identify where your courses are performing well and where they need to improve to ensure you're delivering the highest value to your customers and standing out from competitors.
Combine the power of AI 360 with your unique content
UPLOADED CONTENT
With options to have AI 360 pull exclusively or primarily from your uploaded content, you can quickly create courses tailored to your organization. Upload PDFs or videos and AI 360 with Copilot will take care of the rest. Create a full training course from the materials, complete with quizzes, gamification, competencies, and more. Rest assured, all of this is private.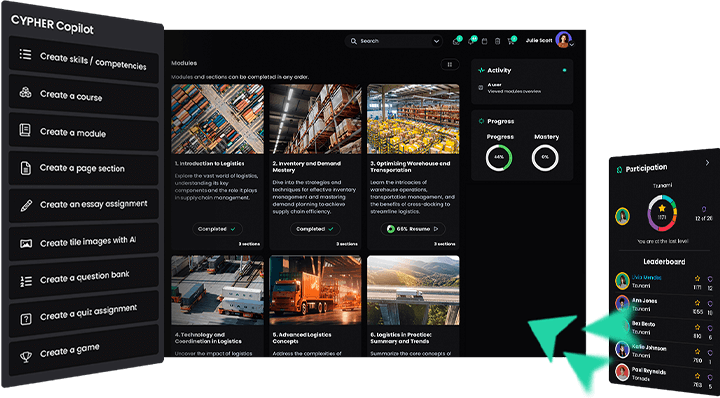 Create engaging courses fast
INTERACTIVE LEARNING
With CYPHER, course creation is quick and simple. All it takes is a few clicks to set up instructor-led, self-paced, blended, or micro-learning courses that can be easily customized to the needs of your learners. Engaging and personalized learning leads to increased renewals and bottom-line revenue.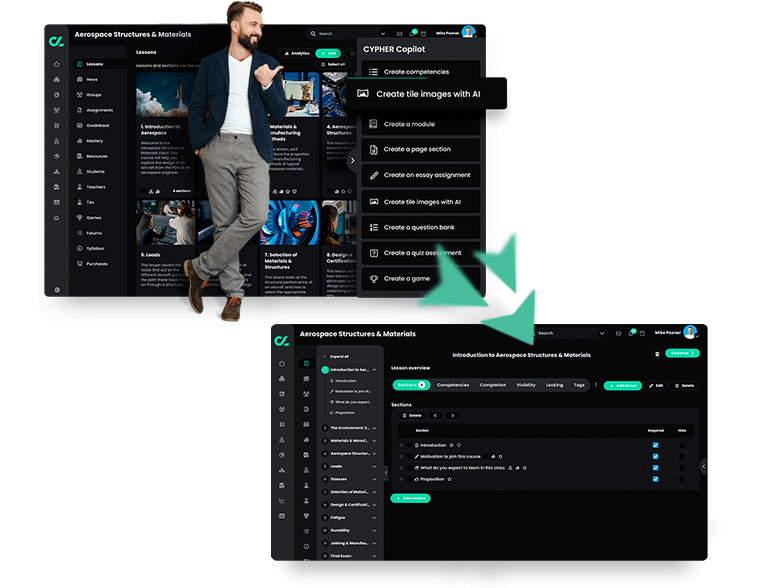 Provide personalized learning
COMPETENCY-BASED LEARNING
Tailor courses to individual learners using 3,000+ pre-existing or AI-generated competencies to help them achieve mastery-level proficiency. Advanced analytics help you monitor learner progress and course effectiveness to continuously improve course offerings.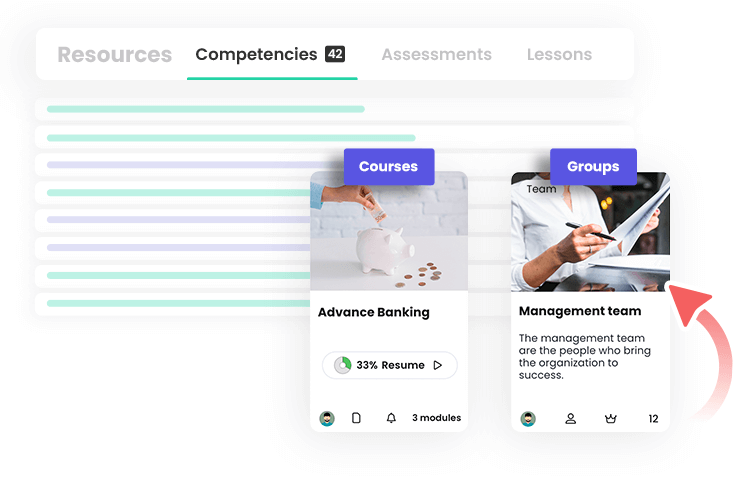 Make learning fun and engaging
GAMIFICATION
Get learners excited to learn by including gamified elements in your courses. Learners are awarded points and badges each time they complete certain tasks. You can either upload existing badges or create them from scratch to watch customer engagement and customer retention soar.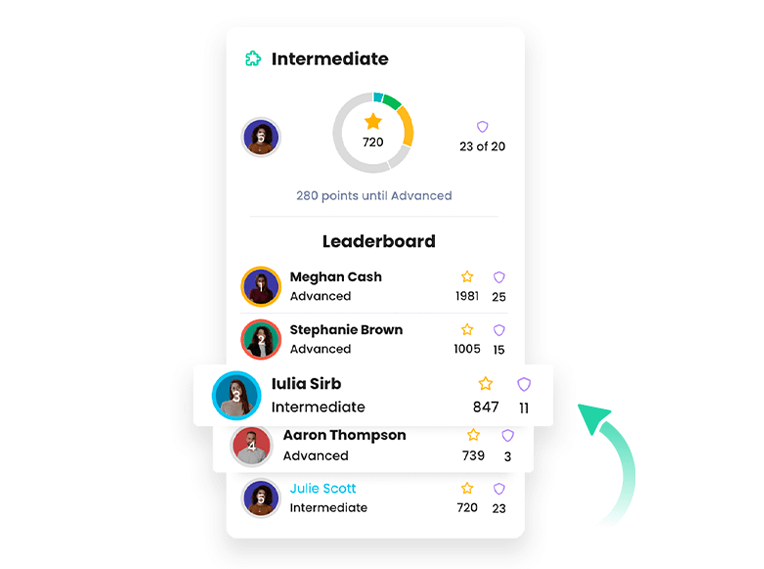 Award certificates
CERTIFICATION
CYPHER makes it easy to award certificates to your learners when courses are complete. Upload certificate templates to the CYPHER platform and set up automation rules to award them with no manual work. Set up prerequisite certificates that learners need before enrolling in courses.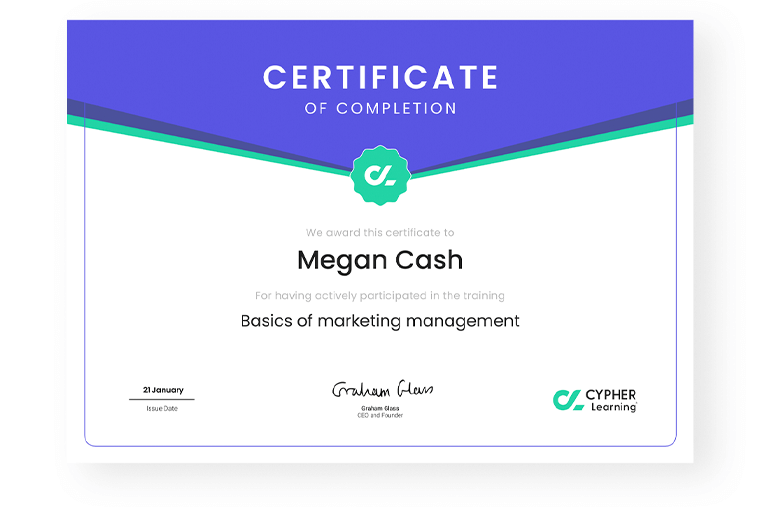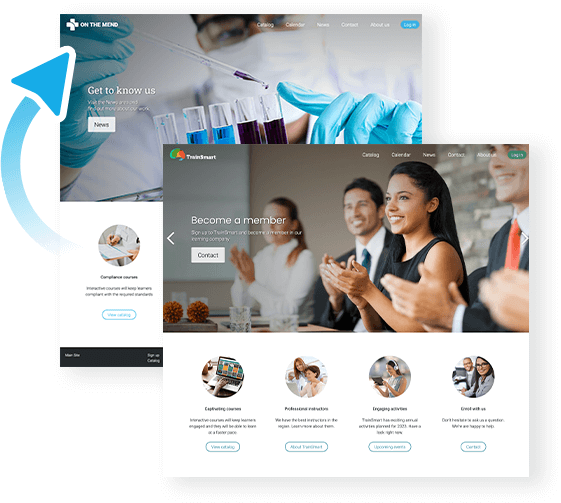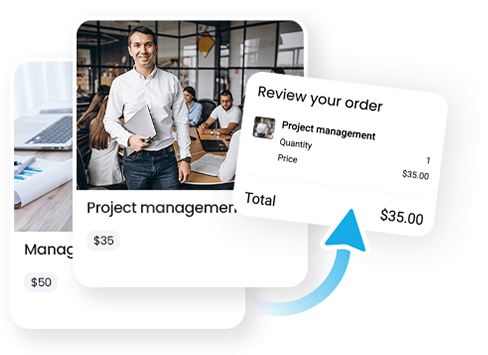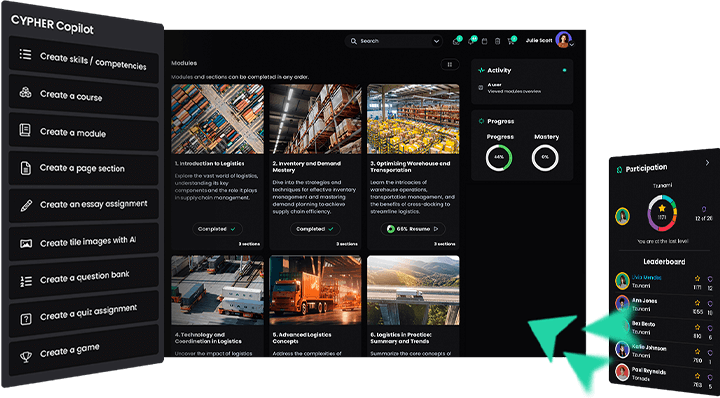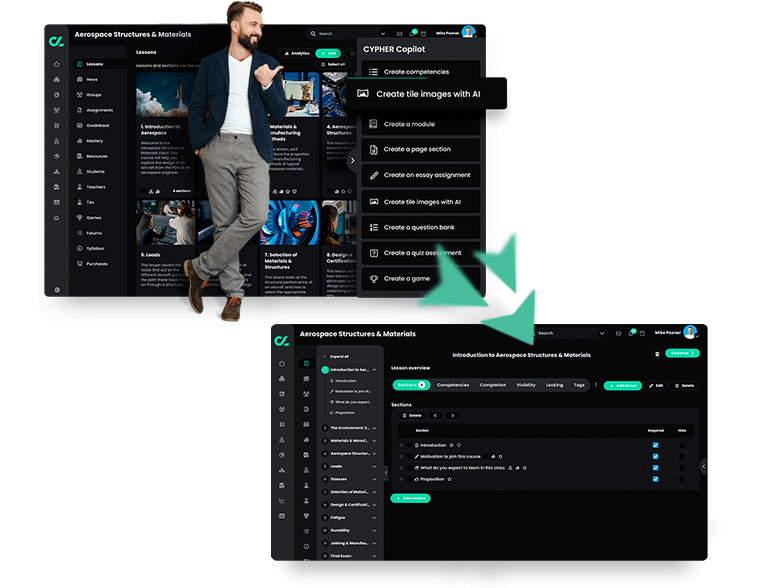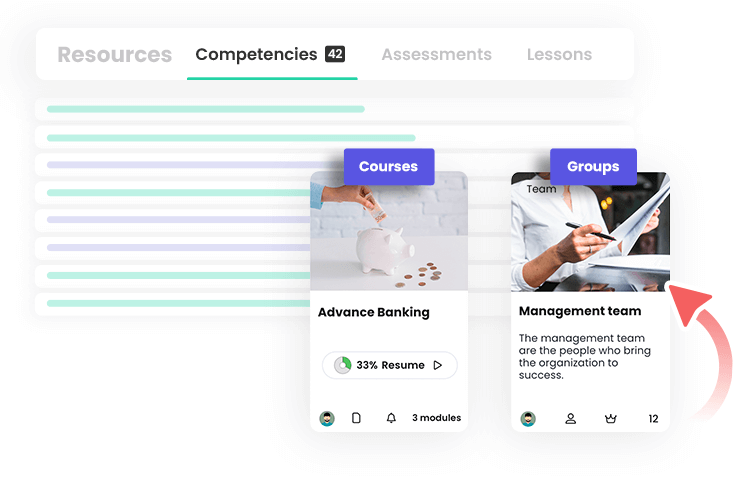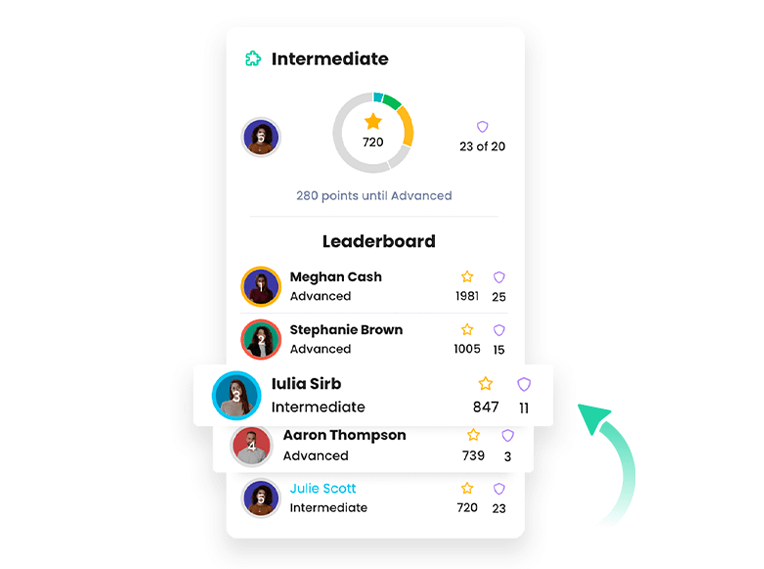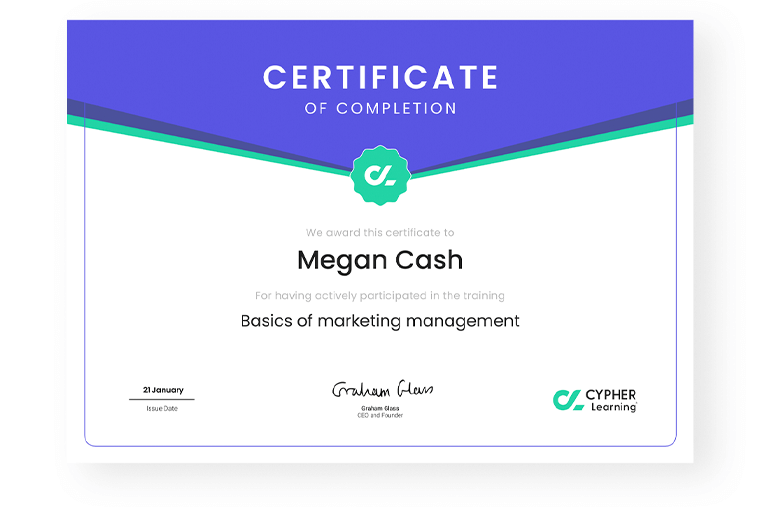 Did you know?
The global e-learning market is expected to grow at a compound annual growth rate (CAGR) of 20% between 2022 and 2028.
The global e-learning market size is projected to reach $325 billion by 2025 and grow to $848.12 billion by 2030.
E-learning increased retention rates to 25-60%, compared to the 8-10% in face-to-face tutoring.
Are you ready to see CYPHER Learning in action?