Best LMS for employee training
Learning shouldn't be a chore. Build online training courses that inspire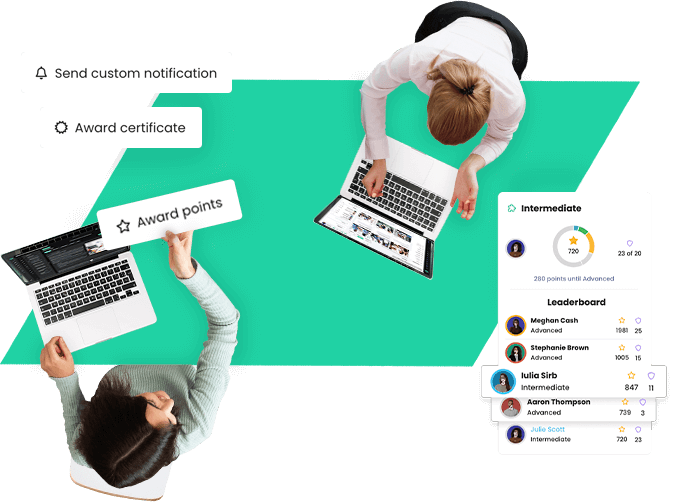 Foster a
learning culture

to remain agile

By empowering employees to continually improve their knowledge and giving them the tools to do so, you create a learning culture. Learning cultures better equip businesses to remain agile as technologies and improvements emerge, but staying up to date with employees' learning needs can be difficult.

Are you struggling to…
Seamlessly integrate employee training from development to delivery
Juggle a complicated employee training tech stack that strains time and resources
Translate training courses in multiple languages while maintaining meaning and localization
Quickly create engaging and individualized courses for your employee training needs
Generate meaningful reports to track employee learning and growth and integrate them with existing HR systems
CYPHER LMS
makes employee training easy

by cultivating critical skill sets

CYPHER's powerful learning platform helps you create and deliver engaging and effective employee training programs.

By closing the gap between content development and delivery and putting the power of generative AI in your hands, CYPHER makes personalized learning at scale possible. This elevates productivity, closes knowledge gaps, boosts retention and performance, and creates a more positive company culture. And the CYPHER platform gives you flexibility to adapt to changing job market trends and respond to more diverse employee needs.

Did you know?
92% of employees say well-planned employee training has a positive effect on their engagement?
Award-
winning

platform for training

CYPHER has received multiple awards for our innovative learning technology, including Forbes Advisor's "Best Overall Employee Training Software" and "Best LMS."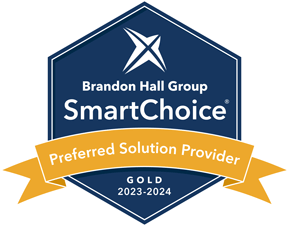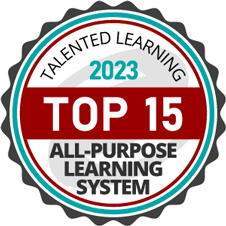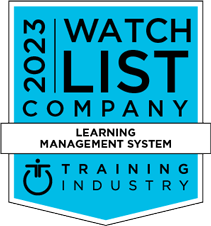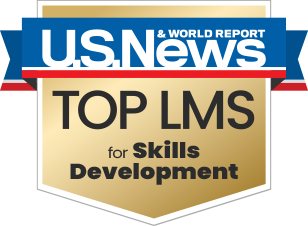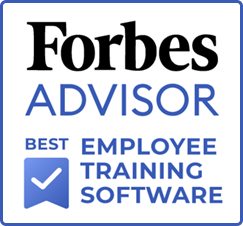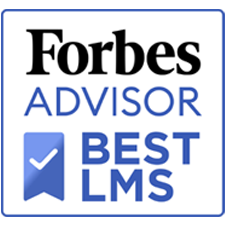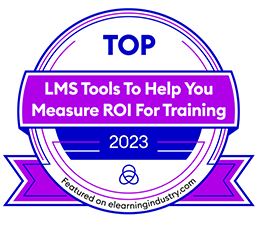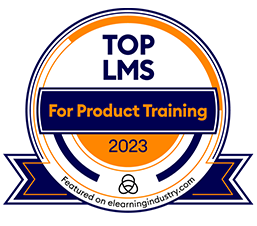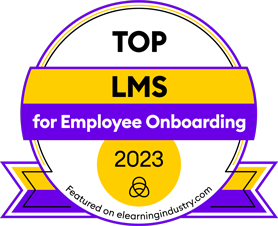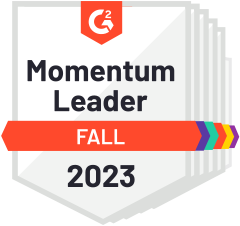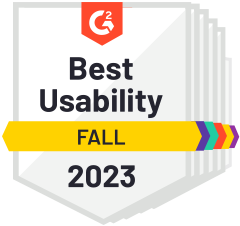 Supercharged

employee training programs.

In minutes

.

AI 360 with Copilot on the CYPHER platform can supercharge your employee training initiatives and deliver robust new courses fast. Build competency-based, gamified, personalized training in minutes. Imagine being able to create employee onboarding and training courses - using your own uploaded content - and launching it just in time! Imagine being able to control your content quality and credibility. Close skills gaps. Boost productivity. Shorten time to delivery. Keep and grow great talent.
Traditional way vs.
CYPHER's approach
In the world of employee training, a stark evolution has emerged, distinguishing traditional Learning Management Systems (LMSs) from modern learning platforms. This has revolutionized the way organizations approach skill development, making it imperative to understand the fundamental distinctions between the old and new approach. Take a look at the key differentiators that set traditional and modern LMSs apart, shedding light on how this shift has redefined the landscape of corporate learning and development. View the infographic.
Traditional way
What you get with CYPHER
You must manually bridge the gap between content creation and delivery by using multiple, expensive platforms
Unified content development and delivery allows you to get employee training up and running faster with less people and money
Generic training paths, one-size-fits-all approach regardless of role or skill level
Personalized learning profiles, competency mapping to content, assessments, and reporting in minutes - tuned for employee role and skill development needs
Time-consuming training that is difficult to update
AI-powered tools allow you to build personalized employee training courses in just minutes
Rigid, static content formats
Incorporation of new media and technologies like gamification, making employee training engaging and fun
Isolated from HR systems leading to disjointed employee data management and training administration
Integrate with HR systems, streamlining employee data management and allowing for synchronized training and HR processes
Limited reporting and insights
Robust analytics and reporting tools, empowering HR and L&D teams to track employee progress, measure training program impact, and make data-driven decisions for continuous improvement
Isolated learning in a vacuum
Social learning in a community. You can connect with individuals who share your learning objectives through wikis, forums, chat, scrolling real-time widgets, and the Green Dot activity indicator
Reasons why employee training fails
Common reasons for employee training failure, including outdated LMS, lack of facilitator skills, and insufficient employee engagement, offering insights for effective corporate training programs.
6 Best LMSs for employee training: 2023 comparison
Discover the top employee training LMS platforms. Our in-depth comparison helps you make informed choices for onboarding and professional development.
A corporate learning platform that
redefines

what's possible for employee training

See how the CYPHER platform can help your employees reach new heights:
Create professional training courses
POWERFUL COURSES
With CYPHER, course creation is quick and simple. All it takes is a few clicks to set up instructor-led, self-paced, blended, or micro-learning courses – whichever suits your instructor's teaching style. These can then be customized to the needs of your learners. AI 360 with CYPHER Copilot enables you to create training courses in minutes using your own internal company content.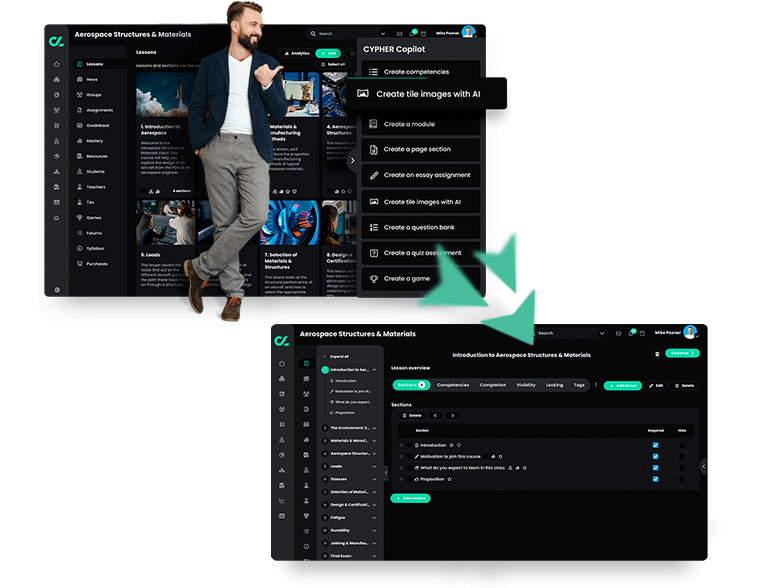 Support career paths
UPSKILL LEARNERS
Regardless of the subject or skill level, use competency-based learning to track your employees' skills and progress toward learning goals. Create personalized programs based on employee goals that drive real results for them and your organization.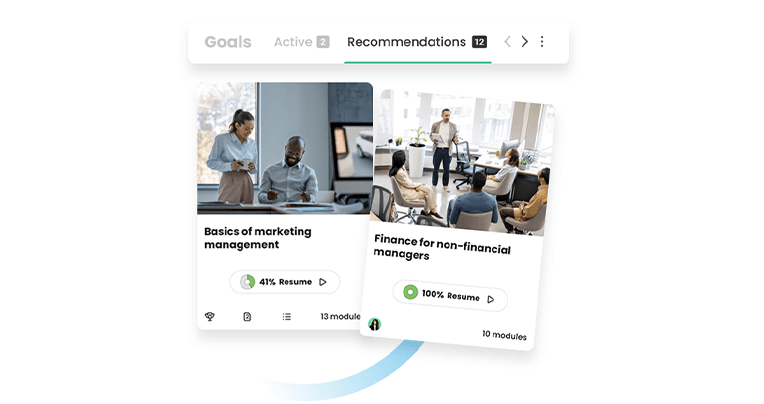 Combine the power of AI 360 with your unique content
UPLOADED CONTENT
With options to have AI 360 pull exclusively or primarily from your uploaded content, you can quickly create courses tailored to your organization. Upload slide decks, company materials, and more. AI 360 with Copilot will take care of the rest. Create a full training course from the materials, complete with quizzes, gamification, competencies, and more.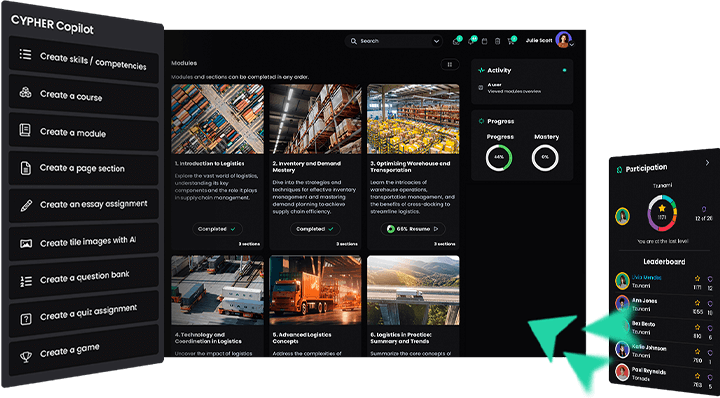 Build new skills
SKILLS DEVELOPMENT
After setting up goals, the platform provides recommendations to learners on how to achieve them. This can include: course and learning path recommendations, suggesting to join groups with similar goals, and other types of learning materials. Once completed, learners are closer to achieving their goals and upskilling.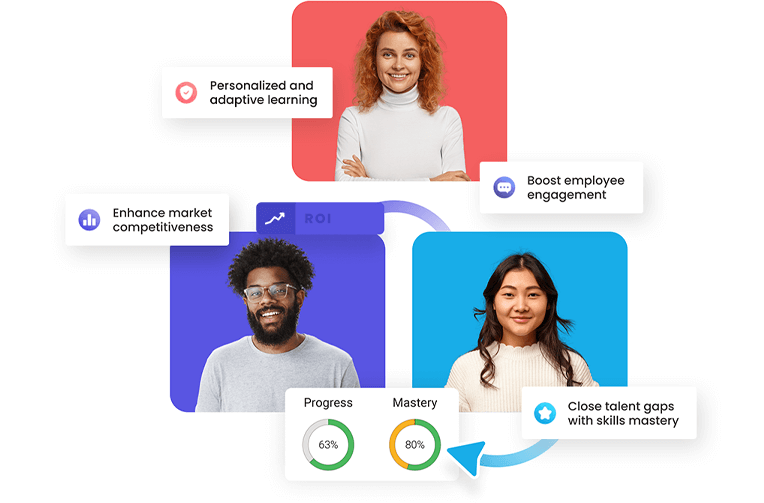 Make learning engaging
GAMIFICATION
Learning through gamification boosts productivity and makes it an enjoyable experience, especially when points, badges, and other rewards are involved. Make courses even more fun by placing learners in different teams and keeping scores on a leaderboard.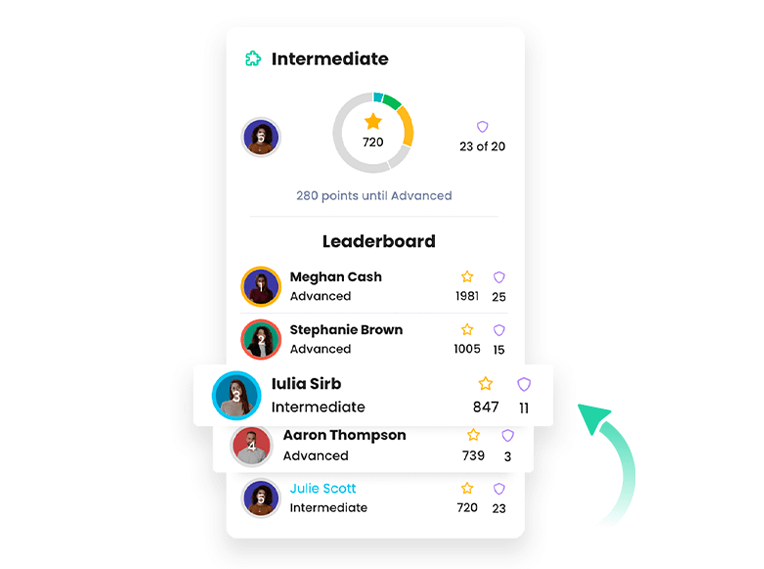 Compliance training
COMPLIANCE MANAGEMENT
Simplify compliance tracking. Assign mandatory compliance courses, set compliance periods, and automate renewal reminders. Ensure employees stay up-to-date with essential training to ensure ongoing compliance.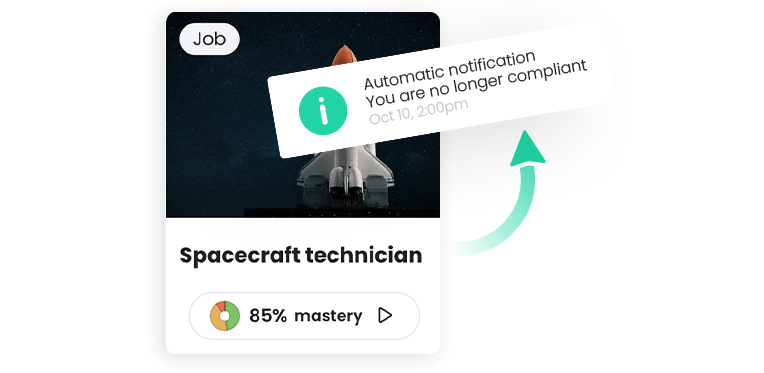 Automate tasks
AUTOMATION
Make learning faster, easier and less tedious. Trigger automated actions in various areas of the platform, such as courses, learning paths, groups, and accounts each time a particular goal is reached.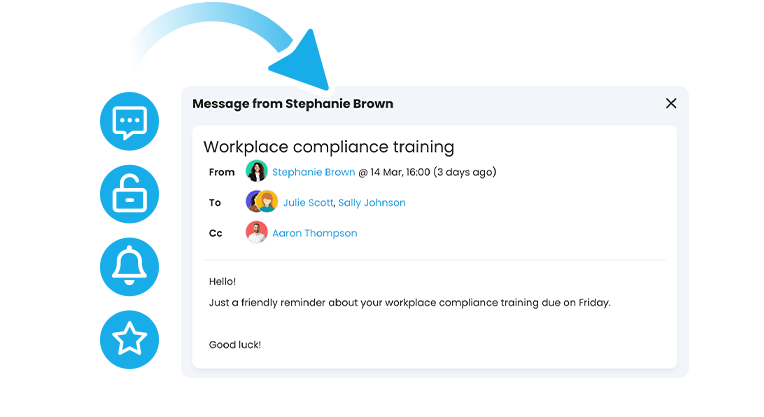 Organize your departments
EFFICIENCY
Organize all your departments and subsidiaries under one platform. CYPHER makes it easy to create a distinct organization for each department, with each organization having its own portal, users, courses, and resources.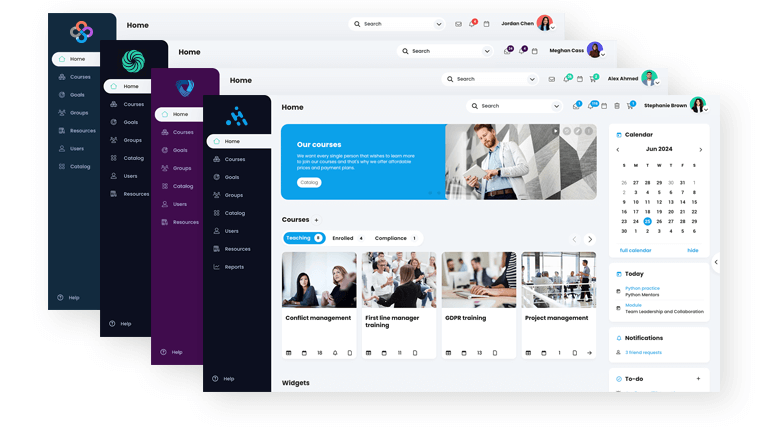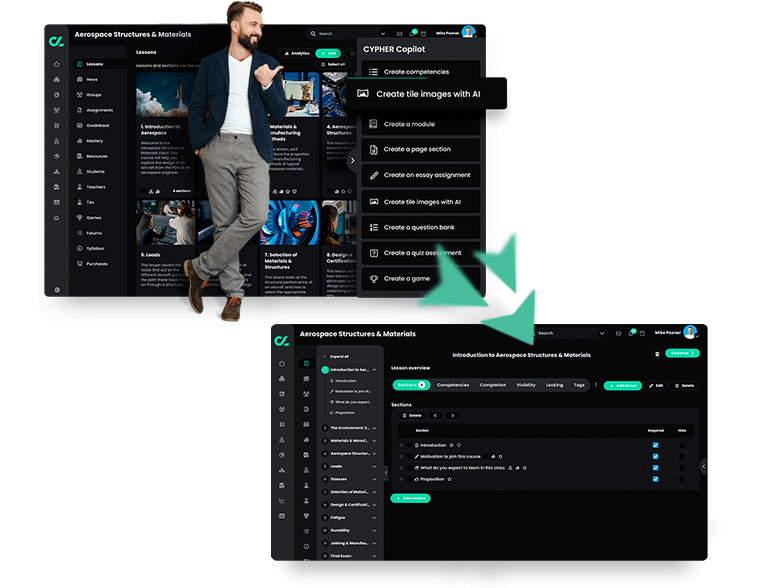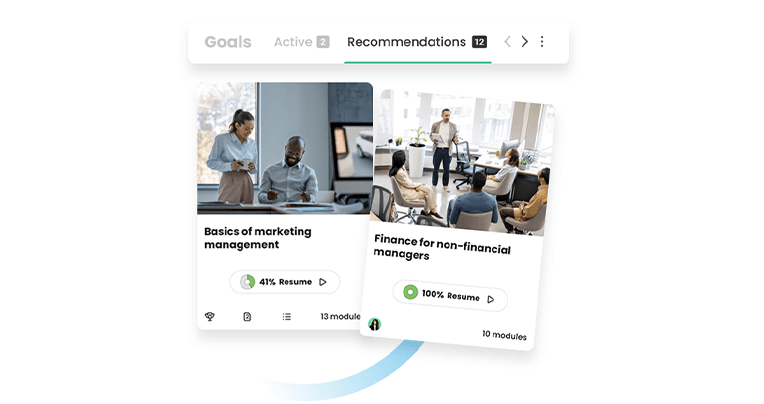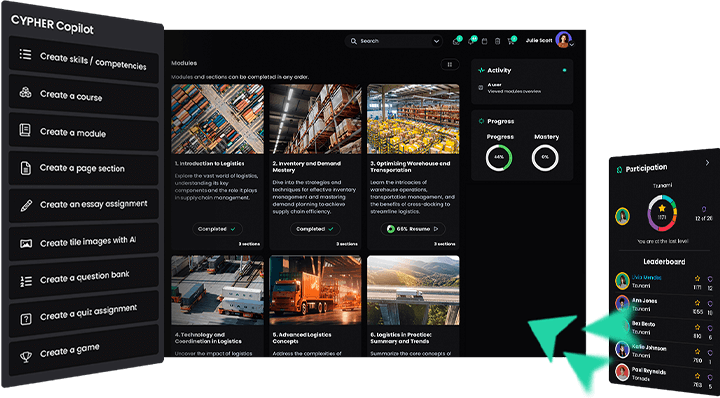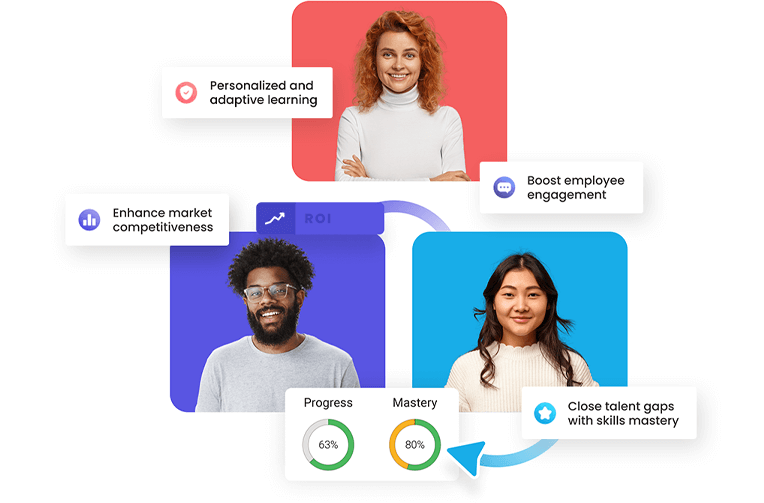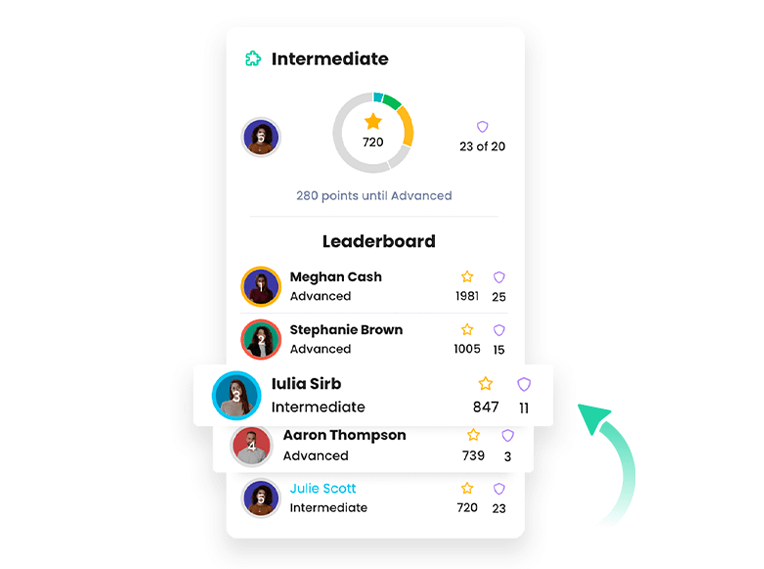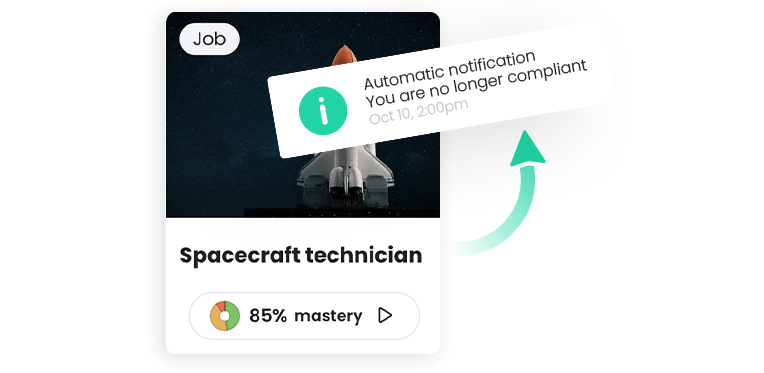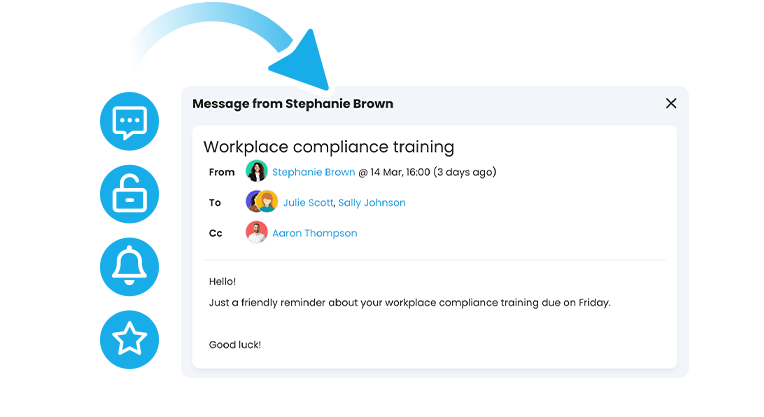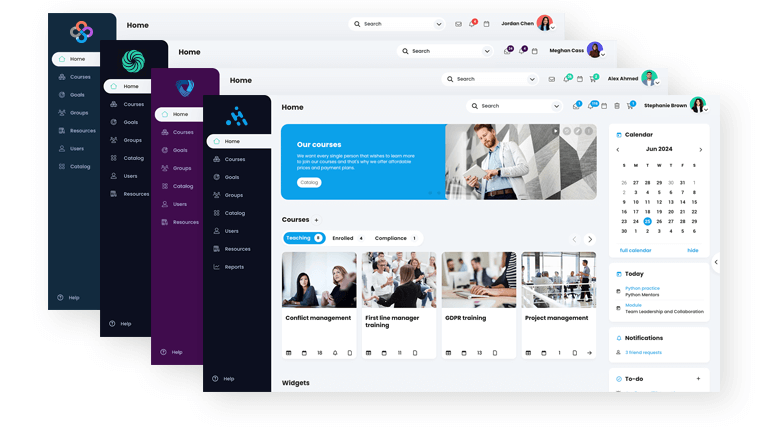 What CYPHER customers say
"CYPHER Learning has now put us in the position to provide better internal training than ever before…The customization is very good because it allows us to completely brand the product."
Instructional Designer, Operation Underground Railroad
"It's very easy to monitor and check student progress. I can go in and, with a couple of clicks, see any participant and where they are in the process."
President/Owner, Coaching 4 Today's Leaders
"CYPHER Learning makes it a reality to offer comprehensive and intensive learning and training experience which is crucial in ensuring everyone is competent. It is possible to learn from anywhere."
Software Development Project Manager, Airtable
Are you ready to see CYPHER Learning in action?