Reskill, retain, reward
Investing in new skills for employees pays huge dividends in retention and competitive advantage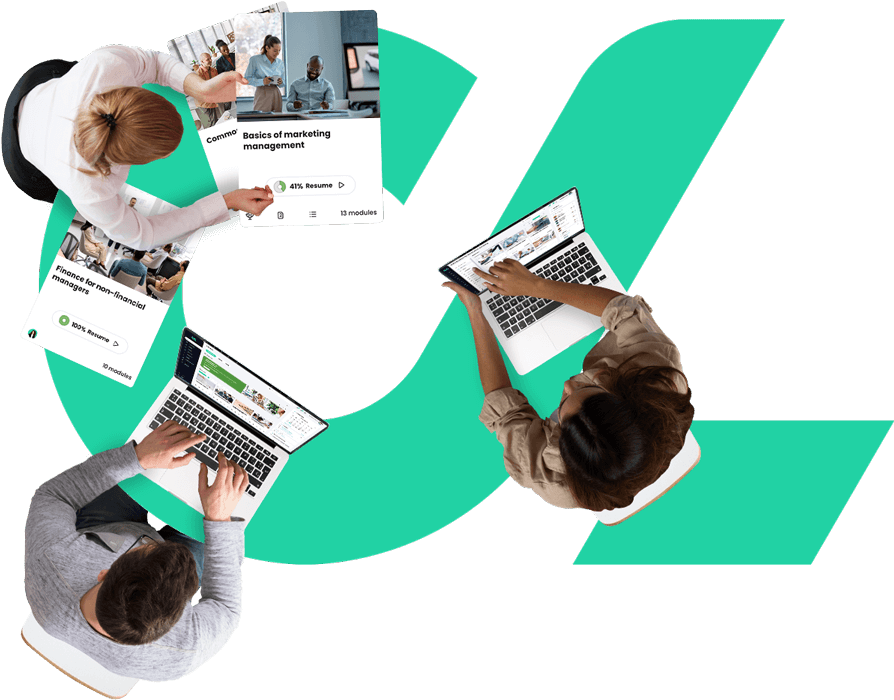 Stay ahead

with lifelong learning

Education doesn't stop at graduation. Especially if your company and employees want to remain competitive in today's market. But, balancing the learning demands of employees on top of other duties can be difficult.

Are you struggling to…
Juggle a loaded tech stack that overcomplicates and underdelivers on training
Help employees set goals and seamlessly track hard and soft skills needed to reach them
Quickly create and update education programs specifically tailored to individual goals
Translate courses in multiple languages while maintaining meaning and localization
Analyze important metrics related to education program impacts
Optimize

your workforce through continuing education

Talent shortages. Increased competition. The shift to a "work-from-anywhere" mindset. There is a long list of factors impacting businesses' abilities to acquire and retain the talent necessary to remain competitive and achieve their growth objectives. Today's workers are redefining their priorities when it comes to employment – and ranking right alongside money is the opportunity for growth and development. This shift runs across all demographics, from Gen Y professionals all the way to Boomers considering second careers, which poses a challenge for employers trying to boost retention. Salary increases and bonus payments are no longer the likely answer to how to keep employees happy – education, growth, and fulfillment are what drive them.

But with challenge comes opportunity. Employers building strong continuing education programs are reaping the rewards in terms of employee retention, organizational productivity, and a more positive culture, to name just a few of the benefits. The right learning platform can bring this strategy to life, making it easy for trainers to develop personalized training programs that inspire and engage learners regardless of where they are in their learning journey.

Do employees value continuing education?
When choosing a career, 55% of employees consider career growth and opportunities more important than salary.
Award-
winning

platform for training

CYPHER has received multiple awards for our innovative learning technology, including Forbes Advisor's "Best Overall Employee Training Software" and "Best LMS."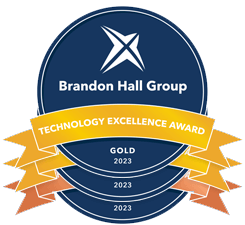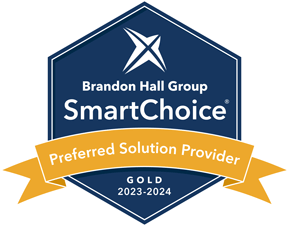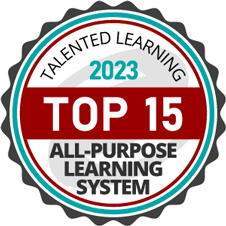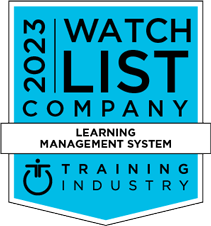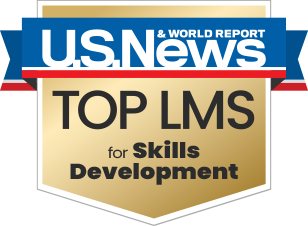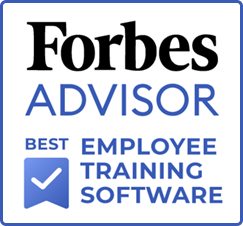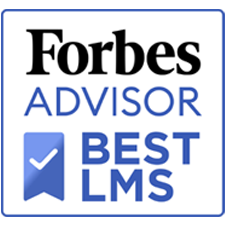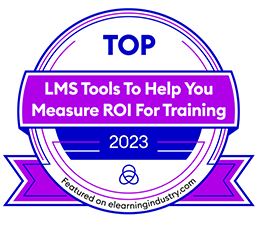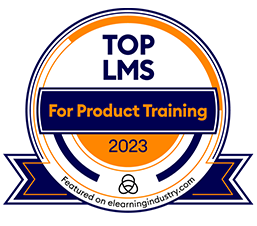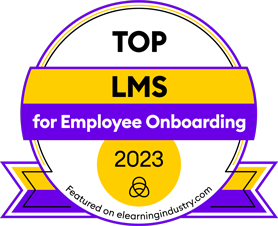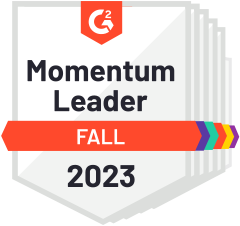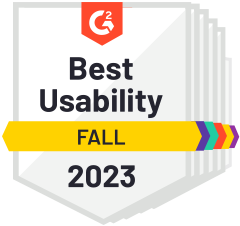 Supercharged

your continuing education program.

Just for them

.

AI 360 with Copilot on the CYPHER platform lets you program and deliver robust continuing education courses fast, ensuring the coursework reflects the organization's and the learner's up-to-the-minute needs and gives them the right tools to master the subject at hand, whether it's a computer programming series or certificate program in marketing analytics. Imagine building competency-based, gamified, personalized continuing education courses in minutes!

This lets you:
Create highly personalized courses tailored for organizations, functions, or individuals - using your own uploaded content - and launch it just in time!
Control your content quality, accuracy, and credibility
Ensure learners go beyond simply comprehending the material to mastery of the subject
Traditional way vs.
CYPHER's approach
Continuing education programs are important for all demographics and functions, which means coursework needs to accommodate a wide range of learning styles and preferences. Simply directing employees to a portal containing a wildly overgrown library of PDFs and presentations won't capture their interest and will fall flat quickly. Traditional LMSs are a step up from an assortment of PDFs, but they're rigid and uninspiring. They don't give trainers the flexibility they need to deliver fresh and inspiring content. They also fail to engage the learner thanks to the dry and linear fashion in which they present lessons, which doesn't take into consideration whether the learner is absorbing the material.

CYPHER is revolutionizing the way companies think about continuing education. It empowers trainers to deliver effective and inspiring competency-based courses with personalized learning paths, engaging content, and advanced analytics – all geared toward helping employees achieve mastery-level proficiency in the areas that matter most to the company and the employee.
Traditional way
What you get with CYPHER
One-size-fits-all approach doesn't adapt to the learner's progress or training needs
Personalized learning profiles, competency mapping to content, assessments, and reporting in minutes – helping to ensure learners understand and can prove mastery-level knowledge of a given subject
You must manually bridge the gap between content development and delivery by using multiple, expensive tools
Unified content development and delivery allow you to get courses up and running faster – with less people and money
Rigid, static content formats that leave learners bored and unengaged
Incorporation of new media and technologies like gamification to drive engagement and retention of the subject at even the deepest level of detail
Conventional reporting that provide basic and rudimentary data
Insightful analytics, empowering you to track learner progress, identify gaps in their knowledge and flag opportunities for improvement
Time-consuming and manual course creation
Automation and AI-powered tools cut continuing education course creation to minutes - allowing you to update and disseminate information just in time
Manual and outdated assessments
Adaptive assessments tagged to specific topics to understand what the learner knows or doesn't know
Human-centered connections and communities to facilitate peer discussions and group exercises that help unify teams, while drive understanding and mastery of a given topic
A modern learning platform for
upskilling

and

reskilling

employees

See how the CYPHER platform can help your continuing education program:
Create reskilling courses fast
POWERFUL COURSES
With CYPHER, developing courses for a continuing education program is quick and simple. All it takes is a few clicks to set up instructor-led, self-paced, blended, or micro-learning courses. These can be customized to the needs of your organization's learners.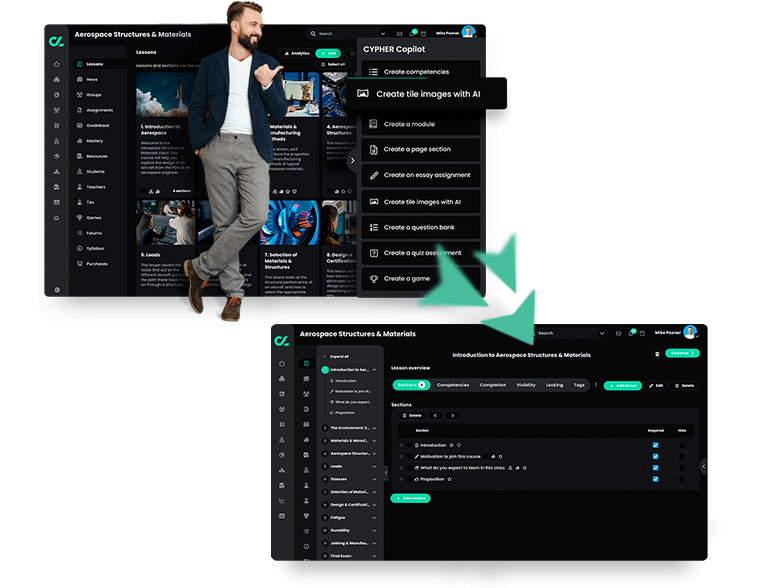 Combine the power of AI 360 with your unique content
UPLOADED CONTENT
Use AI 360 with Copilot to create customized courses for your organization by uploading your own content – videos, PDFs, and more. Copilot will take care of the rest. Create a full training course from the materials, complete with quizzes, gamification, competencies, and more.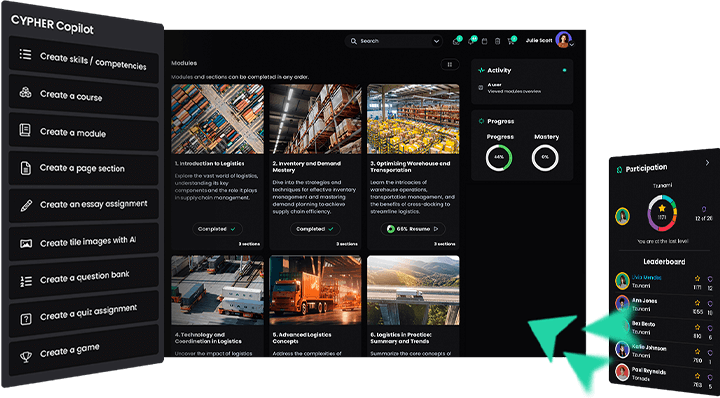 Streamline certification management
CERTIFICATIONS
Simplify certification tracking. Assign mandatory internal or external certification courses, set time periods, and automate renewal reminders. Keep your learners current with essential training to ensure they maintain the credentials and expertise needed to perform effectively.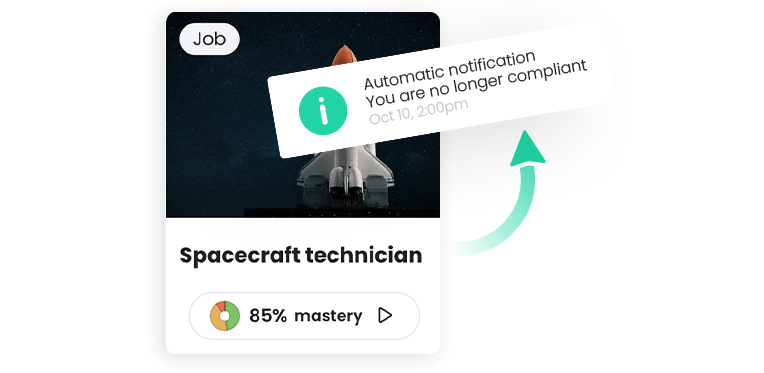 Gain insight into proficiency levels organization-wide
REPORTING
Access 55 pre-built reports and custom options to track learners' progress at every level. Use this data to identify weaknesses and then build courses to address those gaps.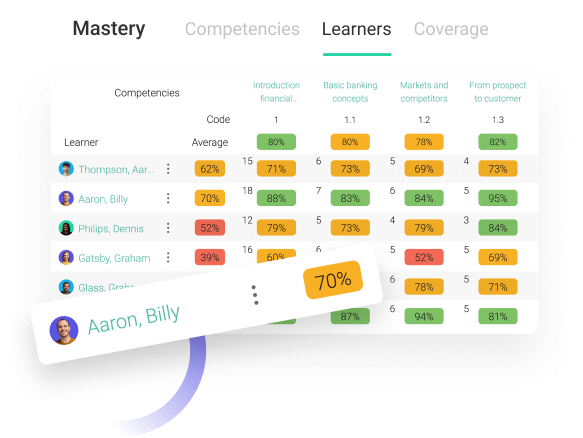 Create mastery-level proficiency for subjects that matter
COMPETENCY MAPPING
Enhance competencies through competency-based learning. Tailor courses to individual topics to keep learners focused on mastering a single subject or knowledge that relates to them and their responsibilities.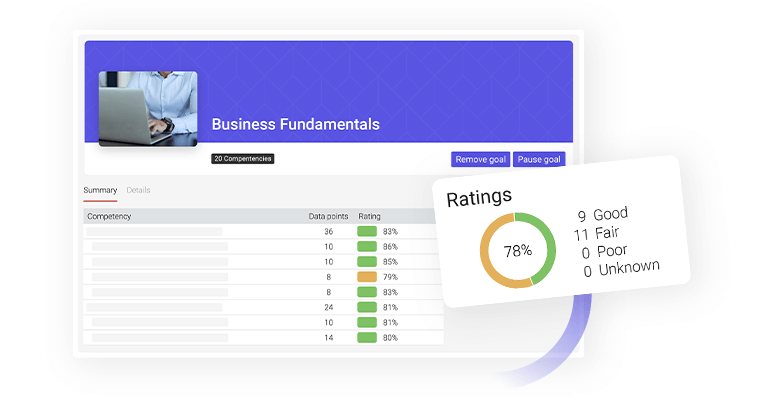 Set and track proficiency goals
LEARNING GOALS
Define learning goals and track progress with the CYPHER platform's guided recommendations. Access courses, learning paths, and groups to upskill and meet objectives effectively. Learning groups connect people with the same learning goals.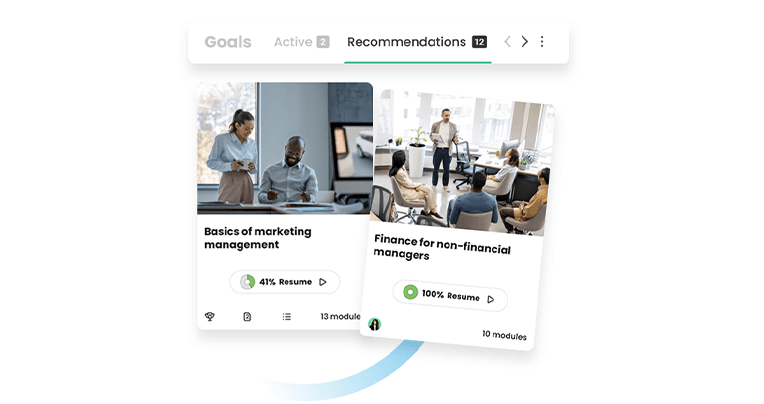 Make continuing education fun
GAMIFICATION
Make continuing education more compelling, engaging, and effective with gamification elements. Reward progress with points, badges, and team-based challenges, promoting an enjoyable learning experience.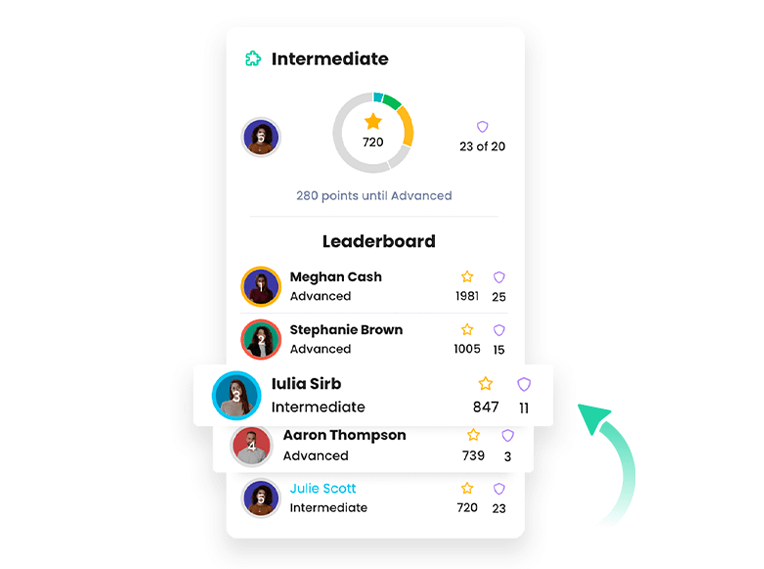 Simplify and expedite administration
AUTOMATION
Boost continuing education training efficiency through automation. Configure the platform to trigger automatic actions in response to specific learning goals, saving time and reducing administrative burdens.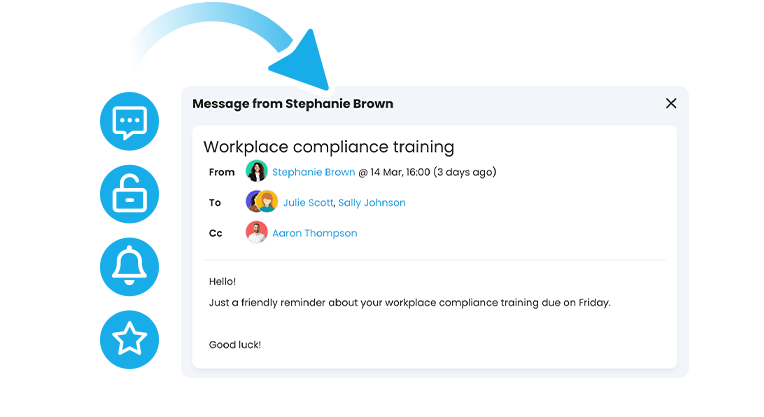 Centralized training offerings
EFFICIENCY
Centralize training to ensure the same level of quality, consistency, and outcome. Create dedicated programs for each team with unique portals, users, skills courses, and resources with streamlined management and access.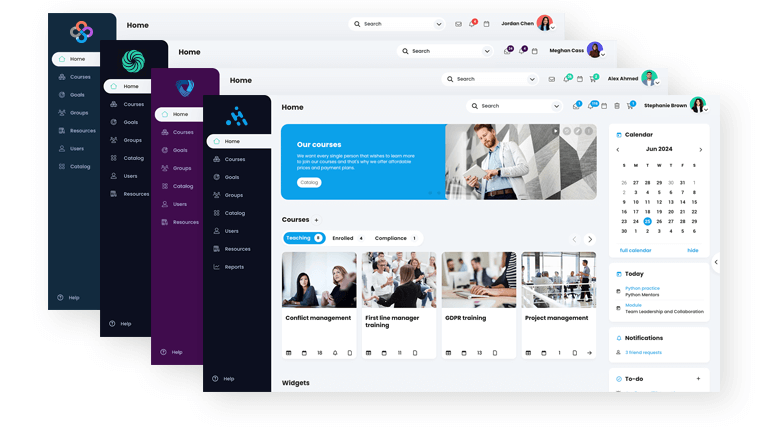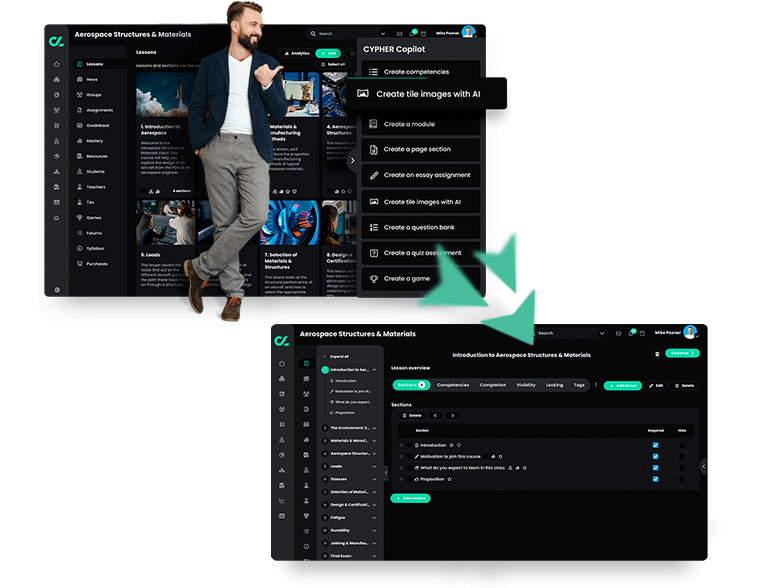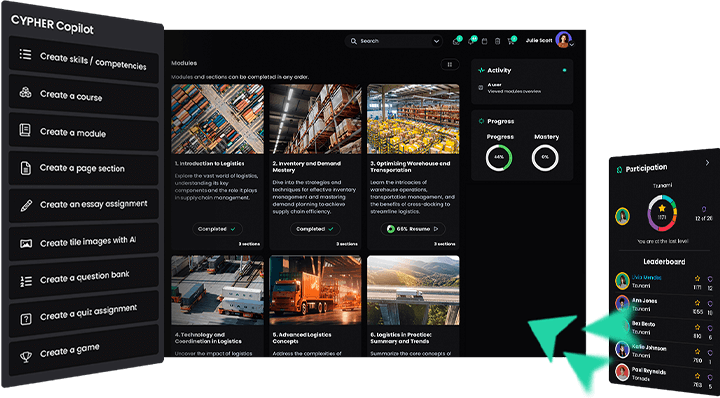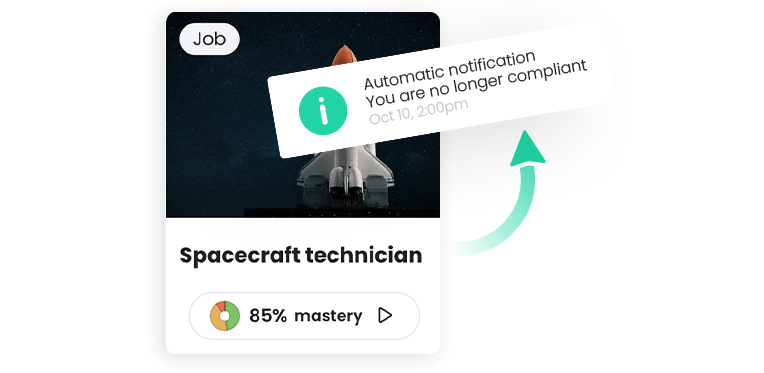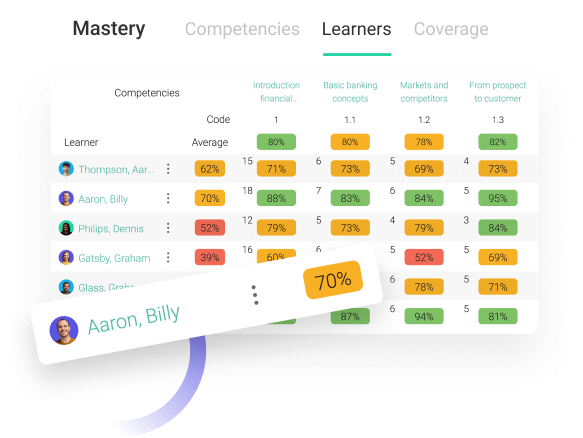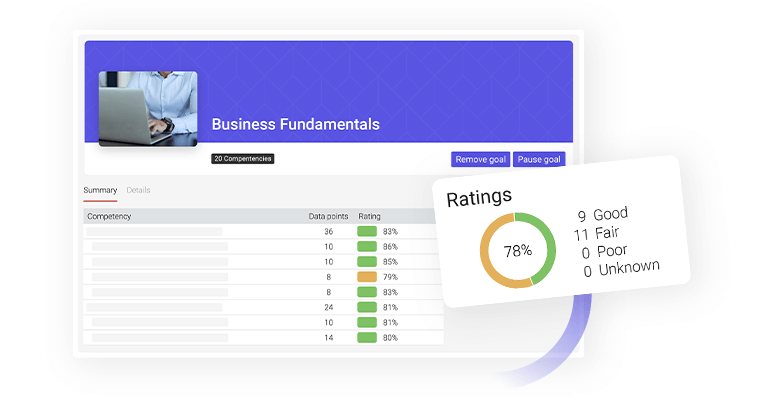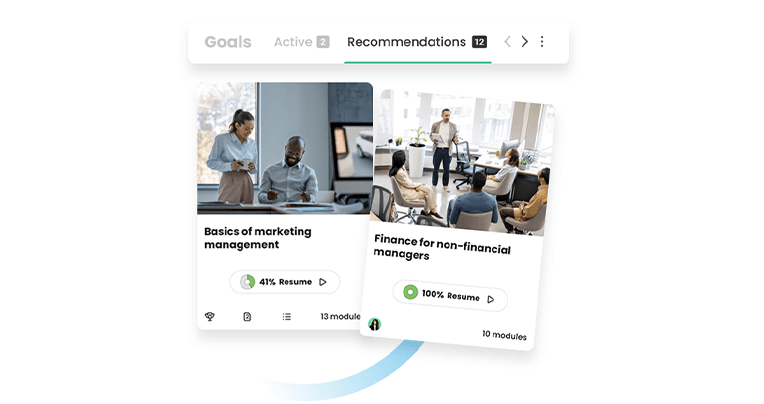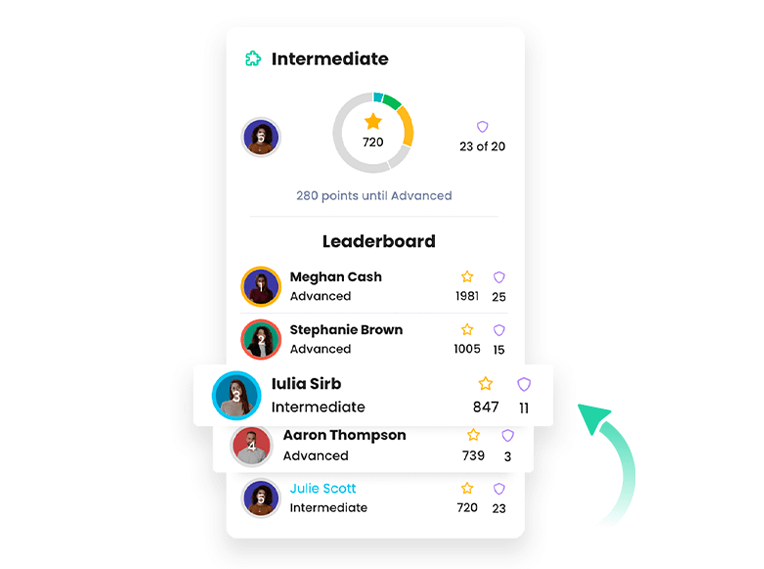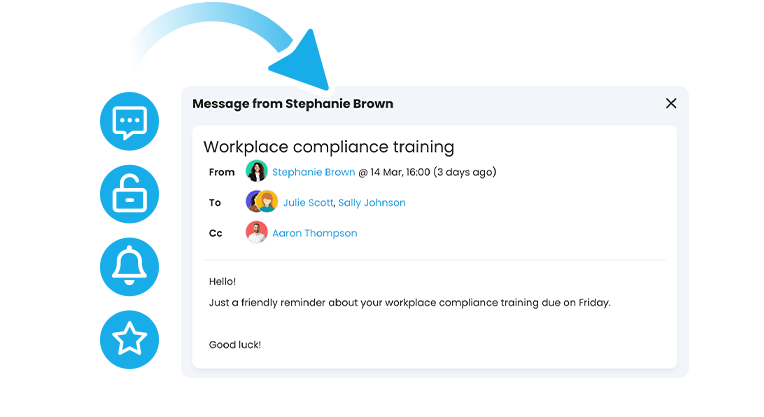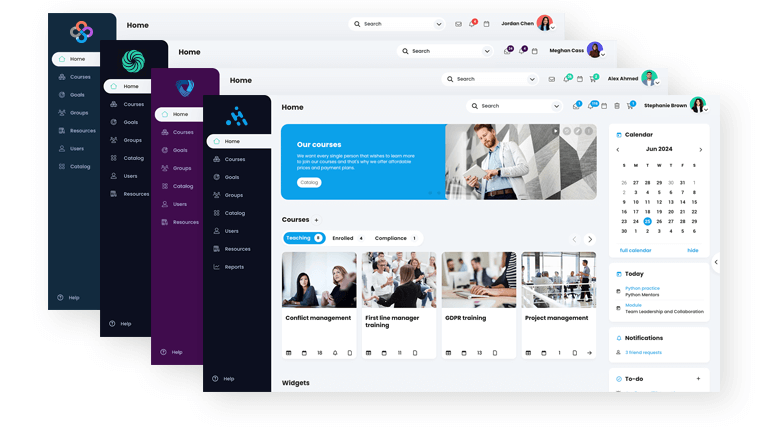 Why offering continuing education matters
76% of Millennials say professional development is essential for a strong company culture.
Zippia
83% believe employers should be investing in employees' continued education.
Strategic Education, Inc.
71% of workers said learning increased their job satisfaction, and 61 percent said learning opportunities make them want to stay with a company.
Gallup
Are you ready to see CYPHER Learning in action?