Build education programs for specialty fields
Teach the next great chef, carpenter, hygienist…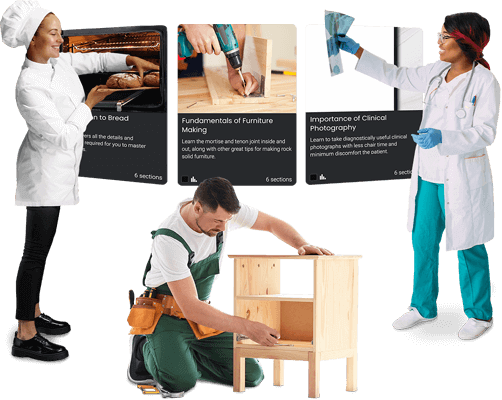 Trade in outdated learning for a
modern

LMS

Handing someone a blow torch and assuming they can safely operate it because they clicked through a few lesson plans can be a dangerous thing. What if there was a way to ensure students have mastered course material before throwing them into high-pressure situations? There is.

Are you struggling to…
Map courses to competencies to track students' educational progress, strengths, and weaknesses
Continually create and adapt courses so they remain relevant without draining your time and resources
Seamlessly integrate courses from ideation to implementation
Juggle dozens of course resources and materials across numerous platforms
Create engaging and individualized courses students will actually want to do
Preparing students for
rewarding

and

lucrative

skilled trade careers

With the cost of a four-year college education soaring year over year, more and more emerging and current professionals are looking to trade and specialty schools to launch or refresh their careers. From construction to aviation to criminal justice, the potential options are endless – more importantly, the available opportunities and earning potential are becoming increasingly attractive. 68.2% of graduates who attended trade school secured work in their fields of study, compared with 57.5% of graduates with an academic degree (Gitnux).

The popularity of trade and specialty schools has administrators looking to elevate the learner experience and drive mastery-level coursework proficiency. To meet this demand, they need a modern learning platform that's tailored for scalable, personalized, and competency-based learning. Leveraging the power of generative AI and gamification, CYPHER empowers educators to create engaging and collaborative courses, helping to effectively prepare students for success in a post-graduate environment.

Did you know?
According to a report from The National Student Clearinghouse, enrollment in technical and trade schools is on the rise. From 2021 to 2022, enrollment in construction trades grew by 19%. Meanwhile, four-year universities saw a nearly 4% drop in enrollment in the same time period.
Award-
winning

platform for education

In the past year, we've received over two dozen awards for our innovative learning technology, including Forbes Advisor's "Best Overall Employee Training Software" and "Best LMS." We've also received recognition for our work in academia, earning the title of "Best K-12 Remote Learning Partner" in the SIIA CODiE Awards and numerous other awards.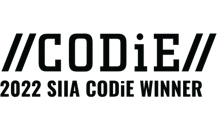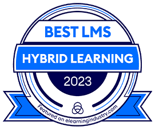 Supercharged

trade skills course creation. In

minutes

.

AI 360 with Copilot on the CYPHER platform can supercharge the development of trade and specialty education courses and content – empowering you to deliver robust new courses fast and ensuring that course material engages and inspires your students. Imagine building competency-based, gamified, personalized content in just minutes!

This lets you:
Create highly personalized courses - using your own uploaded content from sources of your choosing - and launch it just in time!
Control your content quality, accuracy, and credibility
Ensure subject-matter proficiency for every student, at scale
Traditional way vs.
CYPHER's approach
Perhaps more than in any other institution, trade school students need to demonstrate subject-matter proficiency before they can actually jumpstart their careers. For example, budding air traffic controllers can't simply click through course material and then move right into practice. They need to prove mastery of the coursework. This is a challenge with traditional learning management systems, which assume every student learns the same way and then usher them through to course completion. Making matters worse, these systems don't give educators the tools and flexibility to create and deliver courses that map to what each individual student needs or engage them in ways that motivate and inspire. CYPHER is revolutionizing the way educators build and administer curriculums and courses. Trade and specialty schools use the CYPHER platform to empower their staff to deliver effective and inspiring competency-based courses with personalized learning paths, engaging content and advanced analytics – all geared toward helping students achieve mastery-level proficiency in their degree programs and ready themselves for the future.
Traditional way
What you get with CYPHER
One-size-fits-all approach doesn't adapt to the student's progress
Personalized learning profiles, competency mapping to content, assessments, and reporting in minutes – helping to ensure students understand and can prove mastery-level knowledge of each subject before they move on
You must manually bridge the gap between content development and delivery by using multiple, expensive tools
Unified content development and delivery allow you to create and update courses faster
Rigid, static content formats that leave students bored and unengaged
Incorporation of new media and technologies like gamification to drive engagement and retention of the subject at even the deepest level of detail
Conventional reporting that provide basic and rudimentary data
Insightful analytics, empowering you to track student progress, identify gaps in their knowledge and flag opportunities for improvement
Time-consuming and manual course creation
Automation and AI-powered tools cut course creation to minutes - allowing you to update and disseminate information just in time
Manual and outdated assessments
Adaptive assessments tagged to specific subjects help you understand what the learner knows or doesn't know
Minimal collaboration and connection
Human-centered connections and communities to facilitate peer discussions and group exercises and help drive student comprehension and mastery of a given subject
A
modern

learning platform for fostering a powerhouse workforce

See how CYPHER can help you deliver personalized courses and content, at scale:
Create personalized courses fast
INTERACTIVE CLASSES
With CYPHER, course creation is quick and simple. All it takes is a few clicks to set up instructor-led, self-paced, blended, or micro-learning courses that can be easily customized to the needs of your students.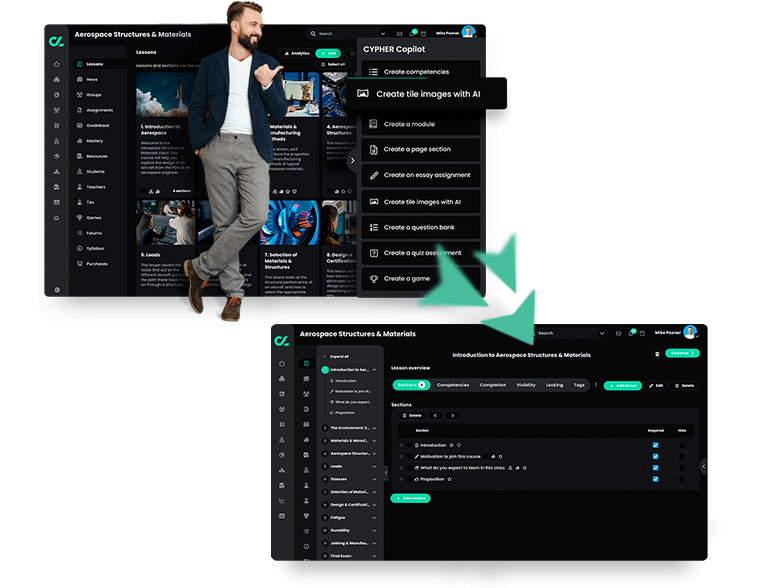 Combine the power of AI 360 with your unique content
UPLOADED CONTENT
With options to have AI 360 pull exclusively from your uploaded content, you can quickly create courses tailored to the classes you teach. Upload slide decks, PDFs, materials from past years, and more. AI 360 with Copilot will take care of the rest. Create a full course from the materials, complete with quizzes, gamification, competencies, and more.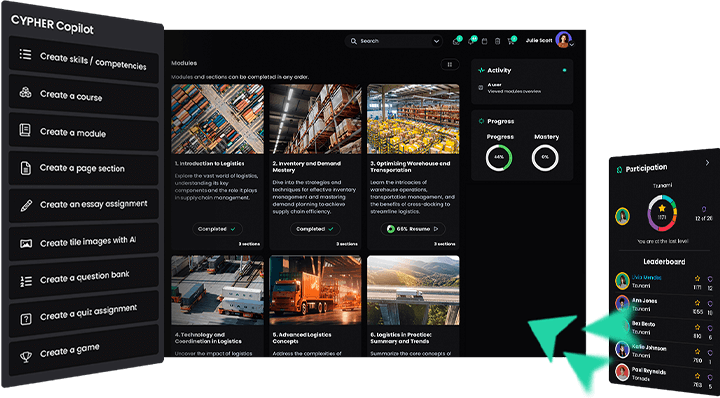 Develop assignments with ease
ASSIGNMENT TYPES
Choose from a broad portfolio of assignment types to target individual learning needs with interactive assignments. These include quizzes, essays, debates and surveys, as well as third-party assignments using our LTI support. AI 360 with Copilot can create all types of quizzes and assignments with ease - all mapped to competencies and skills.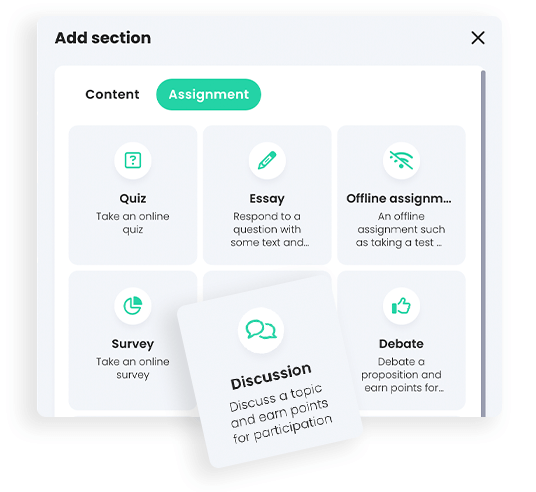 Measure and track progress
COMPETENCY-BASED LEARNING
Tailor courses to individual students to help them achieve mastery-level proficiency and align assessments with competencies using advanced analytics tools to determine whether students are on track or falling behind in their coursework. This way, you can intervene and ensure students who need additional support receive it and keep pace.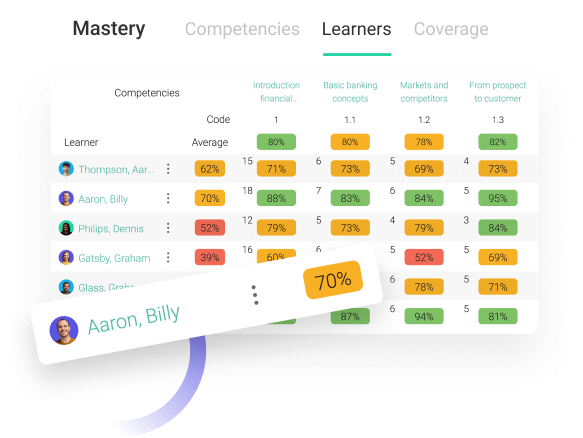 Create personalized learning paths
AUTOMATION & ADAPTIVE LEARNING
With automation rules, you can make classes and learning paths more engaging for your students. These rules trigger actions throughout the platform and ensure each student sees personalized content based on their progress. No more aimless clicking through classes!
Make learning fun
GAMIFICATION
Get students excited to learn by including gamified elements in your classes. Students are awarded points and badges each time they complete certain tasks. You can either upload existing badges or create them from scratch with custom shapes, images, text, and colors.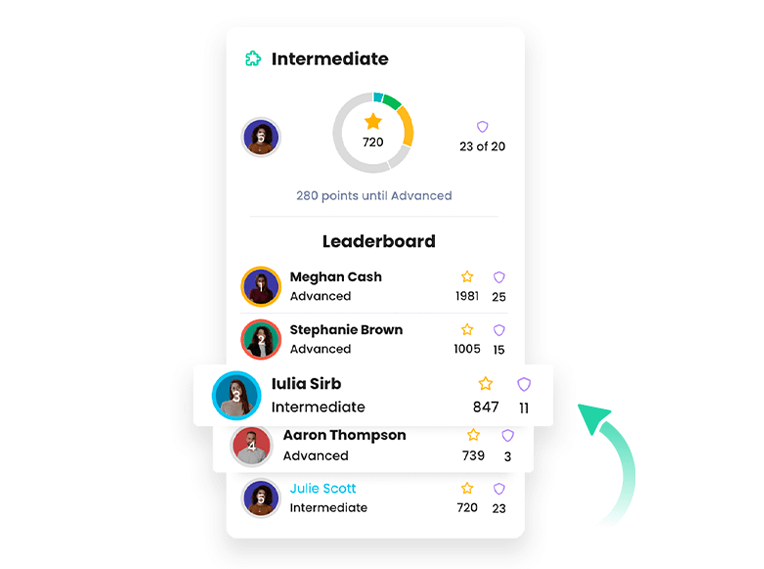 Build and manage courses university-wide
EFFICIENCY
CYPHER makes it easy to group campuses and connect all members in a single network, including educators, students and alumni. This is an excellent way to share resources and promote networking and collaboration.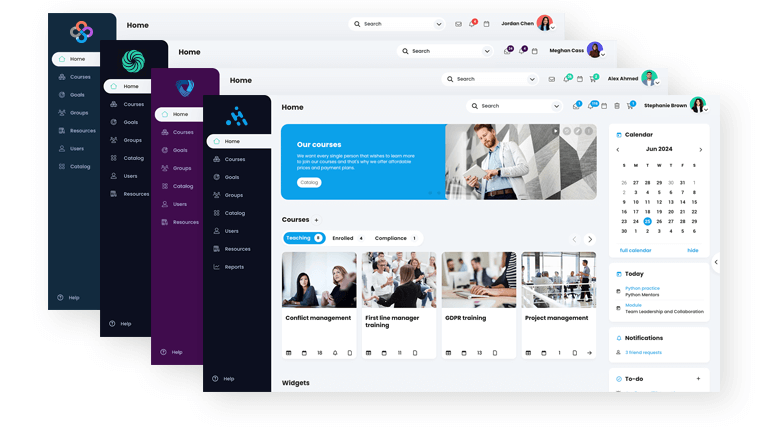 Instill school pride in online and hybrid students
BRANDING
No cookie-cutter or bland interface here! Showcase your school's branding by adding your logo, a custom color scheme, and related images to your CYPHER environment.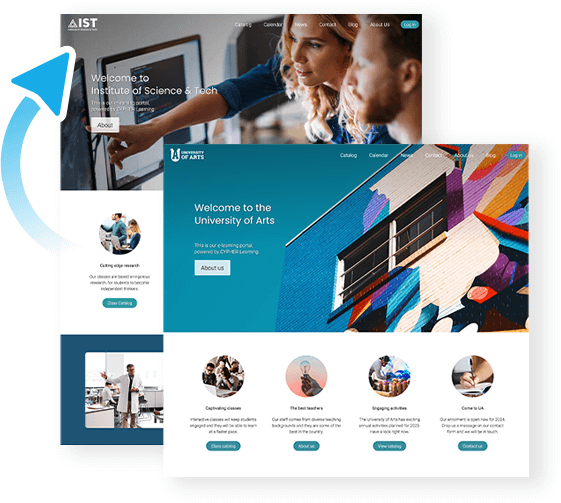 Sell online courses
E-COMMERCE TOOLS
The CYPHER platform offers all the e-commerce tools you need to easily market online courses to a larger audience. Sell learning paths, digital media content, bundles, and even subscriptions through our integrated course catalog.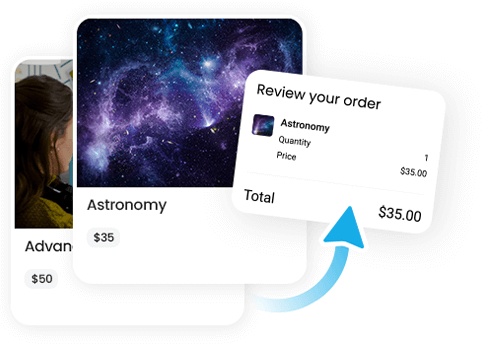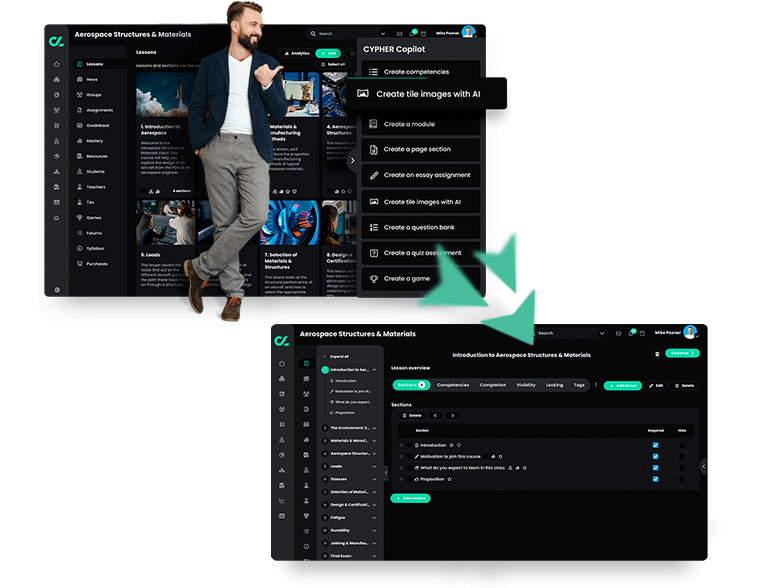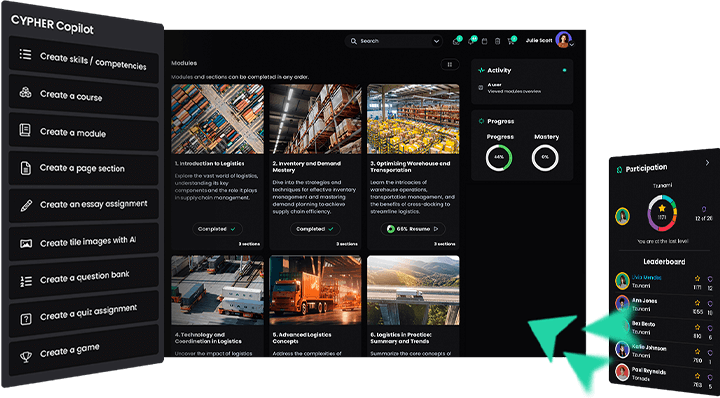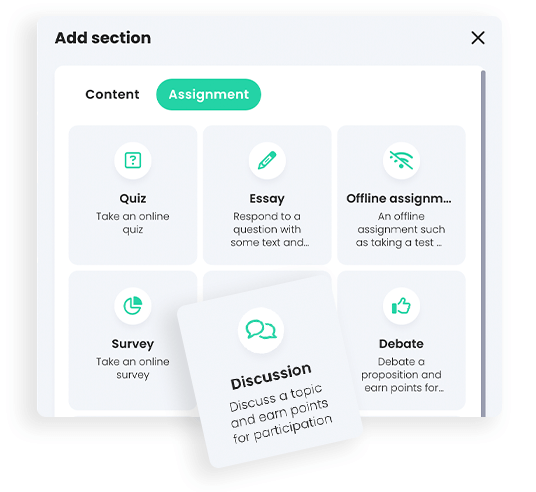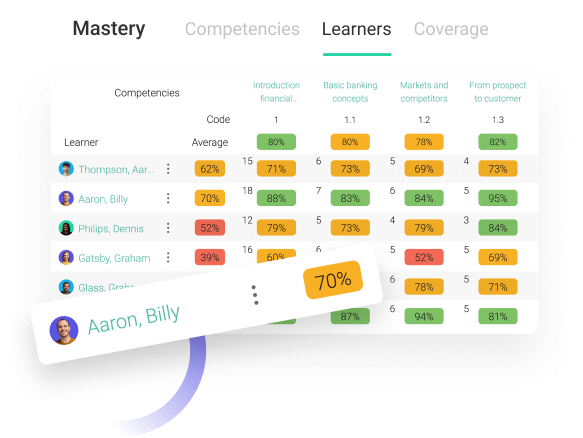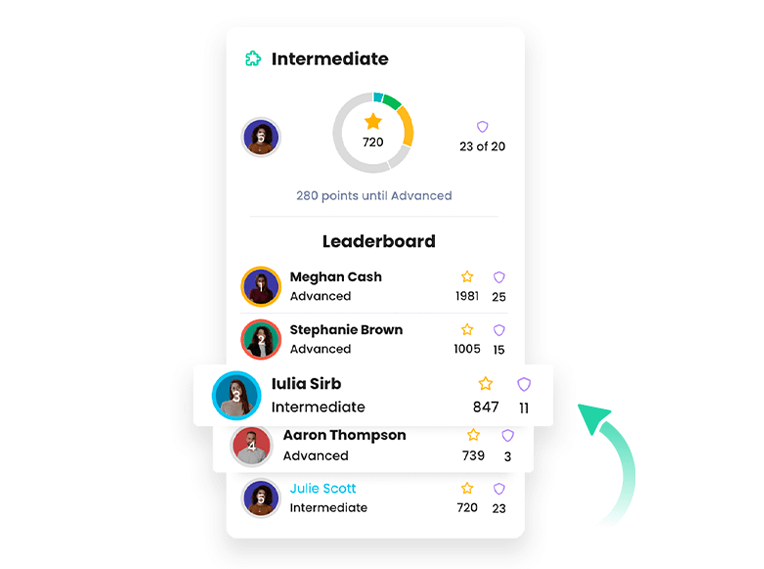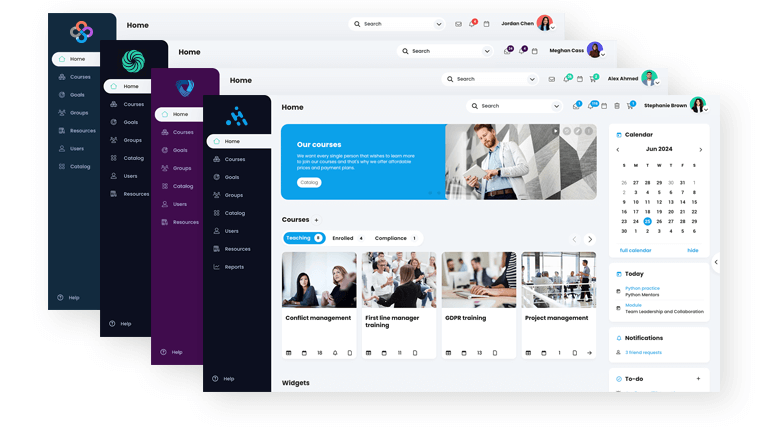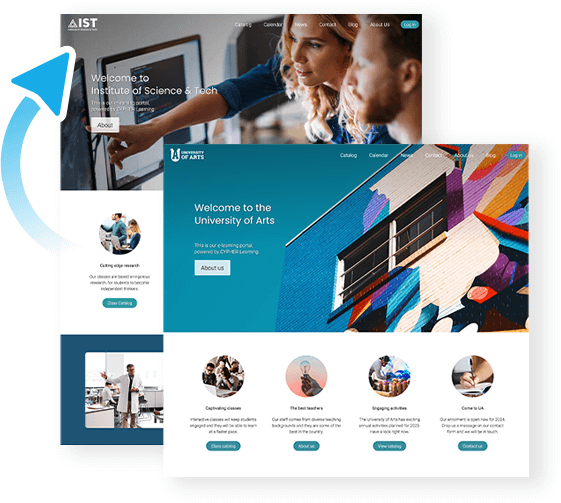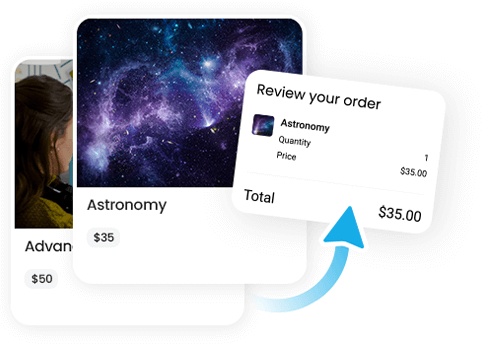 Why modernizing online courses for trade schools matters
The average trade school degree costs $33,000 compared to $127,000 for a bachelor's degree.
Mechanic and repair trade programs saw an enrollment increase of 11.5% from spring 2021 to 2022, according to the National Student Clearinghouse.
The US Bureau of Labor Statistics forecasts a 6.6% growth in employment for those with a post-high school vocational award.
Are you ready to see CYPHER Learning in action?