Build unflappable product expertise
Elevate employee product proficiency and drive stronger customer interactions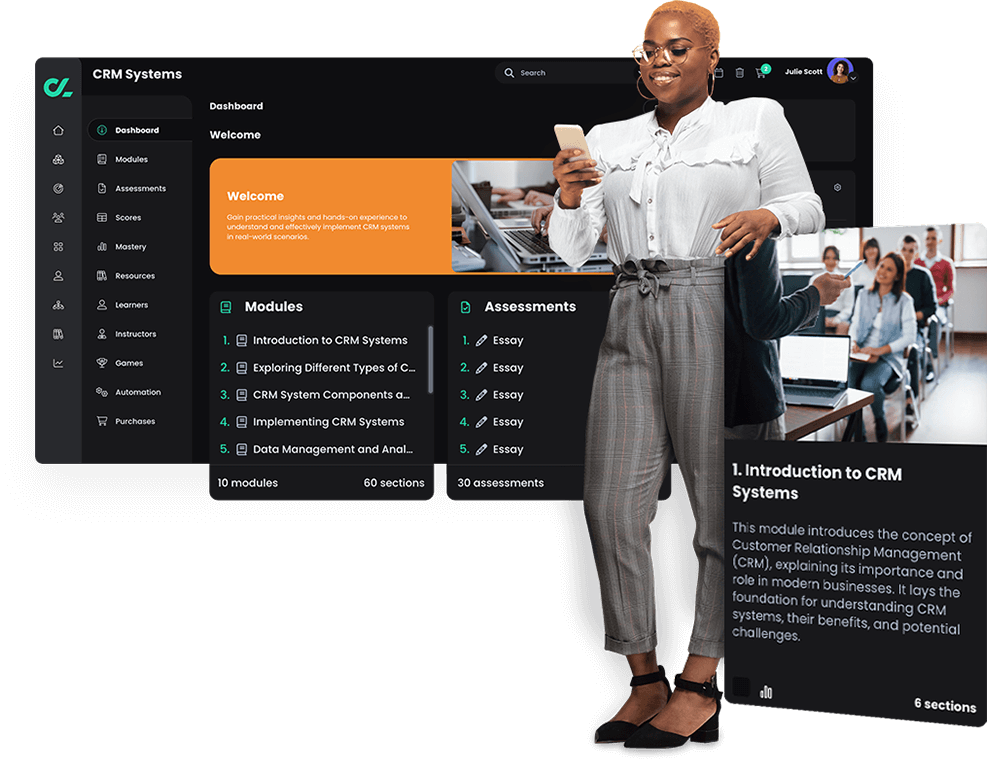 Accelerate pipeline

with modern product training programs

How many times have you received details of a new product or service just a week before its launch? In five days, you have to educate yourself on the product, create courses to inform employees, and ensure employees understand the ins and outs of it before launch. Talk about stress!

Are you struggling to…
Create and adapt product training fast enough to keep up with demand
Translate product trainings in multiple languages while maintaining meaning and localization
Create engaging and individualized product training people actually want to use
Get meaningful, data-driven insights to measure the effectiveness of product training methods
Measure and track your extended enterprise's product training progress, strengths, and weaknesses
Inspiring

customer confidence through product mastery

At every point in the customer lifecycle – from purchase to customer support – buyers expect nothing less than an efficient, productive customer experience. They expect to get information exactly when they need it and quick solutions for any problems that may pop up. . To meet these expectations, customer-facing employees such as sales teams, customer success managers, and customer support representatives need to be masters of the products they represent. They need to deliver information and answers promptly and accurately, and they need to know exactly where to go if the inquiry requires research and escalation. Anything less than that leaves a negative impression and can impact customer acquisition and retention. Not to mention, it leaves employees feeling unprepared and less confident in their own capabilities.

This makes a robust product training program essential to creating a superior brand experience. Whether you're looking to create product advocates or product experts, you need a modern learning platform that personalizes the learning experience and establishes competency. This ensures you're building and maintaining a team that represents your product and brand the way you and your customers expect.

74% of CX leaders say improving content and knowledge delivery to employees and customers is important.
Award-
winning

platform for training

CYPHER has received multiple awards for our innovative learning technology, including Forbes Advisor's "Best Overall Employee Training Software" and "Best LMS."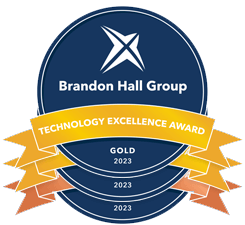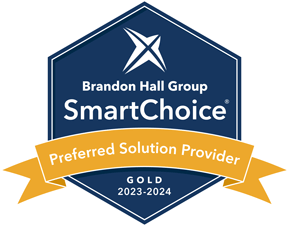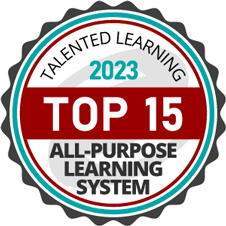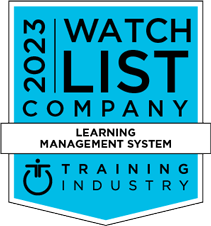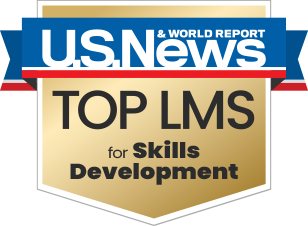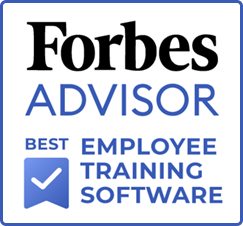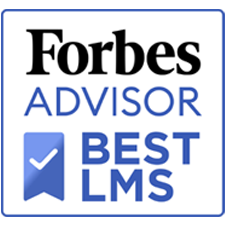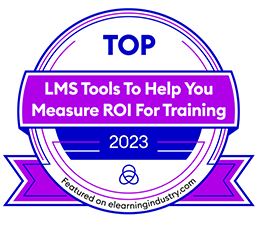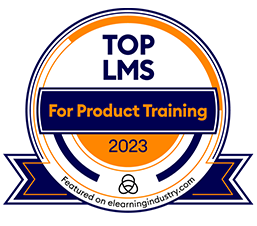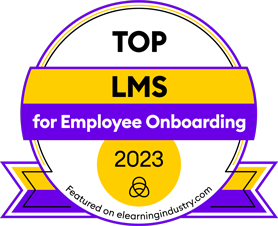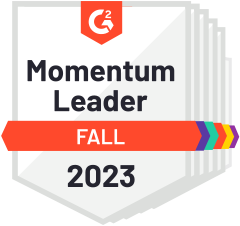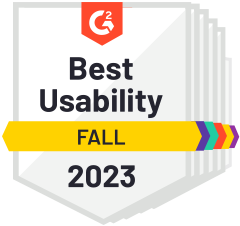 Supercharged

product training. In

minutes

.

AI 360 with Copilot on the CYPHER platform can supercharge your product training program and deliver robust new courses fast, ensuring your course material is always up to date with the latest product features and capabilities. Imagine building competency-based, gamified, and personalized product training in just minutes!

This lets you:
Create product courses tailored to individual functions, departments and even employees - using your own uploaded content - and launch it just in time!
Ensure your teams are up to speed on the latest capabilities, updates, bug fixes or any other universal product issues they need to be aware of
Control your content quality, accuracy and credibility
Ensure consistent product knowledge and advocacy across your organization
Traditional way vs.
CYPHER's approach
Training manual PDFs and presentations simply don't cut it when it comes to effective and efficient product training. Employees quickly scan through the material without the necessary level of comprehension, leaving them unprepared when they're "in the moment" with a customer. Traditional learning management systems don't fare much better. They limit how the material is presented and fail to capture the learner's attention – with the same less-than-desirable results. CYPHER is revolutionizing the way companies conduct product training and enable employees. It empowers trainers to build effective and inspiring competency-based courses with personalized learning paths, engaging content and advanced analytics – all geared toward helping employees achieve mastery-level proficiency of your products and services.
Traditional way
What you get with CYPHER
One-size-fits-all approach doesn't adapt to the learner's progress or training needs
Personalized learning profiles, competency mapping to content, assessments, and reporting in minutes – helping to ensure learners understand and can prove mastery-level product knowledge
You must manually bridge the gap between content development and delivery by using multiple, expensive tools
Unified content development and delivery allow you to get product training up and running faster with less people and money
Rigid, static content formats that leave learners bored and unengaged
Incorporation of new media and technologies like gamification to drive engagement and retention of product information at even the deepest level of detail
Conventional reporting that provide basic and rudimentary data
Insightful analytics, empowering you to track learner progress, identify gaps in product knowledge and flag opportunities for improvement
Time-consuming and manual course creation
Automation and AI-powered tools cut product course creation to minutes - allowing you to update and disseminate information just in time
Manual and outdated assessments
Adaptive assessments tagged to specific product and service topics to understand what the learner knows or doesn't know
Human-centered connections and communities to facilitate peer discussions and group exercises that help unify teams, while drive understanding and mastery of given product topics
A modern learning platform for
mastery-level

product knowledge

See how the CYPHER platform can help your product training program:
Create product training content fast
POWERFUL COURSES
With CYPHER, product-oriented course creation is quick and simple. Keep your employees current with the latest product features, bug fixes, and broader issues that might drive inbound customer inquiries. In a few clicks, set up instructor-led, self-paced, blended, or micro-learning courses tailored to the needs of learners across your organization.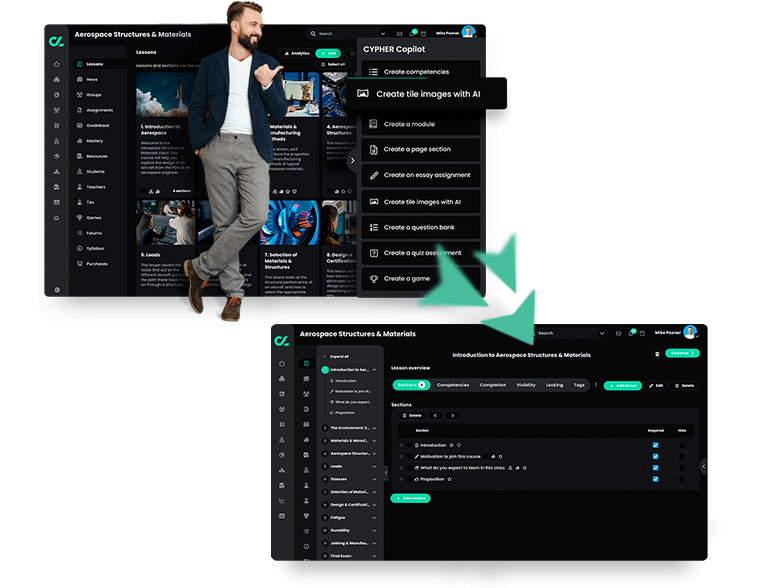 Combine AI 360 with your unique content
UPLOADED CONTENT
Use AI 360 to create customized courses using your own content. Upload videos, PDFs, or other company materials, and AI 360 with Copilot will create a full course complete with quizzes, gamification, competencies, and more.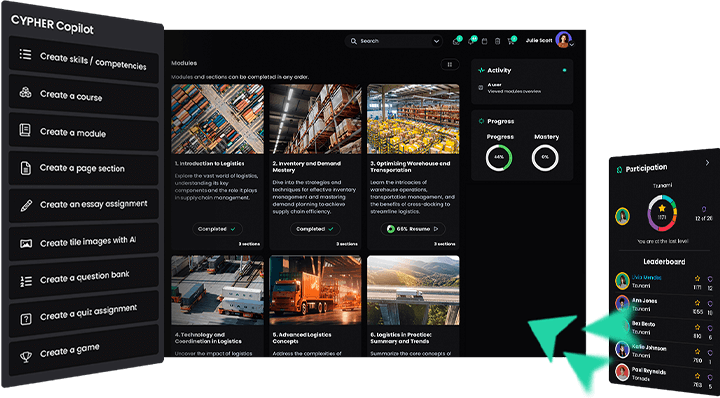 Streamline certification management
CERTIFICATIONS
Simplify certification tracking. Assign mandatory internal or external certification courses, set time periods, and automate renewal reminders. Keep employees current with essential training to ensure they maintain the credentials and product expertise needed to do their jobs effectively.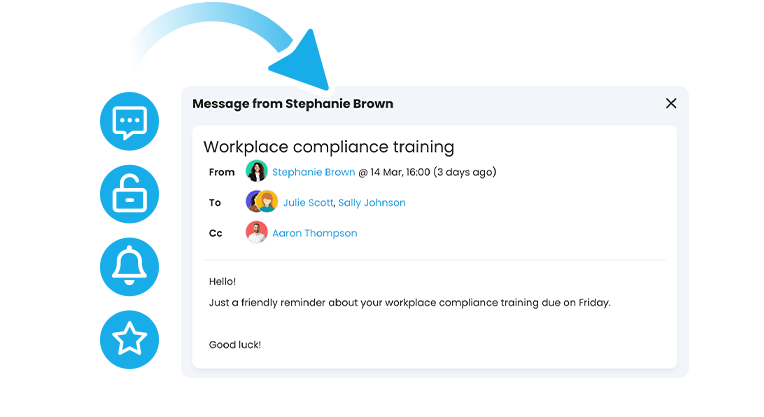 Gain insight into proficiency levels organization-wide
REPORTING
With 55 pre-built reports and custom options, generate reports to track product training progress across your organization. Leverage data to identify vulnerabilities, common product questions, and challenges. Then, build courses or programs to address them.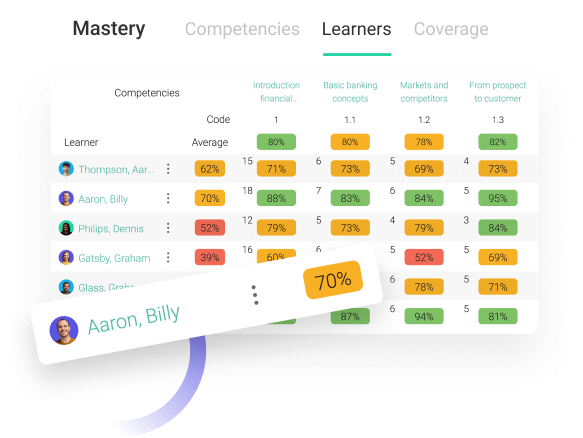 Create mastery-level product proficiency
COMPETENCY MAPPING
Enhance product-related proficiencies through competency-based learning in product training. Tailor courses to individual roles to keep learners focused on mastering the specific products or depth of knowledge that relate to their respective responsibilities.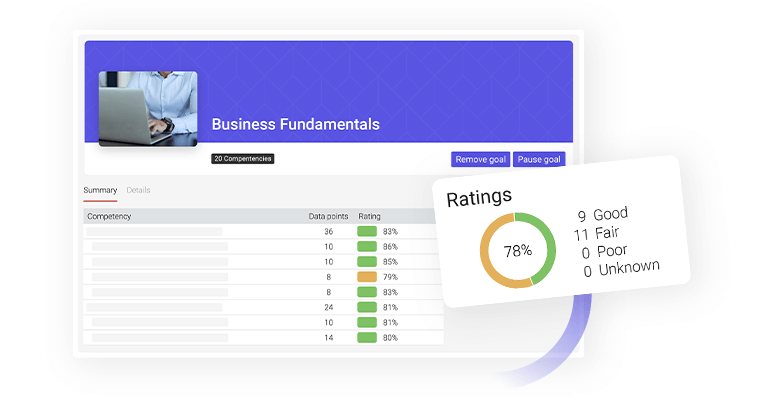 Set and track product proficiency goals
LEARNING GOALS
Define learning goals and track progress with CYPHER's guided recommendations. Access courses and learning paths for effective upskilling or connect those with similar goals through learning groups. For example, new sales department hires can connect to ask questions about product hierarchy and messaging.
Make product training fun
GAMIFICATION
Make product training more compelling, engaging, and effective with gamification elements. Reward progress with points, badges, and team-based challenges, promoting an enjoyable learning experience. CYPHER supports the world's largest implementation of gamification with over 120,000 users.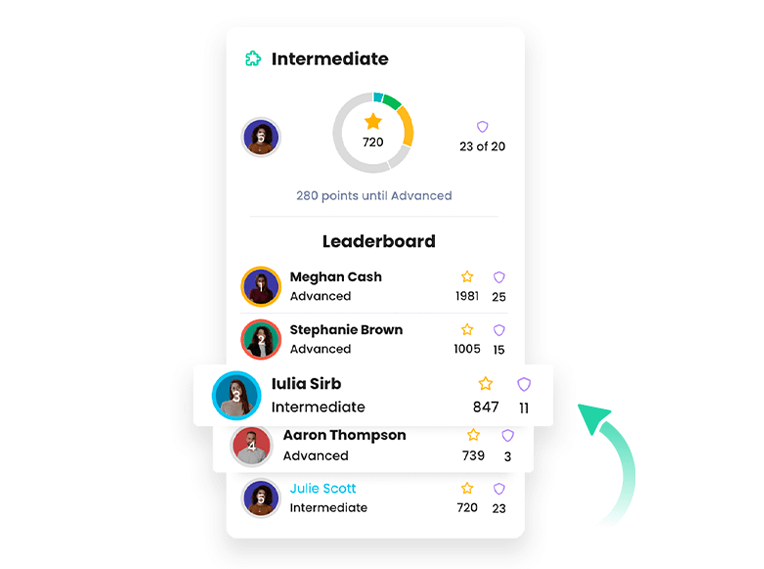 Simplify and expedite administration
AUTOMATION
Boost product training efficiency through automation. Configure the platform to trigger automatic actions in response to specific learning goals, saving time and reducing administrative burdens.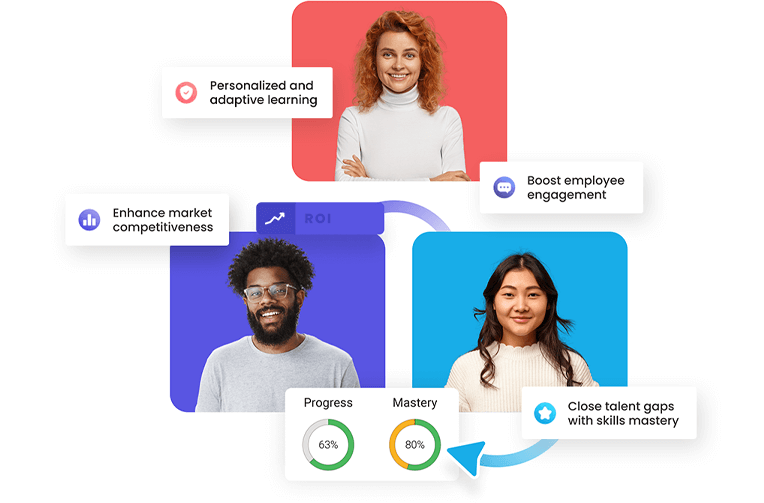 Centralized training offerings
EFFICIENCY
Streamline product training by centralizing it across departments. Create dedicated organizational units for each department, each with unique portals, users, product courses, and resources. This ensures efficient management and access control for department-specific training.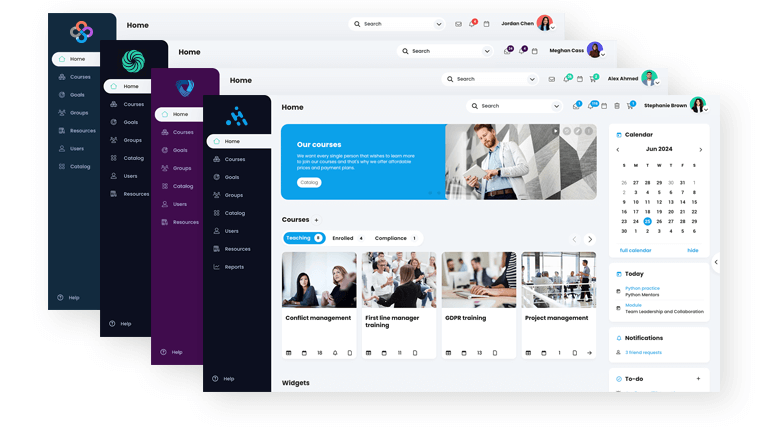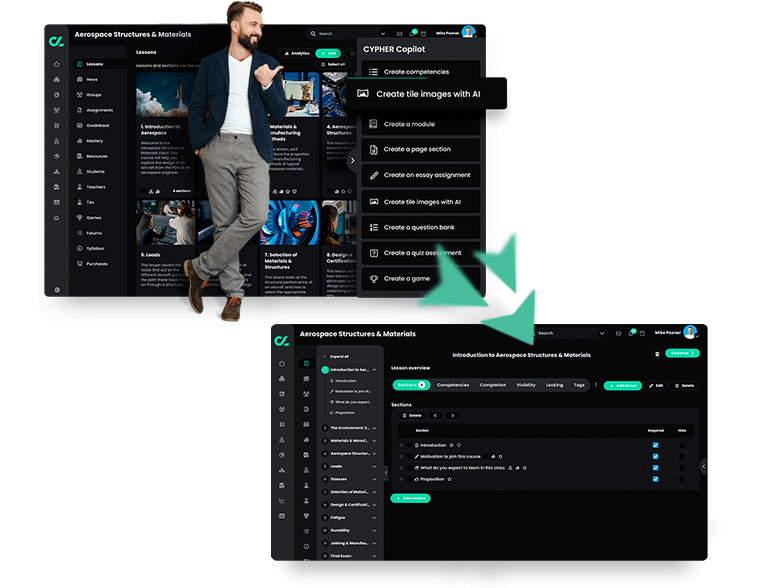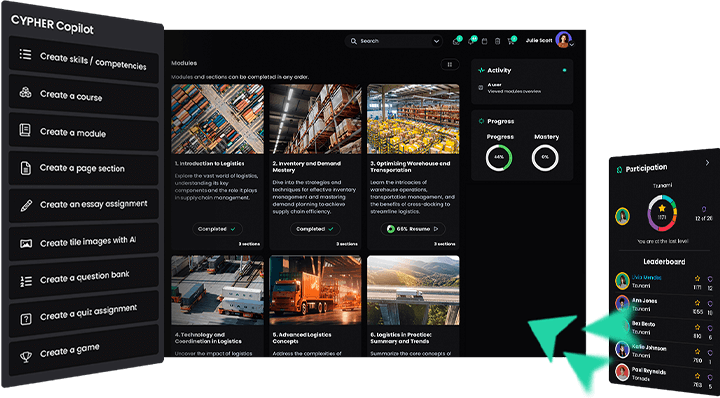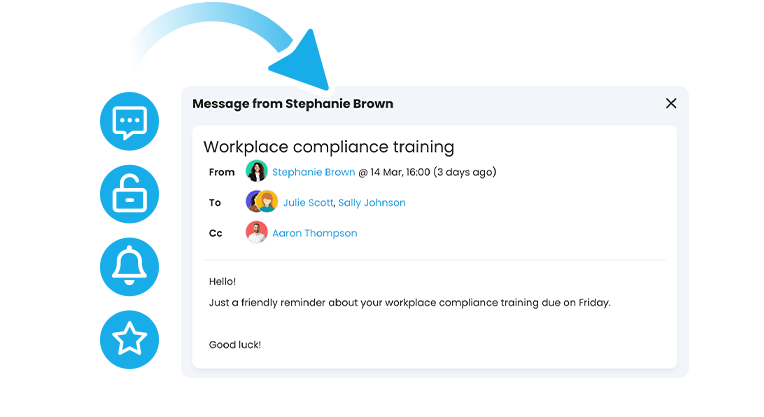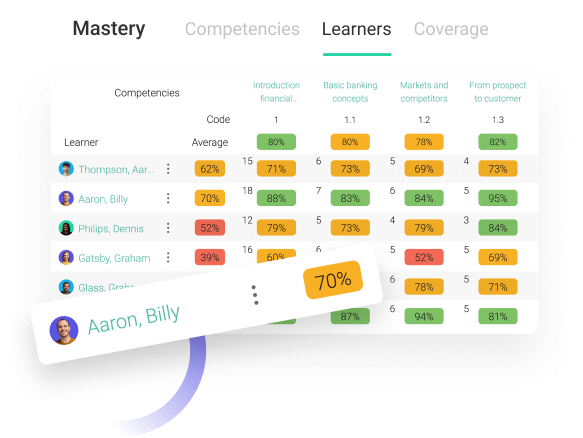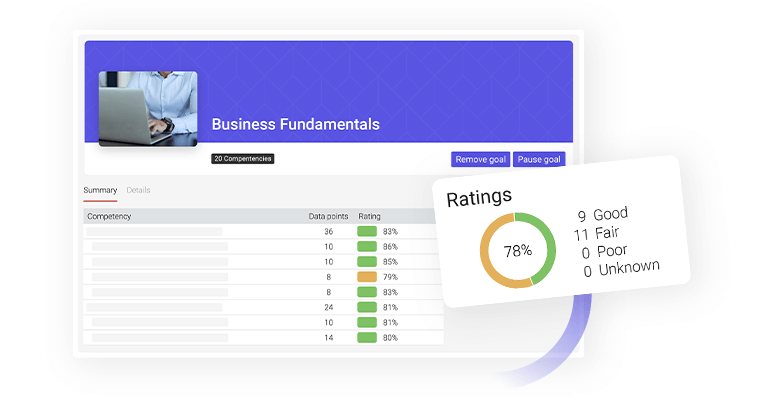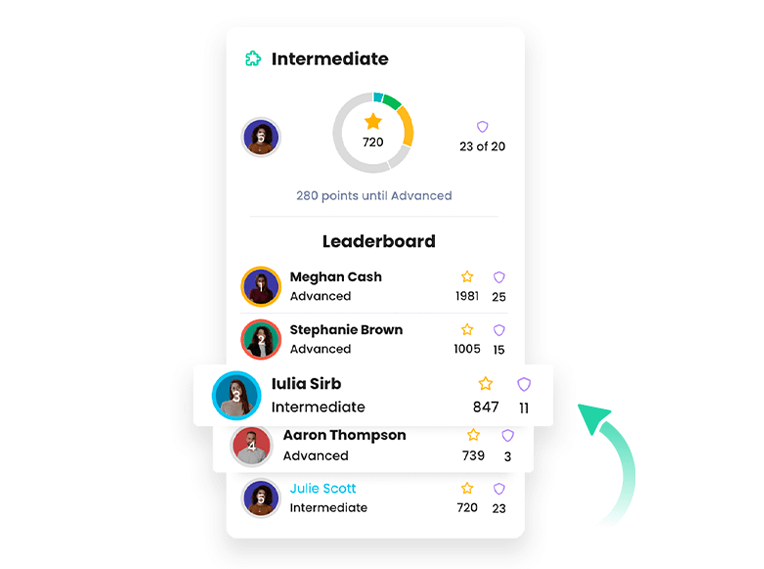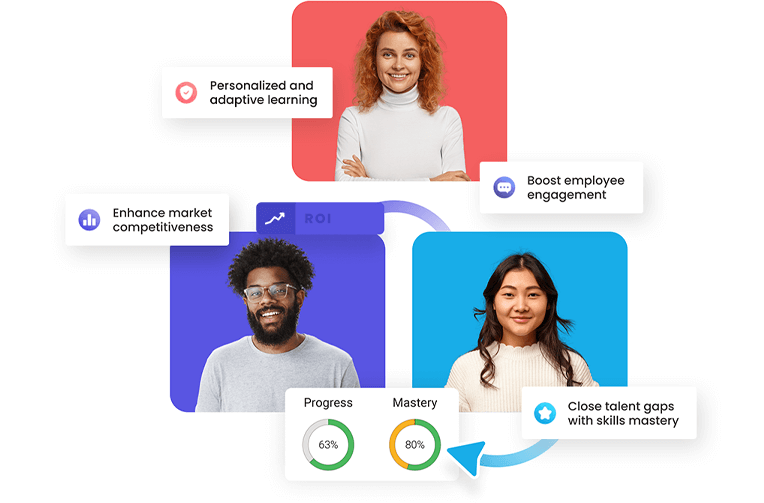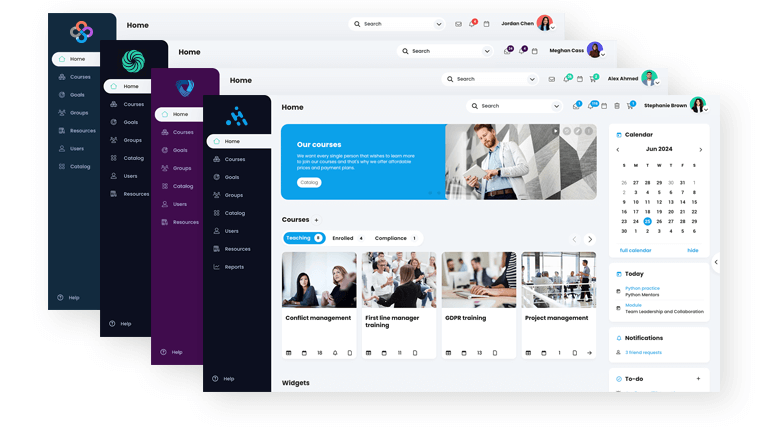 Why modernizing product training matters
70% of consumers think contact centers should prioritize agent training instead of adding additional channels like chatbots.
82% of customers would be more loyal to a brand that empowers contact center agents to solve issues without having to follow a script.
83% of high performing customer service agents indicated they received the training they needed to do their best work.
Are you ready to see CYPHER Learning in action?