Learning doesn't just happen in schools, it is a continuous act that happens every day and stretches throughout our entire lives. Since more and more of today's work is knowledge-based, active adults know that sometimes it is impossible to separate learning from work.
Continuous learning at work is not only necessary, but vital to the development of the organization. Businesses now realize they can only improve their performance through their employees' performance. Therefore, companies must understand how their employees learn and strive to meet their needs in a cost-effective way. A very popular learning theory is based on the 70:20:10 model.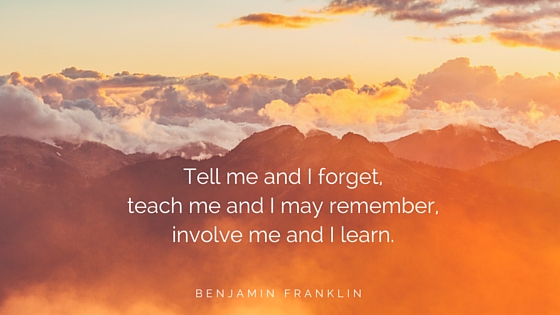 The 70:20:10 Model for Learning and Development
This model emerged from a '90s study on how people at work learned, conducted by the Center for Creative Leadership (CCL). Although there are reasonable criticisms against the model, it nevertheless struck a chord with the learning and development world. The concept actually gathered many learning professionals and there is even an online community around it: the 70:20:10 Forum.
The 70:20:10 model has also attracted the attention of business people and is increasingly used as a strategy to improve workplace performance. It is based on three main sources of learning:
Experiential learning: 70% of learning happens through job-related experiences, like taking on new responsibilities, taking part in projects or working groups or using feedback to try a new approach to an old problem.
Social learning: 20% of learning happens through others, coworkers and managers alike, each time we seek or give feedback, attend one-to-one meetings or proactively learn through teams or professional networks.
Formal learning: 10% of learning happens through formal education programs, like seminars, training programs and online courses.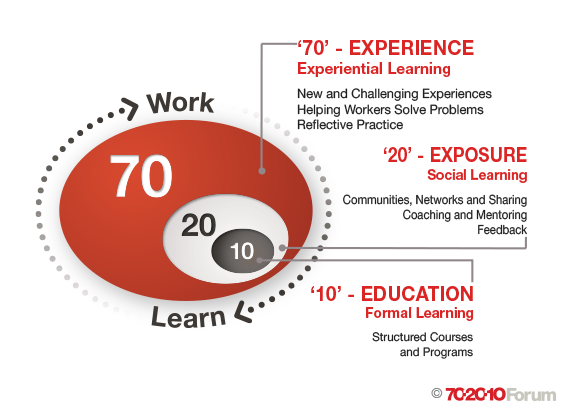 Of course, these figures are only guidelines and not an exact success formula. Some organizations skip the figures altogether and go with Experience:Exposure:Education as a way to describe their internal learning model.
Some learning professionals out there are surprised that the formal learning only covers 10% of the entire experience, but this is only natural because people absorb information more efficiently when they gain it from a practical context. That's why learning from others and on-the-job circumstances seem to have a greater impact on employees.
How e-learning technology assists the 70:20:10 model
Technology can assist this model of learning first and foremost through LMSs, which provide a structured and measurable way for organizational learning. Learning management systems are always improving and can be used for more than the obvious 10% of formal education.
Formal learning through LMSs
Formal learning is the foundation for effective training. Although it has a reputation of being boring and/or forced, formal education at work is the starting step towards successful social and experiential learning. The customized use of pictures, graphics, videos and HTML files of an LMS contribute to making the training as appealing as possible, thus setting the stage for an engaged audience.
Online training courses for employees can cover all aspects of formal education, from structured lessons, assignments and calendars to grading and certification. Instructional designers support learners to go through all required lessons and finish the course with success.
Social learning through LMSs
Social learning happens naturally, as well as the use of technology at work. Just think how many times have you used Skype to chat with a coworker in the same room.
A good LMS can't ignore the wide spread of social media and it usually provides a group chat feature and/or topic forums along with the course. Learners and instructors use these tools to communicate around their subject of interest without having to leave the LMS. A knowledge sharing center or a resource box can also be available for learners to easily access what they need to know or to share what they have learned with others.
These features make it easy for learners to communicate with one another about certain topics from the course and also to ask and receive feedback on their progress. What's more, they identify themselves within a community.
Experiential learning through LMSs
Learning through practice and experience is the most effective way of actually getting to know something, especially at work.
But sometimes employees spend too much time researching on ways to solve a problem without knowing that the solution already exists. Trying to reinvent the wheel can be costly for businesses.
That's why the use of an LMS can help with the optimization of the performance support. Having all company policies, handbooks and other such files in the same place and sharing them with employees will help improve overall productivity costs.
LMSs can also bridge the gap between formal education and experiential learning through interactive content and scenario-based e-learning modules. This allows learners to experiment with multiple solutions while they understand the underlying principles of the core subject.
The 70:20:10 model forces learning and development professionals to step into learners' shoes more often and create e-learning material that helps employees acquire the skills they need better and faster. Technology and LMSs will only support this change of mindset.
What are your thoughts on this learning and development model? Do you think it can work for your business? Let us know in the comments section below.