The L&D industry is galloping towards the future. Learning in the workplace has come a long way since the era of boring slides with bullet points and in a few years' time we will be witnessing more technological developments than we could imagine now.
The LMS space is booming, immersive learning content is on its way to become the norm, deep learning is getting deeper, the use of video spreads within the training delivery. Everyone in the professional learning and development industry needs to be on top of all aspects that currently shape this industry. And the best way to do this is to meet and share ideas of what's happening and what will happen.
That's why anybody who's somebody in the e-learning industry will be getting together in a huge venue to attend the largest event for talent development professionals worldwide.
What: The ATD International Conference and Exposition
When: May 21 - 24
Where: The Georgia World Congress Center, Atlanta, Georgia, USA
ATD 2017
According to their website, the Association for Talent Development (ATD) is a professional membership organization supporting those who develop the knowledge and skills of employees in organizations around the world. Their mission is to empower professionals to develop talent in the workplace so that we'll all be part of a world that works better.
They've been doing this for over 70 years. Perhaps you'll remember them from the time they were called The American Society for Training & Development (ASTD).
The Association for Talent Development hosts a variety of conferences and events several times a year and the ATD International Conference & Exposition may be the most important one. This year's edition will take place in Atlanta, Georgia, at the Georgia World Congress Center.
The 3.9 million square feet of the venue will be trotted by the more than 20,000 feet of the talent development professionals that will roam the floors in the four days of the event and another four of pre-conference seminars and education sessions.
There will be amazing opportunities for anyone attending to meet like-minded professionals and share ideas about learning technologies, human capital, training delivery and everything in between.
For more details about the ATD International Conference and Exposition check out this infographic in its entirety: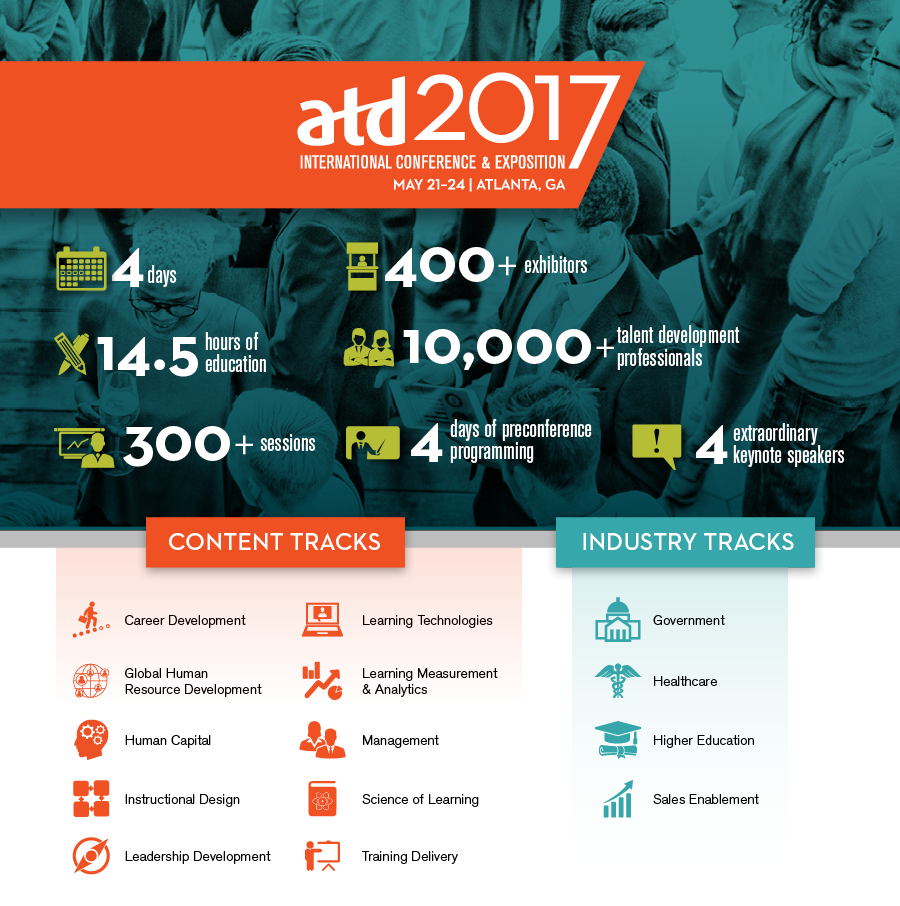 Meet MATRIX at ATD 2017
The countdown has begun and we can barely wait to head over to Atlanta and be part of the most important L&D event this summer. The MATRIX team will be attending this year's edition of the ATD Conference!
Meet us at Booth #2015!
Drop by our booth in any day of the event to meet the team, chat about the latest trends in the professional learning industry and see what we've been up to lately. Here are a few things that will definitely be worth your time:
Our CEO and Founder Graham Glass will be hosting daily seminars on various training topics. What's more, by attending any seminar, you'll get the chance to win an Amazon voucher to spend in any way you'll fancy.
If you're not already familiar with MATRIX, our team will be happy to hold a live demo for you to see how MATRIX LMS can work for your company. Bring your questions along and be prepared to have interesting conversations!
If you do know MATRIX, drop by our booth to be among the first to learn about our exciting news! We will be showcasing new features and also the recent improvements to our platform. Our customers' opinion is important for us.
Last but not least, we have prepared a series of giveaways and contests for anyone visiting our booth. Get in the game for a chance to win VR headsets, drones or an iPad!
Be sure to leave your contact details if you want to get our news about our booth activities instantly.
We're all looking forward to meeting you at ATD 2017!