In the ever-evolving world of learning and training, finding more efficient and effective ways to create courses is paramount. As trainers, educators, and teachers, we understand the challenges that come with developing engaging course content to meet the needs of modern learners.

CYPHER Copilot, as the name suggests, is a purposeful approach to course creation, designed to assist and enhance the work of trainers, educators, and teachers. With Copilot, you get the best of both worlds: the power of generative AI accelerated course creation and scalability combined with the human touch and expertise that only your organization can provide.

Copilot seamlessly integrates with the CYPHER platform and enables you to leverage the full potential of generative AI on a modern learning platform while avoiding the hassle of navigating multiple platforms or connecting all the dots. Copilot ensures a smooth course creation workflow that saves your organization time and effort, and energizes the course creation process. This post is about overcoming course creation challenges with CYPHER Copilot at your side.
The Challenges Involved in Modern Course Creation
Generative AI is a remarkably useful tool across various domains, but it has a few understandable limitations with regards to comprehensive course creation.

For starters, consider that to create a single course, you must ask at least 150 specific questions! And because content customization options aren't readily available, knowing the right questions and how to ask them is critically important to the results that you get. Open-ended queries can open the likelihood for inconsistent or incomplete information, which can have a detrimental impact on the overall quality and coherence of course content.

Next, consider the challenge of using a stand-alone generative AI solution to create engaging and tailored learning experiences meant to cater to individual needs and align with competencies and specific learning objectives. Stand-alone generative AI solutions don't provide scalability, gamification, personalization, or integration in the context of competency-based learning and assessment building. Nor were they meant to.
Customize Course Creation with CYPHER Copilot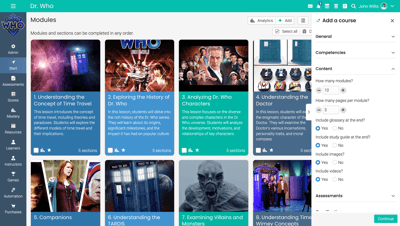 Course creation is where CYPHER Copilot excels. Seamlessly integrated on the CYPHER platform, Copilot provides a holistic course creation experience where high quality course content can be tailored based on specific and customized requirements within minutes.
Leveraging generative AI, Copilot does the heavy lifting, performing approximately 80% of the course creation process, automating repetitive tasks, and freeing up trainers, educators, and teachers to focus on what they do best - adding their expertise, creativity, and real-world examples to the course content. Create a whole course or parts. It's up to you. Make it gamified and personalized. Easily add multimedia, create study guides, course glossary, and add quizzes and assessments in minutes.

CYPHER understands that human input is vital to creating truly impactful learning experiences – Copilot empowers you to take charge of the remaining 20% – the personalization, customization, and contextualization aspects of the course to ensure that the course is tailored specifically to your modern learners' needs. Copilot offers numerous benefits, including:
Comprehensive course creation. Copilot can help build every part of a course! From course outlines to course content. From quizzes to essay questions. From rubrics to gamification. Ask Copilot to build the whole course or just parts - it's up to you!
Accelerated curriculum and course design, including course outlines, descriptions and content in over 50 languages. Copilot enables the generation of an entire course in under 5 minutes, allowing the selection of materials that reflect individuals' style and objectives in a fast and cost-effective way.
Embedded gamification to increase learner engagement. Incorporating site-wide gamification elements, like badges, leaderboards, and rewards, Copilot quickly transforms the often arduous task of course creation into an engaging and enjoyable experience that also enhances learner engagement and retention. Copilot gamifies courses to bring development to life and inspire learners, improving information retention and understanding to deliver better outcomes.
Competency creation. Copilot eliminates the tedious process of competency-based learning. Let Copilot generate and map the competencies for you. Copilot enables organizations to generate competencies, create courses that align to those competencies, along with question banks and assignments that automatically align with those competencies - right down to the question level.
Targeted assessments to track learner progression and identify gaps, including rubric creation and question banks. Copilot helps trainers and educators to automatically generate detailed quizzes, games, and assessments to help evaluate learner progress.
Schedule a demo today and see how easy course creation is with Copilot
CYPHER Copilot revolutionizes course creation by combining the power of generative AI with the human touch and expertise of trainers, educators, and teachers. It offers a purposeful, human-focused approach that streamlines the course creation process. By automating many tasks, Copilot empowers you to focus on personalization, customization, and contextualization, resulting in engaging and effective courses.
Copilot seamlessly integrates with the CYPHER platform and enables you to leverage the full potential of generative AI on a modern learning platform.
A few things that you can do to learn more: