The axiom "less is more" is confirmed daily in our Information Age. In education, the abundance of novel tools, opportunities, and concepts runs the risk of overburdening already stretched teachers and processes. This is why simplification should be a central principle for academic institutions, especially with hybrid and remote learning.
Forward-thinking administrators and leaders aware of this seek solutions that fit harmoniously in their digital ecosystem. It is not enough that solutions address their challenges and strategic goals, they should also be comfortable for educators and students. A central part of that comfort comes from the ease of integration with the systems they already use.
With this in mind, CYPHER LEARNING and Turnitin began collaborating in 2015. Our integration simplifies the assessment of written assignments for users of NEO LMS and Turnitin. There is no need to fumble through different portals with different credentials. The features of Turnitin Feedback Studio are accessible right from within NEO. This integration directly supports academic integrity throughout the learning experience grounded in the learning management system (LMS).
Turnitin Feedback Studio within NEO supports academic integrity
Integrating Turnitin Feedback Studio brings premier text similarity detection and feedback features to the NEO LMS platform. Powered by Turnitin's content database, Feedback Studio accurately and reliably reveals potential plagiarism in written work for instructors.
Educators can quickly identify any problematic wording or blocks of text that may be missing proper credit or otherwise lacking in conformity to accepted standards. These are clearly highlighted and a simple click shows further details on the matching sources.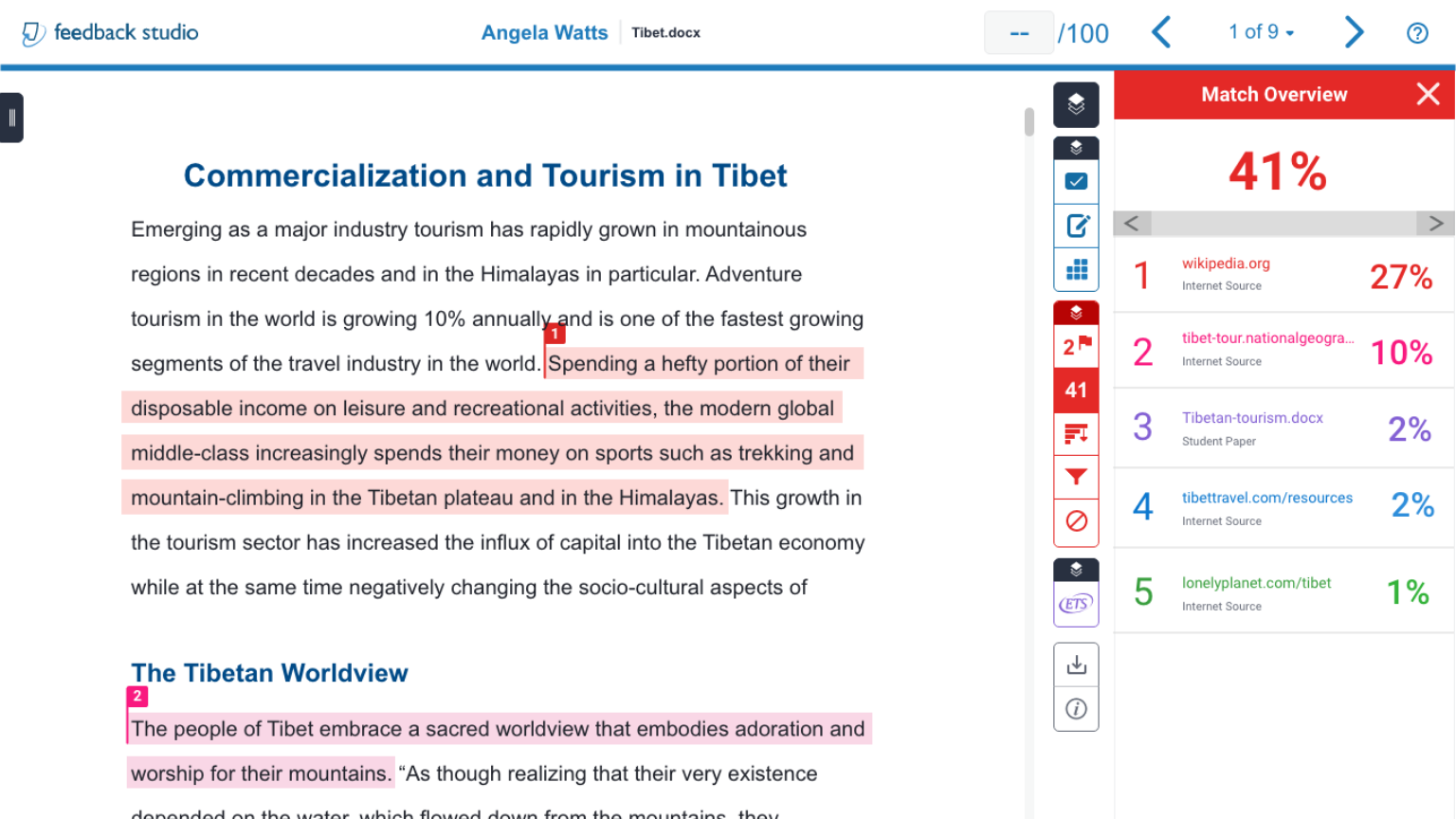 Feedback Studio also provides an overall similarity score for immediate insight into student work. This tool available right from their LMS allows educators to put the knowledge to use right away, whether for grading or to inform instruction. Supporting academic integrity in an e-learning environment has never been easier.
Feedback Studio can simplify grading and feedback as well. Easy-to-use predefined or custom rubrics help instructors to deliver consistent grading. Dynamic feedback tools, such as Drag-and-drop QuickMarks and text and voice comments, enable educators to quickly leave personal and actionable feedback on student work.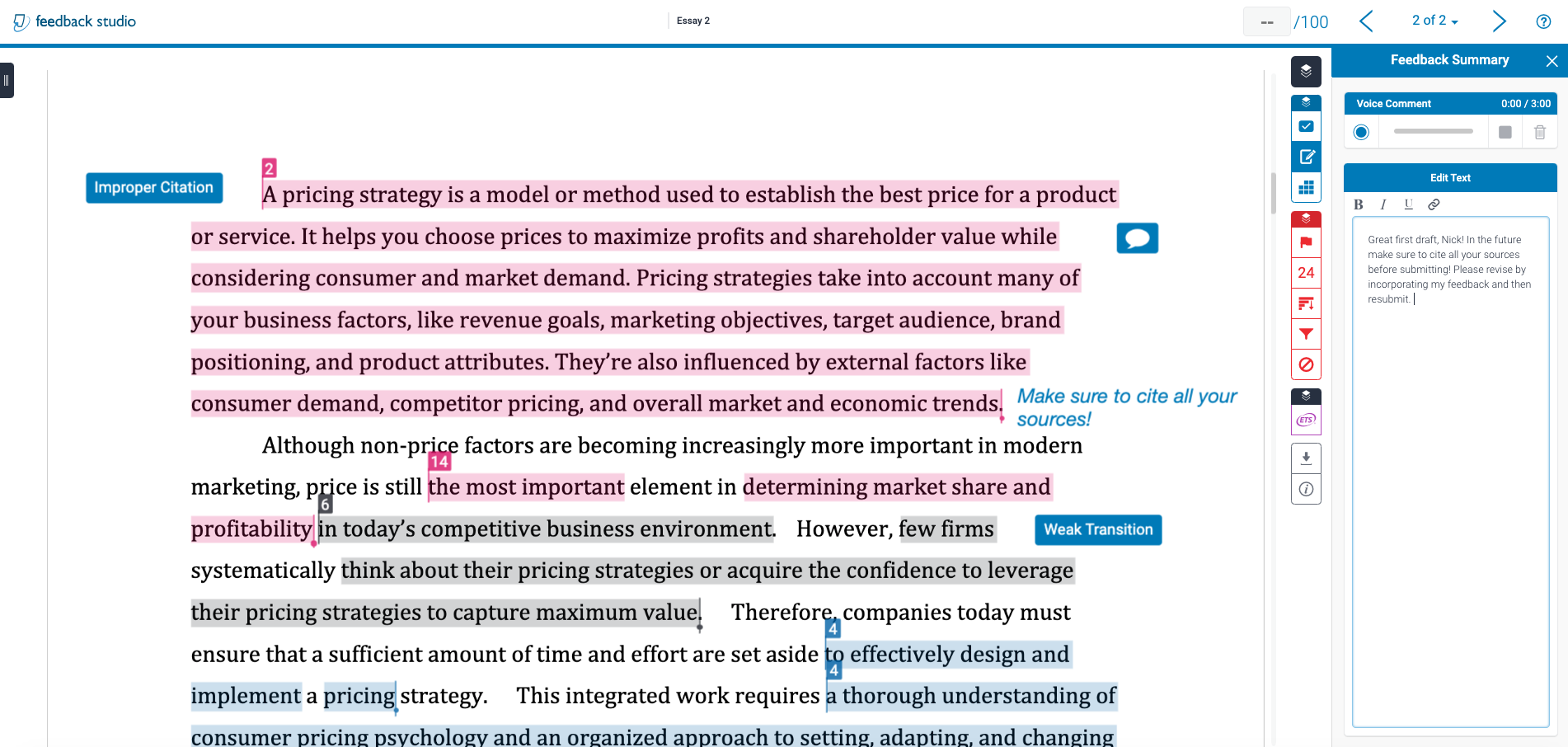 ---
Watch: NEO LMS and Turnitin - How to create a Turnitin assignment
---
Turnitin Feedback Studio and NEO integration in action
St. Luke's Medical Center College of Medicine uses the Turnitin NEO integration extensively. Two years ago, staff identified the improvement of student writing as a key step in moving the institution forward. Dr. Pacifico Eric Calderon (MD), Chair of Professionalism, Medical Ethics, and Humanities, saw that some students were not entirely familiar with academic integrity standards. He also recognized that the particular demands of postgraduate study could increase the risk of inadvertent violations.
He approached Dr. Redante Mendoza (MD, MBA, MPA), Head of Teaching Innovations and eLearning Students about the issue. They knew it had to be solved to maximize academic achievement and similarity detection could be part of the solution.
Dr. Calderon recognized and trusted Turnitin from his own experiences as a student but Dr. Mendoza wanted to be sure any solution would blend well with the institution's systems. St. Luke's Medical Center College of Medicine began an objective review for potential solutions.
In the end, they did choose Turnitin for three particular reasons:
Turnitin has the largest and fastest-growing content database;
Turnitin offers advanced similarity detection and marking features;
Turnitin seamlessly integrates with NEO LMS and Google products.
Dr. Mendoza was well aware of the importance of the last point in facilitating adoption by students and faculty. Between the demands and constraints of the program, it's not enough to simply have strong products, they must be efficient and user-friendly.
As he explains it, "everything we get has to integrate with what is existing because it is challenging for the students to sign in twice, log in twice, and have two different dashboards."
---
Read more: Building a culture of academic integrity in a remote learning environment
---
Results delivered
The intuitive workflow of Turnitin and NEO LMS integration meant immediate results for St. Luke's Medical Center College of Medicine. Faculty and administrators alike see:
Continuous improvements in student writing and a greater understanding of citation and reference standards. Fostering greater assessment with integrity ensures progress toward meeting the college's ambitious goal to be globally competitive;
Instructors also take advantage of the rubrics, QuickMarks, and commenting tools to expand students' awareness of academic integrity and streamline grading. The Flags feature helps detect replaced or hidden characters.
"Since Turnitin is embedded in NEO LMS," Dr. Calderdon explains, "the ability to mark the students using a rubric and also with preformed comments that we just click has been useful."
Another important outcome of the integration implementation is that students can now benefit from Turnitin's Draft Coach add-on. As students get access to Draft Coach, they can pre-check their written work for potential citation and grammar issues before they submit the assignment.
Dr. Calderon notes that the use of Turnitin Draft Coach has "pushed students to be faithful in academic writing, with integrity."
Draft Coach, which brings the same text similarity insights of Feedback Studio to students, encourages learning by providing guidance on how to address errors and improve writing before final submission.
Supporting academic integrity and writing excellence
As St. Luke's Medical Center College of Medicine demonstrates, integrated and efficient text similarity detection can be central to supporting academic integrity and promoting writing excellence. This, in turn, fosters enhanced learning outcomes.
Educators know that most students never set out to be dishonest. Their intentions are sincere, but a lack of awareness or understanding can lead to mistakes. Often, students are not even aware that they have plagiarized when it happens. Sometimes, plagiarism can simply be a symptom of juggling so much information daily.
Text similarity detection allows students and educators to identify any unacceptable instances of similarity and actively work on these weak points. It creates teachable moments to explore the meaning of academic integrity and practice meeting writing standards. Above all, it is a tool to build mindfulness and intention when writing.
The ease–the swift and effortless discovery–allows for academic integrity habit building to be a regular component of eLearning classroom routines. Educators can plan through, beginning with low-stakes formative assessments, and build on as students gain comfort and awareness.
The other side of text similarity detection is how it can reflect on the particular content of a course. Unintentional plagiarism can demonstrate a lack of synthesis and real understanding. In the context of the challenges in e-learning, this is especially important. Text similarity detection can be markedly useful in identifying shortcomings in content that may need revisiting. Educators can easily use the data from tools like Feedback Studio to evaluate their lessons and inform further instruction.
Explore better EdTech possibilities for your institution by visiting Turnitin and NEO LMS.