A version of this post was originally published in July 2017 on Teach Secondary.
---
Student performance is not only affected by their own physical or psychological factors, but the learning environment as well. The space where children do most of their learning activities is, in its traditional form, rather rigorous and stiff. As a result, it can be difficult, if not impossible, to meet the diverse learning needs of young people – and also of teachers – in such a setting.
The best learning environment should be all about flexibility and diversity, and student-centered. Many educators have set the wheels in motion in order to create this new setting that is more student-centered than the traditional classroom, including things like:
Wheeled and modular furniture, that can be rearranged for each project or lesson;
A variety of seating options for different learning activities;
Separate spaces within the classroom for collaboration, individual work, storage and display.
Entire schools are already being redesigned this way, or even built from scratch to ensure the best functionality for teaching, learning, collaboration and creativity. But this requires plenty of resources – and clearly, not all schools have the means or the possibilities to redesign all their classrooms, instantly.
However, budget-friendly solutions exist.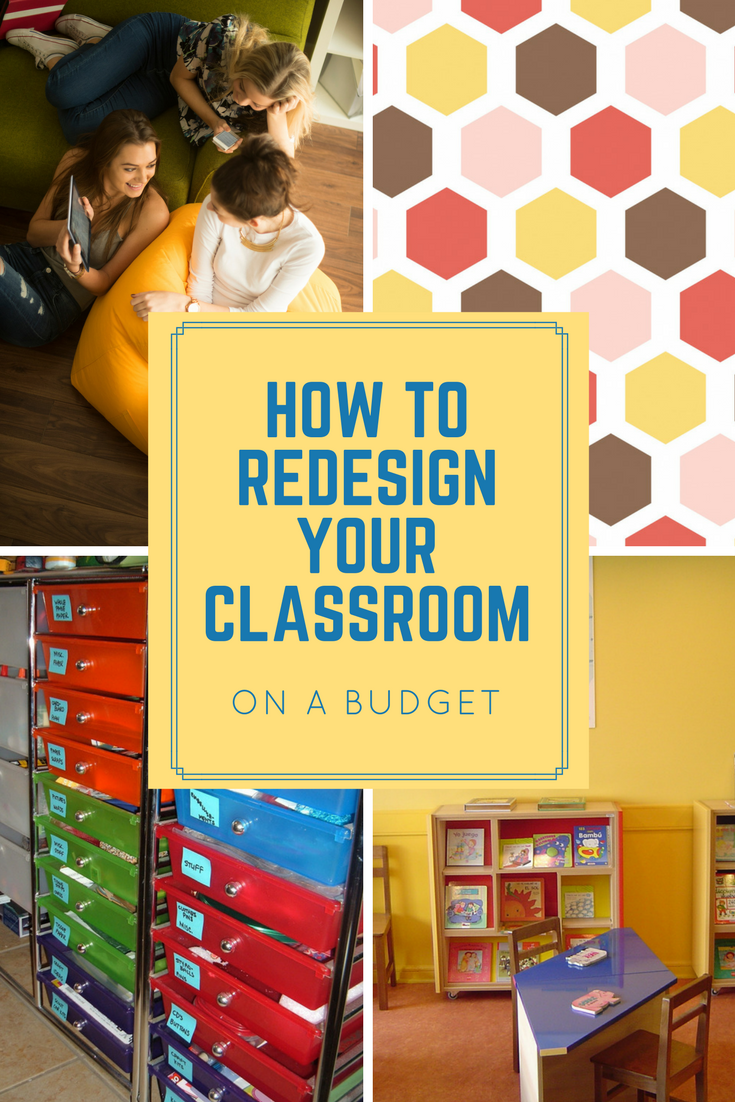 Easy fixes
Teachers are generally a resourceful bunch; and in fact, giving your classroom a makeover to meet modern learning requirements needn't be prohibitively expensive. Many things can be done on a limited budget with a few great ideas and the school's support. Some of the following tips and ideas will cost you only time, and whilst others might require some financial resources, the costs are minimal:
Replace individual desks with bigger tables from other rooms in the school – these will be great for collaboration based activities;
Add a set of wheels to existing desks and chairs for easy rearrangement of working spaces;
Add a new layer of non-toxic, colorful paint on desks, cabinets or other furniture – creating surfaces that can be written on with wipe-off marker pens can add a new dimension to learning;
Transform empty bookshelves into storage units, with bins on the lower shelves for example;
Organize some cheap storage baskets or bins for all supporting materials such as basic stationery and art supplies, laptops, notepads, headsets, power cords, books, magazines, and so on;
Get a cosy armchair or a small sofa, some beanbags, a few sitting pillows or even sleighs with chair cushions on top – give your students whichever seating options they prefer.
Bargain hunt
How to get all these things and more for free or on the cheap, you may wonder? Well, here are some ideas for that as well:
Ask for donations from your students, their parents and your fellow teachers – you'll be surprised by the many things they no longer use at home, but can become incredibly useful in your new learning space;
Check out the flea markets and garage sales in your school area — these are like synonyms of the word "bargain";

Spread your antennae to find out about the end-of-the-year sales that college students organise – expect armchairs and sofas, portable desks, laptop trays and much more;

If all else fails, take a trip to a few convenience stores, or your local charity shop — you'll find plenty of brand new things and great storage solutions for a convenient price.
Closing thoughts
As for the time investment dedicated to all these activities, you can do it all alone or you could ask your students to give a helping hand. Being involved in transforming their learning environment for a change really shows the impact of their work and may encourage even the most reluctant students to participate.
Building a better learning environment for your students doesn't have to expensive, but it has to be done with the students' learning needs in mind. There are so many things that can be reused or revived on a very small budget.
One last thing: if you're looking for more specific ideas, inspiration and DIY hacks for your classroom makeover, then check out YouTube and Pinterest.