Elementary school classrooms do not naturally lend themselves to a flipped or blended environment for a number of reasons. Firstly, there is the trending topic of screen time among young users. There is a growing awareness that although young children gravitate towards screens (who hasn't received a sweet, yet garbled, text message from their toddler playing on their partner's phone?) screen time should be limited.
The American Academy of Pediatrics (AAP) has made formal recommendations of the amount of time young children spend in front of screens. Outside of screen calling with grandparents the Association suggests that preschoolers ages 2 to 5 should have no more than 1 hour of screen time each day. The Association does however acknowledge that screens offer children older than 6 a number of educational and social advantages and does not offer a prescribed limit, saying only that screen time should be managed within the context of other necessary activities for childhood development such as physical activity social contact, family time and sleep.
Blended or flipped environments also are not ideal in an elementary school setting because so much of teaching in these grades is dependent on modelling and direction. Students at this age need to hear, touch, see, feel and in some cases taste their world to learn about it. Teachers in this context are actively guiding that process.
Additionally, students at this age are not only expected to learn their ABCs in elementary school but also socialization, behavior management and self control are additional skills they must develop in order to be prepared for later grades.
Flipping the elementary school classroom? A resounding YES!
Having said all of that, it is similarly illogical to ignore the vast and varied online resources, many of them free to use, that are designed specifically for the elementary school classroom. We will explore a number of the better online resource options focusing on behavior, reading and math. Near the end of the blog I will also explore some of the valuable resources for the professional development of elementary school teachers.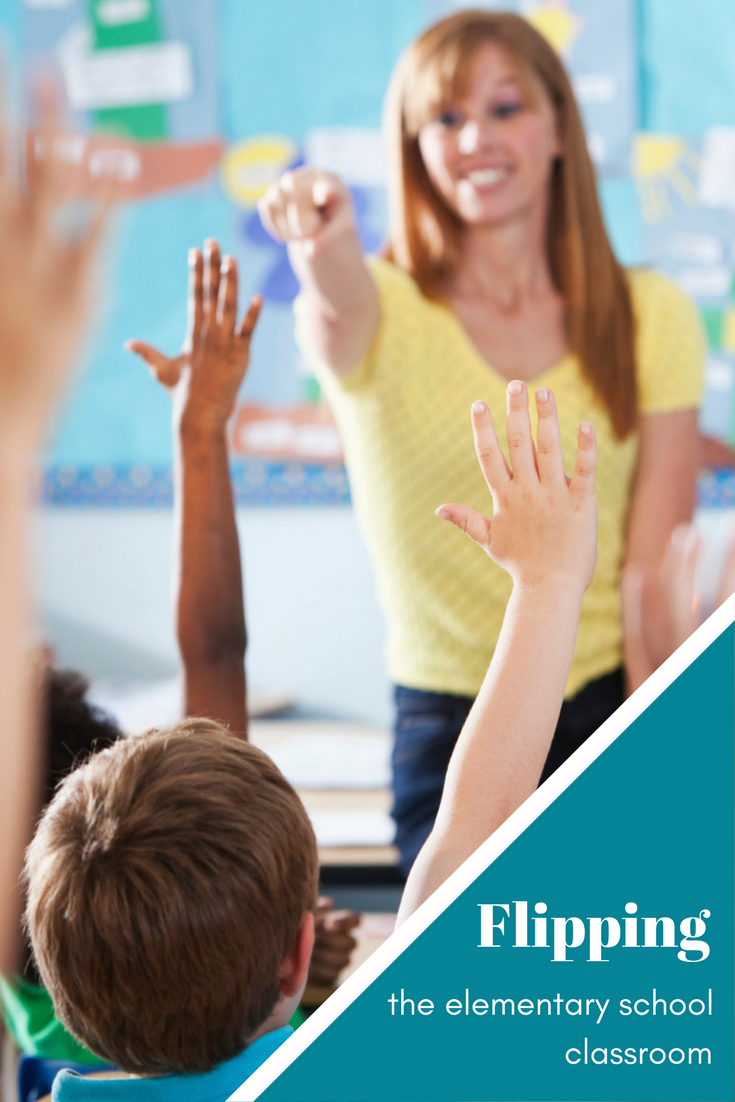 Reading

K12reader.comThis site is jam-packed with printable reading and spelling worksheets designed for every grade throughout K-12. There are also separate sections on spelling, reading, grammar, comprehension and composition. The site is easy to navigate, well-designed and the lessons and worksheets are all designed by actual teachers.
Color in ColoradoHere you will find resources for children learning English as a second language. From book lists, activities, blogs, lesson plans and worksheets this site works hard to bring ELL (English Language Learner) appropriate material into the hands of parents and teachers looking for new ways to inspire and motivate their children and students to learn English.

Behavior management

PinterestPinterest is a vibrant space for idea exchange among teachers. The pin board format makes pinning, collecting and exchanging ideas simple and productive. In terms of classroom management ideas you could wile away a few hours exploring what elementary school teachers are sharing, and what works for them. Some of my favorites are:

Miss Giraffe's Blurt Beans: A nifty reward system where students are each given five beans at the beginning of class. Beans are removed for blurting and other negative behaviors. At the end of the day, all remaining beans are placed in a reward jar. As the jar fills up, the class works towards a reward like extra recess or a field trip.
A Dab of Glue will Do's Behavior Punch Cards: Each student gets a punch card, with good behaviors listed alongside cute icons or pictures. Good behavior is rewarded with a punch hole in the card, and when the card is full students may choose from a random box of reward items.

Zoo-UThis is a vibrant online game that enables and rewards positive behavior such as compassion, caring, cooperation, and impulse control. The game is set up to "train" youngsters as novice zoo keepers where they are asked to care for the animals in the zoo. The game takes about 10 - 15 hours to complete and is designed for grades 2-4.

Maths

ZearnZearn offers its core content to teachers for free, with the option of a school-based paid account. The content is based on the common core math standard and is a blend of live action lessons and individual math-game play for most grades. The program also offers useful professional development resources.
Motion Math: ZoomThis is a free app for iPads (no Android yet) designed as a game students play while exploring how numbers relate to each other along a number line. It works with fractions and decimals as well. With individual accounts, plus a teacher account, teachers get a generalized scorecard, assisting with progress tracking.
Professional development for teachers
If you love to teach, then you should also love to learn. Ongoing professional development is not only a workplace requirement for teachers but a great opportunity to extend, expand and deepen their teaching practice.
There are a number of PD resources online specifically for elementary school teachers, many of which count as hours towards their personal PD program.
Webinars are a great way to get insight and experience "from the horse's mouth". Many experienced and awarded educators are willing to share their stories and practices online in pre-recorded webinars. Find a number of free-to-view webinars here and here.
Tech skills
Before we can effectively bring blended learning tools into our classrooms, some of us need to improve our own abilities to interact with and use the various technologies and platforms available. A few places to start that learning include:
Jennifer Gonzales's hugely popular blog Cult of Pedagogy has a wide variety of PD resources, including a few blogs on tech training for teachers.
The eLearn Magazine is a helpful resource for teachers just starting with tech in their classroom, as well as seasoned veterans of blended learning.
Education World is a well-known professional resource for teachers. Try this page to kickstart your experimentation with tech in your classroom.
Conclusion
While elementary school students need a defined balance between tech and instruction, play and practice there is, as we often say on this blog, a sweet spot where technology can be seamlessly blended with more traditional techniques to create an optimum learning environment for even the youngest student.
In any event, the internet is also filled with real-world resources like forums, printables and PD information that will certainly enhance even the most unblended elementary school classroom.