At this point, you've probably mastered the intricacies of digital conferencing to communicate with your students. You're getting comfortable with a new schedule, technology, and online grading. But, you still need a little help navigating the seas of e-learning.
So, here's actionable advice that you can use as a compass as you create a productive system for online learning. We'll explore the following:
Long-term e-learning vs emergency remote teaching
What's on the horizon of remote education?
5 tips to implement as you journey to a new world of e-learning
So, what are you waiting for? Let's set sail!
The difference between an e-learning strategy and an emergency remote teaching plan
If you weren't implementing e-learning before the COVID-19 pandemic, you likely had to respond to the crisis with emergency remote teaching (ERT) -- a temporary change in instructional operations in response to a crisis. During this time, you shifted your lesson delivery to digital channels that students could access remotely. And, it probably wasn't easy.
---
Read more: On challenges and opportunities: Emergency remote teaching
---
Now, if you were one of the fortunate educators whose institution had an existing modern learning management system (LMS), then you had an advantage because there was at least partial familiarity with distance teaching technologies and tactics. And, this would have made the transition easier than if you had not.
Still, a partial understanding isn't what you need for long-term remote teaching success. An e-learning strategy is a complete remote teaching plan with focused goals, rubrics, and defined measurements for student achievement. It is the only way to ensure that learners get the most from your course materials.
As you're getting comfortable with your shift from offline learning to ERT and you understand the future outlook of distance education, you'll realize why a second transition from ERT to an e-learning strategy is crucial.
This is the future outlook of distance learning
So that you get an idea of why e-learning is key in your line of work, look at what's been happening in education through 2019 in the United States, according to the National Center for Education Statistics.
First, the number of students enrolled in distance learning is on a steady rise.
Next, about one in three students enrolled in some form of distance learning.
And, nearly one in seven students enrolled exclusively in distance learning.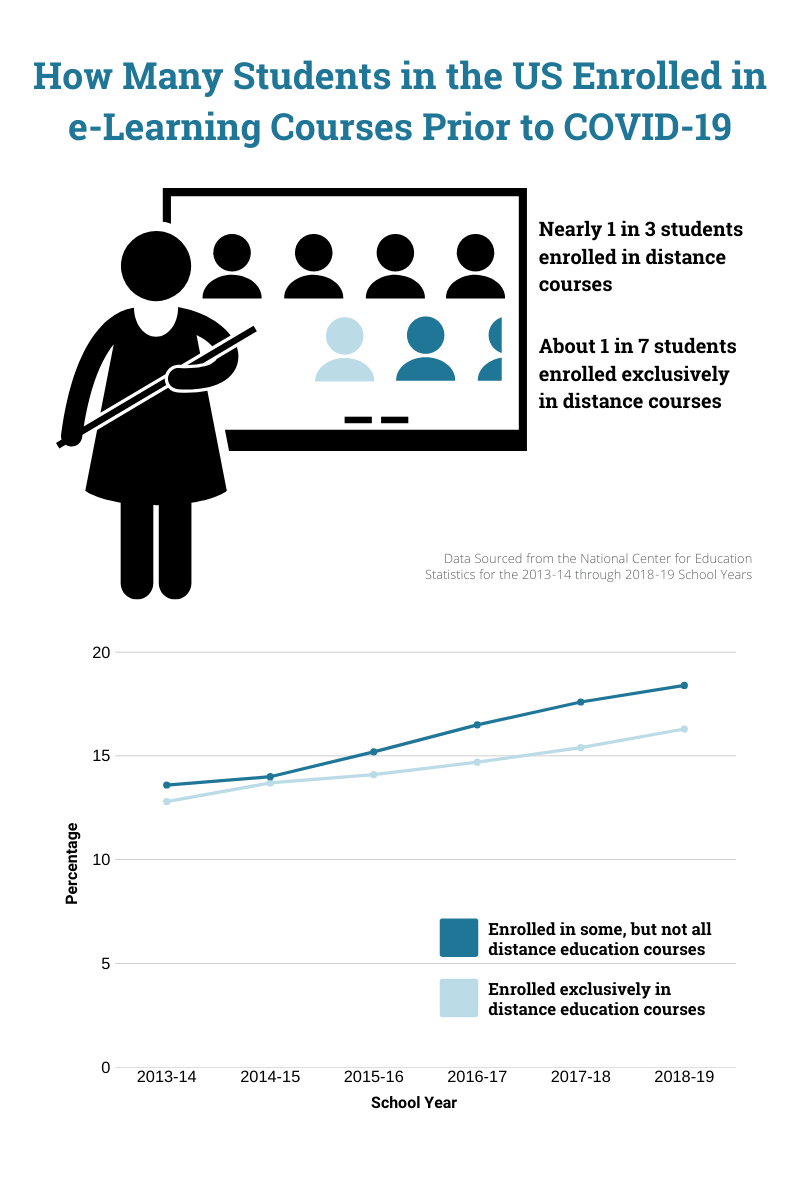 Keep in mind that these statistics are from prior to the COVID-19 pandemic. The numbers show that the current state of education (primarily ERT) is likely a catalyst for a new culture of e-learning rather than a temporary solution in a time of crisis.
Even if you plan to go back to offline teaching in the Fall, it's a good idea to acquaint yourself with the latest edtech and trends. We don't know when another crisis will strike. Plus, a permanent transition to at least partial e-learning is no longer a matter of if, but when.
---
Read more: E-learning in times of crisis: The CARE2 Framework
---
Here's what you can do to get a head start with e-learning
The advice below will help you weather the storm as you move from ERT to e-learning. Whether you're planning to implement distance teaching full or part-time, optimize the experience for your students.
Final thoughts
E-learning is more than an emergency response to a crisis. Rather, it is a solution that a majority of educators need to consider as a long-term method for teaching, at least some of the time. Use the advice above to create an optimized learning environment for your students.