Roughly ten years ago, the telecom company I worked for as an L&D specialist, decided to extend its portfolio with a satellite TV service. It was a new and exciting project that promised to bring higher revenue, a larger market share, and better brand awareness. However, when we realized how many partners and subcontractors are involved in deploying this service, it became rather daunting. This was mainly due to training logistics and costs associated with setting up an effective extended enterprise learning program. Back then, we didn't benefit from an intelligent learning platform (ILP) to help us reach and provide the same quality training to everyone.
In today's globalized economy, having all operations in-house is counterproductive (and often impossible). There is also the question of supply and retail chains. Numerous partners – franchises, distributors, resellers – keep the company running and help achieve the organization's goals. Therefore, you need to provide them with the best training possible while engaging them with your brand and boosting morale.
What is extended enterprise learning?
Extended enterprise learning is training for non-employees. Companies can't simply give everyone access to their internal online courses. First, there is the issue of information security, and second, employee training is not suitable for external partners. Since the learners don't work directly for the company, they will need a different approach, one that focuses not only on products and processes but creates a certain sense of accomplishment for representing the brand.
This is especially important for retail or customer support teams that work for several, often competing companies. Having an extended enterprise learning platform is not only for your professional partners but also for your customers, existing and potential. Here's a look at the elements to consider for your extended enterprise training management platform: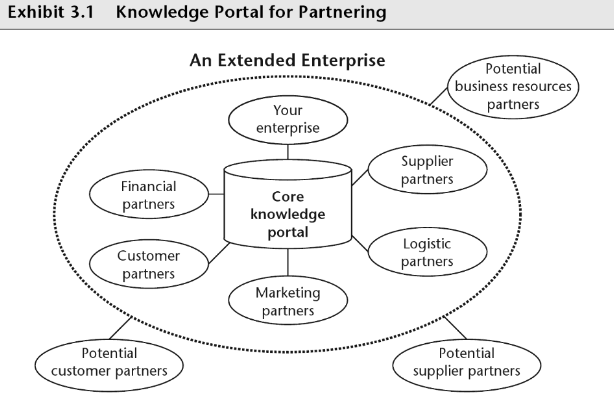 Source: IT Governance Institute, Governance of the Extended Enterprise: Bridging Business and IT Strategies
---
Read more: Why every company should consider training the extended enterprise
---
What are the top uses of extended enterprise training?
Depending on your industry, you'll have a variety of partners who need specialized training. Their role will usually decide the type of content you provide. Here are the most common uses of extended enterprise learning:
Partner channel training
If you work with resellers, they will need in-depth knowledge of the products or services, a good grasp of your processes, and skills to represent your brand appropriately. It's important to tailor training to their individual needs and focus on making them feel like part of your team, even if they are non-employees.
Franchisee training
Resellers have their own business model and provide skills training to their employees. Franchises are an entirely different story, and they will need training related to:
Products and services;

Standards, processes, and procedures;

Marketing and advertising;

Budgeting and accounting;

Business planning;

Sales systems and suppliers;

Recruitment and training of their staff.
Successful franchisee learning will help you expand your business and also gain more brand awareness in the process.
Outsourced customer experience operations
Customer support is essential for keeping and extending your client base. If you have all or part of this function outsourced, it's crucial to ensure that the people handling requests and complaints have the knowledge and the tools to do so effectively. While the main reason for outsourcing is to cut costs, quality should not suffer in the process as you need to maintain a good relationship with customers.
Customer training
If your company sells products or services that require some degree of user expertise, set up a quality learning program for customers. The content may range from tutorials and videos to e-learning courses. The keys to a successful training program for your customers are:
Establishing measurable objectives;

Creating engaging content;

Choosing the appropriate software;

Focusing on both formal and informal learning;

Getting different departments on board;

Tracking and improving the user experience;

Measuring the effectiveness of the program.
If you are not doing this already, you should consider it because there is a connection between customer enablement and increased loyalty.
Subcontractors and service providers
The most challenging part of preparing for the launch of our new satellite TV offer was training the subcontractor teams that provided the installation service. These teams had the skills to complete their tasks, so the training was mostly about learning how to represent the company.
---
Read more: Brochure: Why training partners with MATRIX LMS is the right choice
---
Building extended enterprise learning through an intelligent learning platform (ILP) in ten steps
There are two ways of creating extended enterprise learning with the help of an ILP:
The first is viable if the partner organization also has a portal on the same training platform.

In this case, you can organize a network of companies. This action doesn't merge the two portals together and each keeps its individual descriptions, administrators, groups, and policies. However, it's a great way to collaborate and share resources, create seamless learning flows and facilitate communication between partners. The main companies will retain their learning portals and add others as needed.

The second case is when the partner organization doesn't have a portal and doesn't want to get one

. In this scenario, you can create an external organization. For example, suppose you are a telecom company selling your services through retailers. You can add these external partners to your own portal and associate the learner and manager accounts with their respective organizations.
Here are the main steps to take:
1. Create the external organization
In this step, the main company's administrator can manually add the organization that is joining the extended learning network. There's a hierarchy in place so they can see the default organization (in our example, the telecom company) and the subsequent partner organizations with their lists of learners, instructors, managers, administrators, etc.
Creating an external organization allows the main company to easily create and assign training to partners.
2. Design a branded portal
Organization custom visitor portals make it easy for you to generate custom visitor views for various organizations. Each will have its own URL, course catalog, logo, pages, and more. While this function provides individualized viewing for each partner, only the admins from the main site can customize each visitor portal.
Custom visitor portals are great for showcasing your brand and training for external partners.
3. Enroll users
Companies have many options for handling enrollments. One of the easiest ways is through automated email invitations. When sending out the email invitation, the key is to pay attention so that all partner company learners, administrators, and instructors will be included in the distribution lists.
Enroll users from external partners directly or send them an email invitation.
4. Create courses for external partners
Creating online courses for your partners is not different than creating employee training. That being said, there's a case to be made for personalization. For example, you can have a general course about your products, services, and processes for all your partners and individual courses on branding.
Catalog filtering is handy as it allows you to set the viewing rights for a particular course based on any combination of user account descriptors. You can assign courses to a certain organization so that they will only be visible to those users without them showing up in the catalog for the main organization:

Certainly, there are instances when courses contain sensitive information and can only be seen by the main company's users. For example, when you're rebranding or are preparing to launch a new product line you don't want to reveal it too soon, especially to your clients.
Furthermore, when you have products or campaigns that are geographically restricted, you can filter courses by country or region to ensure they don't show up in the wrong catalog.
---
Read more: 4 Ways to make sure your training programs make an impact
---
5. Configure the course catalog
The ILP has several useful options for configuring the catalog:
Display courses for the default organization in all catalogs – when enabled, courses that are associated with the main organization will also show up in the Course Catalog for all organizations that are part of the network;

Only display courses from the default organization in the visitor catalog – enabling this ensures that only the courses from the primary organizations will appear in the Course Catalog for visitors;

Only show open enrollment courses and paths in the visitor catalog – you need to enable this if you want to display the courses with open enrollment for visitors.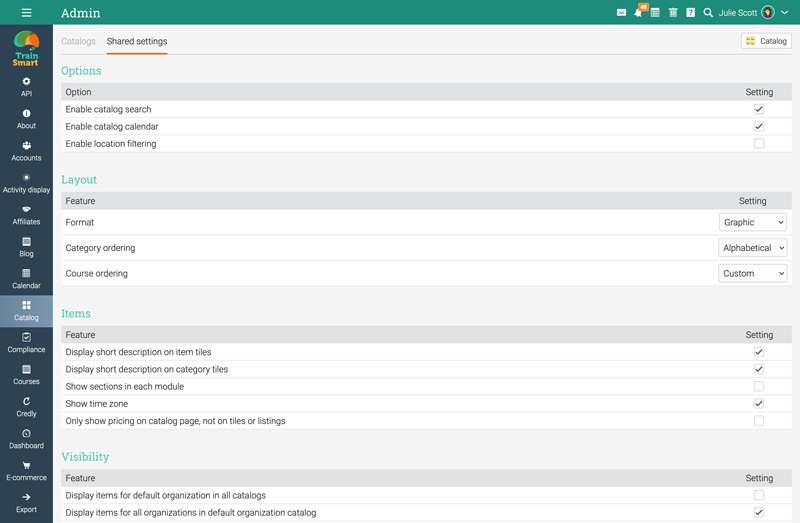 Having different options allows you to provide a smoother learning experience for your main organization and your partners. Placing all open enrollment courses in the visitor catalog works if you want visitors to simply enroll in courses, which is excellent for client training. It's also great for selling online courses to your customers. As far as the courses that are relevant for in-house employees as well as partners, you have the option to display them in all the catalogs.
6. Set up compliance courses
An ILP helps you deliver compliance training to ensure everyone is up to speed with everything they need to know about the industry and company requirements.
For instance, your partner network needs to follow the company's brand guidelines and specific standards of service. Depending on your field, there may be even government regulations in place, so offering health and safety compliance courses is a must.

Set up compliance courses to make sure that external partners are up to date with their training.
7. Resource sharing among organizations
Extended enterprise learning relies heavily on the sharing of resources. Whether this is a quality assurance certification, a handbook of company guidelines, or any other relevant piece of content, the ILP allows you to add various types of materials and make them available to the entire network.
Share your training resources (such as certificates) with partners and allow them to do the same.
8. Configure network and organization policies
Company policy documents are essential as you need to be transparent and consistent. Both in-house employees and partners need to be aware of and understand the internal rules and agree to your terms before they start using the platform.
It's also important to have organization and network policies in place.
For example, at an organization level, you can restrict the actions of the administrators, instructors and learners who are not in your default organization. In this way, you'll have complete control over your courses and content.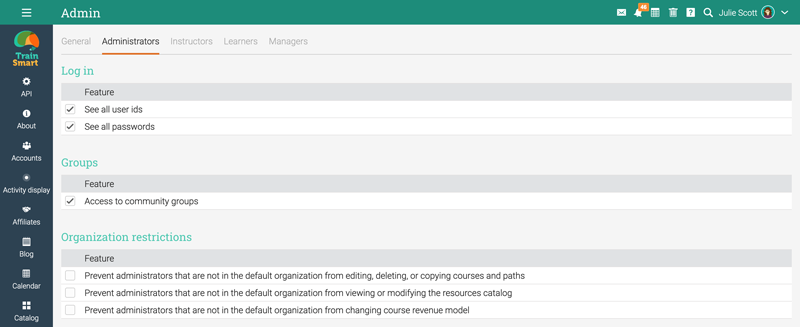 Additionally, if the companies are in a network, set up the network policies. Some examples are:
Instructors can teach any course in their network - this gives your trainers a lot of flexibility as they can easily be added to any partner organization course;

Learners can message any student in their network - this means that your network is as connected as it can be. Employees and partners can easily communicate with each other;

Learners can join any groups in their network - if enabled, partner learners can join the same groups as your employees.
Of course, all of these policies should be carefully considered and they can be changed at any time.
9. Sell courses to partners
The e-commerce feature comes in handy if you have content for purchase. Your courses can become important revenue-generating assets if you make them available to your customers or even to your extended enterprise partners. For example, you can offer the product, brand, and policy training for free but also create a Sales or Marketing academy for partners.
You can decide if you want to opt for an individual fee for each course or have your associates buy the courses in bulk. The second option works better for larger organizations. Furthermore, your partners can help promote your content through affiliate marketing, where they share the links to your online courses and receive a portion of the revenue.
10. Offer learning recommendations
The main company's admin can set learning goals for the partners. Based on these, the ILP can offer learning recommendations from various sources. The primary source will be the existing content created specifically for the extended network. This is helpful as partners don't have to spend much time curating content and enrolling their staff in various courses.
The second source is third-party content libraries (such as LinkedIn). The ILP offers the possibility of accessing valuable courses on all relevant topics. Depending on what each organization needs (complaint handling, sales techniques, customer retention skills), they can get them in the same familiar learning space.
Instead of only offering in-house content, try supplementing your training programs with third-party courses.
---
Read more: How to create personalized corporate training through an intelligent learning platform
---
Extended enterprise learning management made easy
In today's fast-paced business world, training an extended network of suppliers, franchisees, retailers and even clients is quite a large task. An ILP is your most trusted training assistant, as it offers all that you need to make extended enterprise learning as effective as it can be.