What is an Intelligent Learning Platform (ILP)?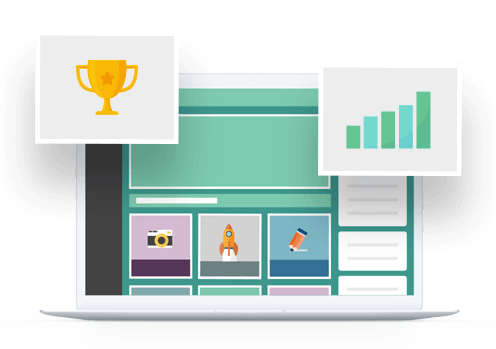 An Intelligent Learning Platform (ILP) incorporates learning goals, recommendations, automation and analytics to provide a smarter, personalized learning experience that promotes the mastery of skills and better learning outcomes.
Learning solutions are getting smarter
Learning platforms have evolved from traditional solutions to sophisticated tools that take a learner-centric approach.
PAST
Learning management systems (LMS) of the past had an instructor-first approach. They focused primarily on delivering learning materials and measuring how they were used.
This also meant that students went through courses one-by-one, in chronological order, with no way to personalize them.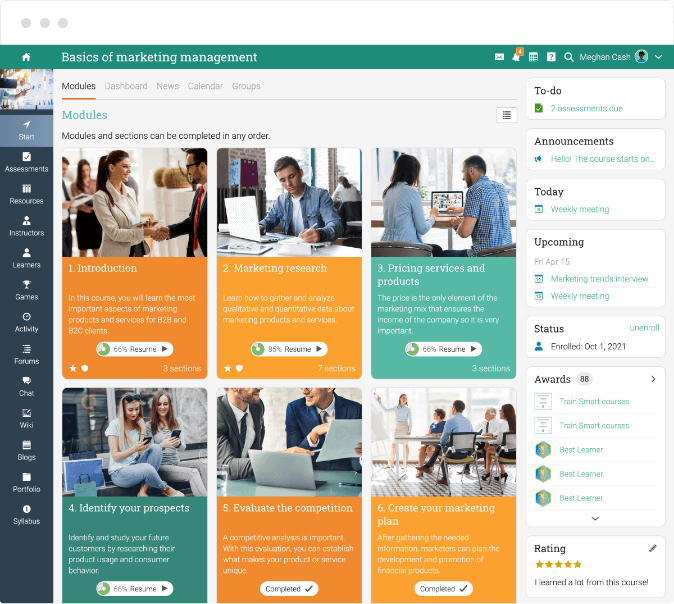 Course creation
Courses consisted of several modules, each with its own sections.
Enrolling learners
Used to be a manual and tedious process that took a lot of time.
Progress tracking
Monitored and graded learners as they went through courses.
Certification
Rewarded learners with a certificate for course completion.
PRESENT
In addition to the traditional features, modern LMSs take a learner-first approach, bringing them closer to a learning experience platform (LXP).
The focus is on engaging learners and creating a sense of community through social learning, while measuring their mastery over a specific set of competencies.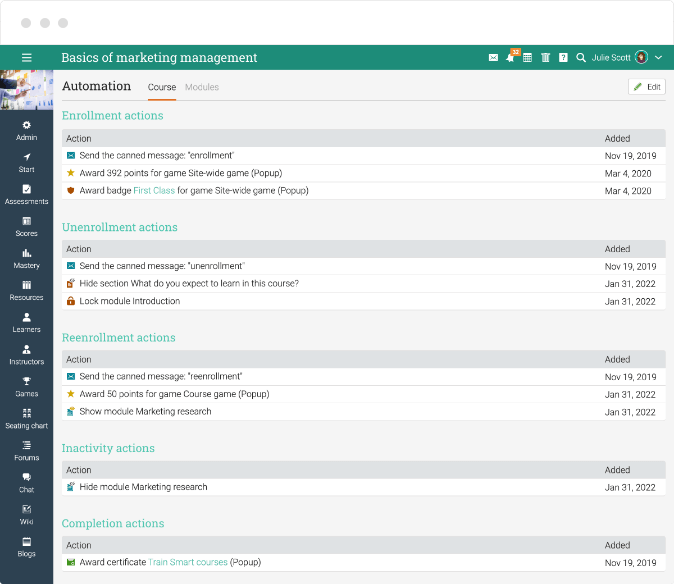 Automation
Hides or shows content based on a learner's progress.
Gamification
Makes learning fun by adding game elements to courses.
Community building
Connects learners with each other in dedicated groups.
Competencies
Measures mastery levels based on competencies.
FUTURE
The evolution of the LMS is towards an Intelligent Learning Platform (ILP), one that empowers users to do and achieve more.
With an ILP, learners get personalized recommendations that provide proactive assistance, enabling learners to see the next best actions in their journey to master goals (e.g., watch a video, participate in a Q&A, enroll in a course, join a study group, etc.)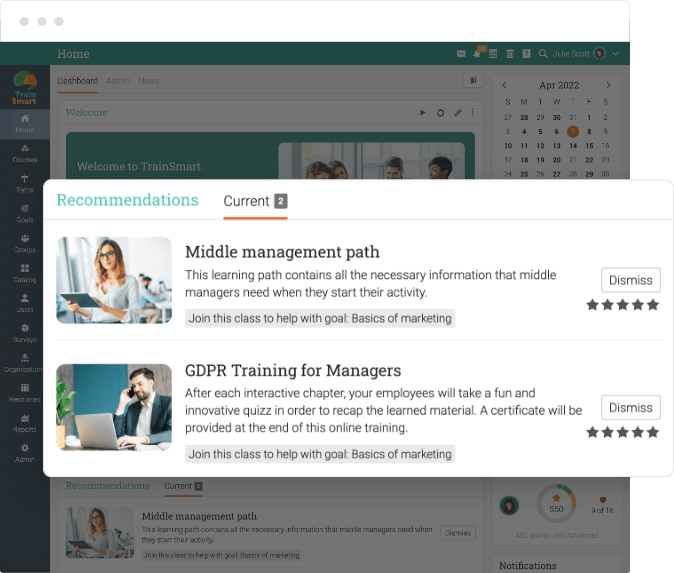 Learners, on the other hand, benefit from a personalized learning experience based on their goals and career aspirations. They also receive better guidance, as the platform will match them with other learners with shared interests and skills.
Learning goals
Improve learners mastery of skills using goals such as competencies or job roles.
Automated recommendations
Send personalized recommendations such as courses, groups, and resources.
Goal tracking
Learners can easily see their progress through mastered goals and competency levels.
Connected ecosystem
Instructors can access, enable and organize content from third-party providers.
What are the benefits of an intelligent learning platform?
As an extension of traditional e-learning platforms, an ILP can benefit schools and organizations in the following ways:
Receive automatic personalized recommendations based on goals and career aspirations
Detect at-risk learners based on their performance and progress through acquiring new skills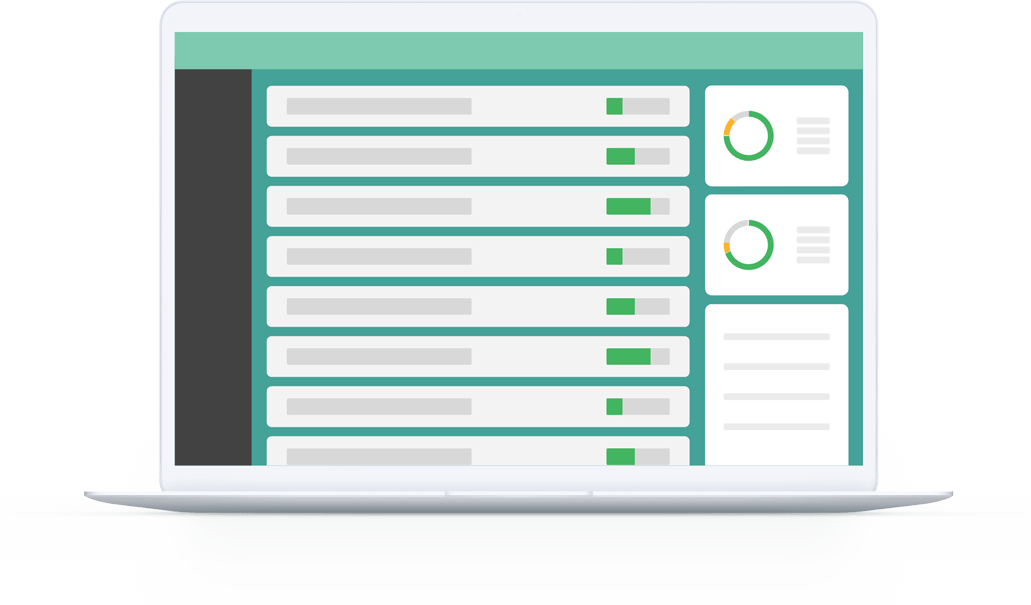 Use a skill gap analysis to determine the current skill level of learners
Broaden an organization's learning resources by integrating content from third-party providers
Who can use an ILP?
An ILP can be used by any educational institution that wants to provide a personalized learning journey for their learners based on competencies and goals.
It is also suited for companies of all sizes and industries as it guides learners to get better at their job and acquire new skills that can further their career.
Trainers
Students
Parents
Administrators
Instructors
Learners
Why choose CYPHER Learning® as an intelligent learning platform?
Monitor goal progress
Add learning goals, see related competencies, mastery over time, and much more.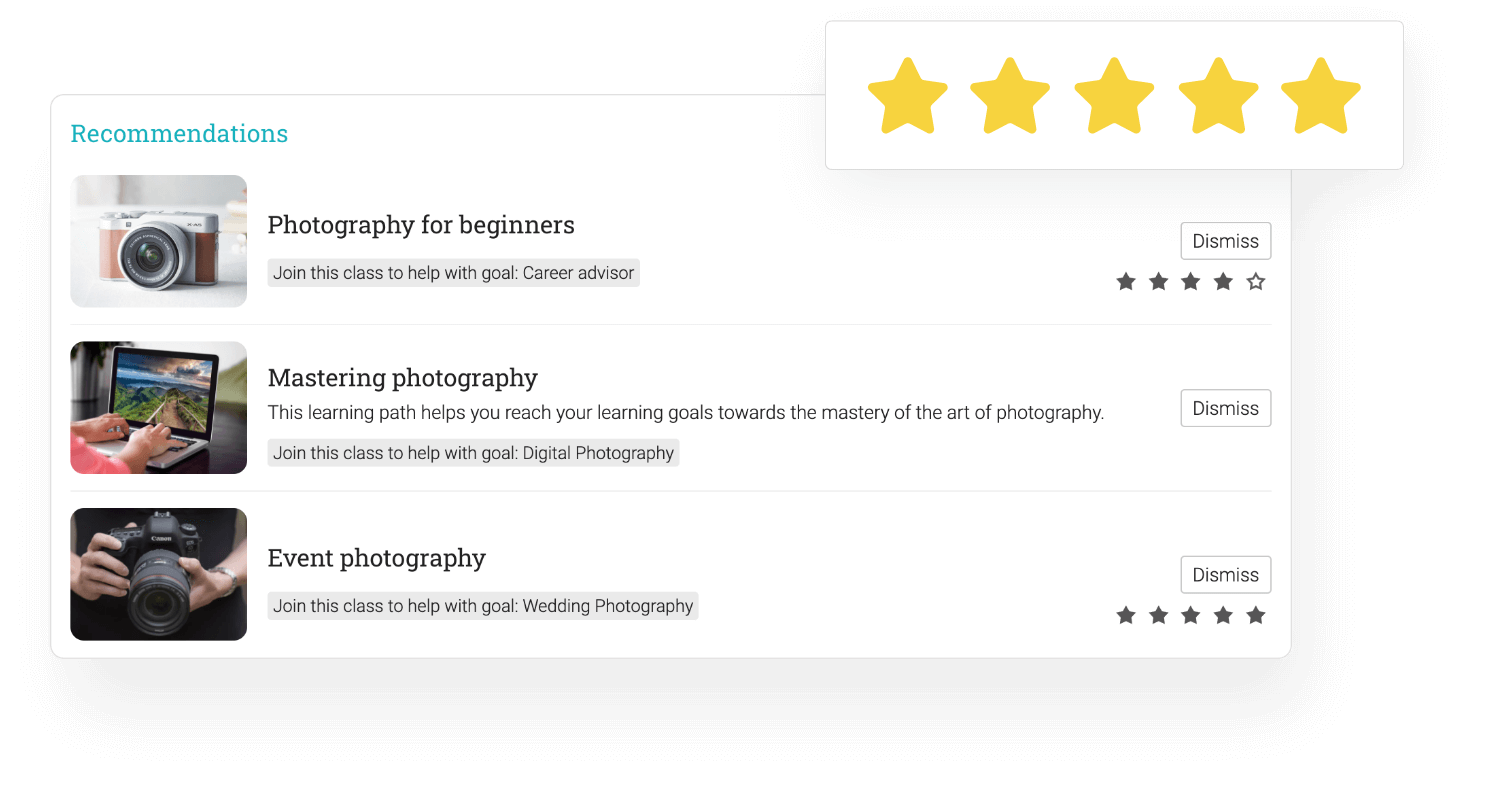 Receive automatic recommendations
The platform will automatically recommend learning content based on the learner's goals.
Provide mentoring opportunities
Enable active mentoring with the help of learners who've already mastered their goals.
Enrich your content offering
Access high-quality third-party content through LinkedIn Learning, Udemy or Go1.
The Future of learning is here.
Are you ready to design an Intelligent Learning Platform?