Integrate

all of your favorite learning tools

Get thousands of applications and services on the CYPHER platform
Seamlessly connect your third-party apps and tools
CYPHER supports a variety of integration options to meet your unique integration requirements:
Built-in
CYPHER integrates with the most popular and useful systems including Google Drive, Google Workspace, MS Teams, Microsoft 365, OneDrive, GoToMeeting, PayPal, Authorize.net, Stripe, Go1, Kaltura, and xAPI. Built-in integrations also include third-party course catalog integrations for Coursera, Go1, edX, LinkedIn Learning and Udemy that can be implemented in the App Center and rendered in the Course Catalog. 1EdTech (LTI, SCORM) are also included.
More about our Google and Microsoft integrations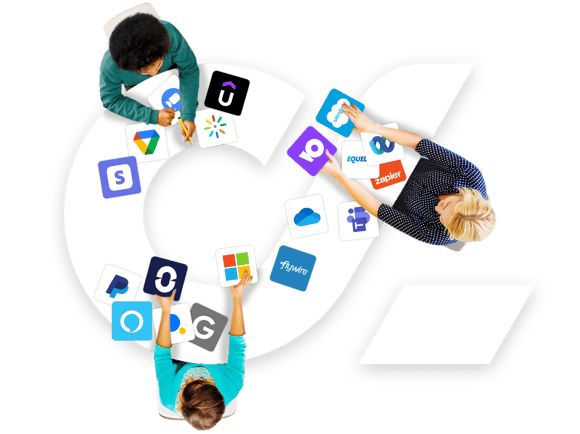 Zapier
The CYPHER platform supports Zapier integrations allowing you to easily and quickly automate processes, connect apps and automate workflow without requiring a developer's help or IT intervention. With proven and customizable integrations for over 5,000+ apps and services. Zapier integrations can save you time, automate manual processes and allow you to be more productive.
API 2.0
CYPHER enables API 2.0 integration. Access your data, connect to other systems, and automate actions like creating accounts, enrolling learners, and more. Export data to other systems and create custom integration with third-party apps.
API 2.0 promotes standardization and interoperability across different platforms and applications and works seamlessly with other systems so you don't have to worry about compatibility issues. With API 2.0's modularity, APIs are easier to use and integrate with others, which reduces development and cost while improving quality and reliability.
Connect by CYPHER
A pre-built integration tool, Connect simplifies workflow integration. Seamlessly create workflows between our learning platform and 1,000s of other enterprise applications including HRIS and CRMs. Whether it's a simple action or a complex workflow, quickly and easily create Connect workflow integrations with a point-and-click graphical interface. Use Connect to ensure that your data flows smoothly between applications based on your business scenarios and without requiring IT support.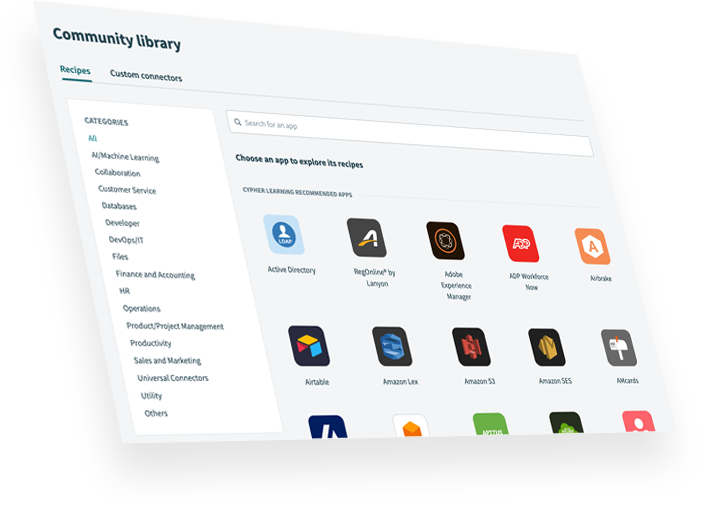 Standards
CYPHER is compliant with leading industry standards including LTI, CCF, SMTP, LDAP, SCORM, H5P, QTI, and more.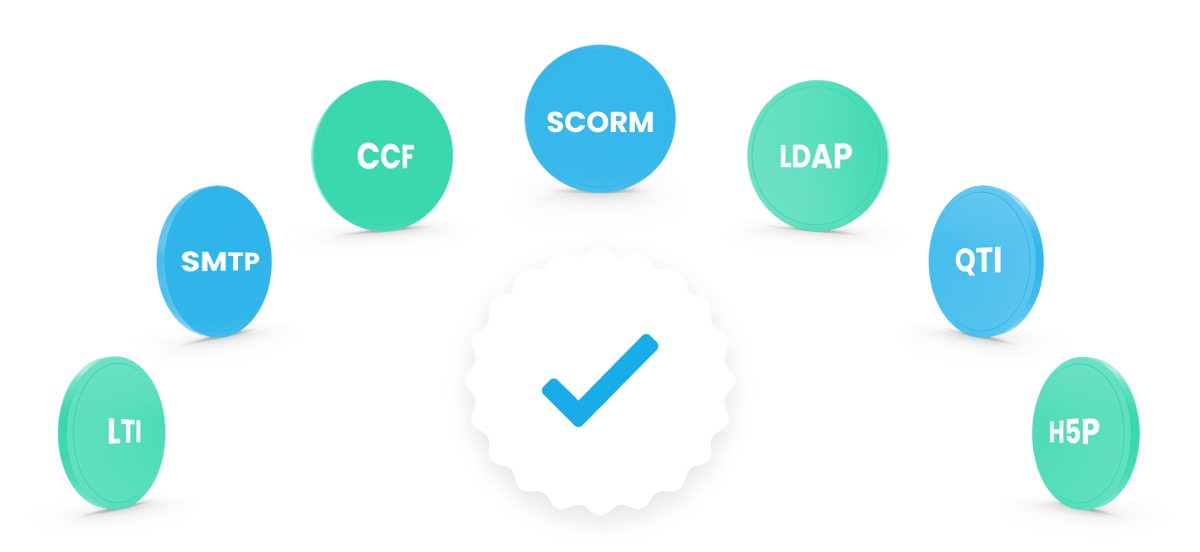 CYPHER Integrations brochure
Use the CYPHER platform with thousands of applications and services using standard and workflow integrations.
Integrations
Here are just some of the thousands of integrations that we provide.
Salesforce

Google Workspace

Google Meet

Google Drive

Google Fonts

Microsoft 365

Microsoft Teams

Microsoft OneNote

MS Immersive Reader

OneDrive

OneDrive for Business

GoTo

Zoom

Webex

Mailchimp

PayPal

Stripe

Authorize.net

Flywire

PagSeguro

PayUbiz

PayU Latam

Conekta

H5P

Udemy

LinkedIn Learning

MathJax

SAML 2.0

Auth0

CometChat

Equella

Clever

Amazon Alexa

Google Assignments
Chat with us about your integration needs