Evaluate performance
Easily track how well your learners are mastering skills
Assessments. In minutes.
AI 360 with CYPHER Copilot can supercharge your training. Create targeted assessment to track progression and identify skills gaps in under minutes.
Automation
Add actions that should be performed when learners drop below a threshold for certain competencies for a specified number of days. You can use this feature to automatically send them recommendations on how to improve in that area, or to alert instructors so they can help the learner.
Powerful scores table
Scoring is simplified using our reliable Scores table. See a centralized view of all scores, quickly add results, and make changes.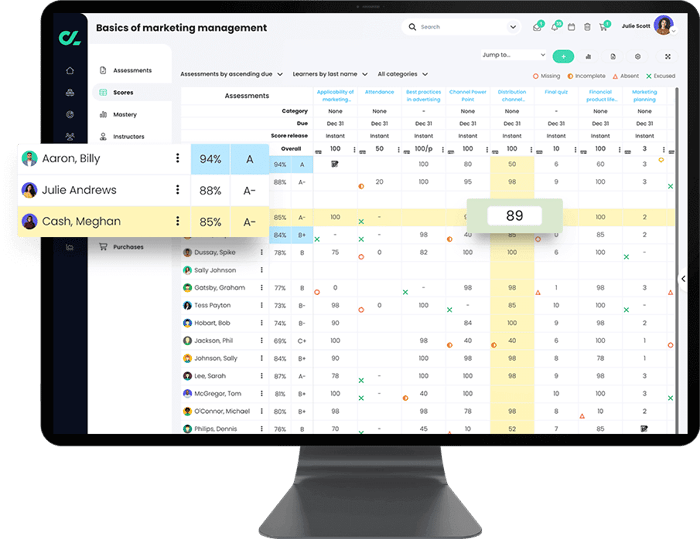 Powerful scoring system
Scoring is simplified using our reliable Scores table. See a centralized view of all scores, quickly add results, and make changes.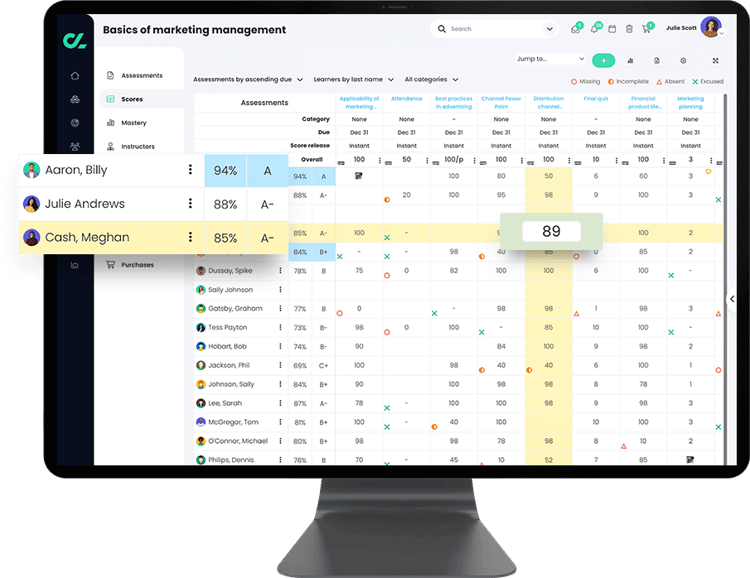 Various types of assessments
Choose from 16 types of assessments such as quizzes, essays, debates, team, Dropbox, discussion, survey, and more. Performance evaluation is easy using our scoring and personalizing tools.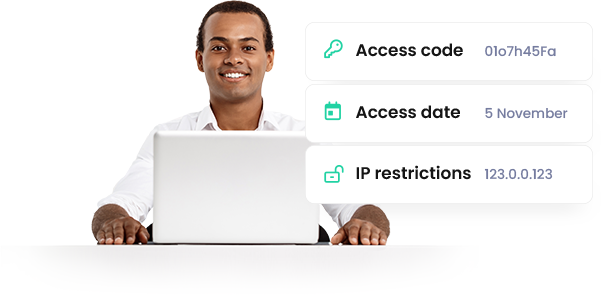 Proctored assessments
Use the proctored assessments feature to allow learners' access to assessments based on certain restrictions such as entering a secret access code or their IP address.
Embedding and annotating learner submissions
Learners can see nicely embedded PDF submissions for Dropbox and Essay assessments. Instructors can use the annotations feature to draw, add notes, or add highlights when grading PDF submissions.
Quizzes and question banks
Use tools such as quizzes and question banks to assess learners quickly. Select questions based on competencies and tags. We also support timed quizzes and instant feedback during a quiz, so learners can see their results immediately.
A variety of question types
There are eight question options available for assessing training performance. Instructors can choose between the classic true/false or multiple choice types or go with the more advanced matching or hotspot questions, among others.
Rubrics
Score assessments fast and consistently using rubrics. Build rubrics with custom criteria and associate criteria with competencies.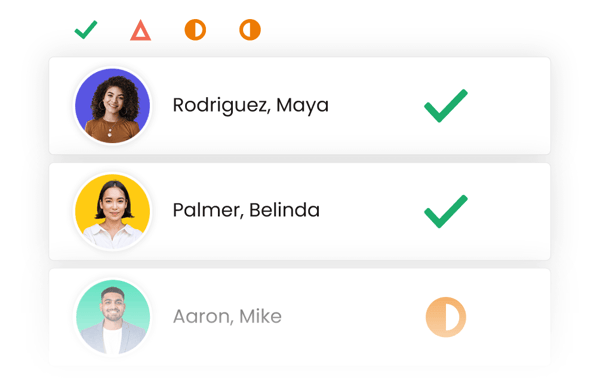 Attendance
Easily record learners' attendance during a training session and indicate whether a learner is present, late, or absent. Award points for attendance using the attendance assessment feature. Print a PDF attendance form to collect physical signatures.
Portfolios
Learners can copy their best assessments and other resources into a portfolio to showcase their work. Portfolio assets can include multimedia files such as audio and video. Learners enjoy this feature because it makes them feel accomplished and recognized.
CYPHER's modern learning platform improved the productivity of our employees.
80% of surveyed organizations rate CYPHER training performance evaluation as better compared to the competition.