Automation
Save time with automation by CYPHER


CYPHER is the only platform built around sophisticated automation from the ground up. This unique and forward-thinking approach heightens efficiency and scalability, enabling personalized learning at scale.
Course-centric automation

Enrollment, unenrollment, and inactivity actions
Trigger automations upon enrollment or unenrollment, ensuring learners are welcomed or bid farewell appropriately. Set inactivity triggers such as reminding users to visit a course when they are inactive.
Celebrate achievements
Automatically award certificates upon course, module, or assessment completion, with customized PDF certificates filled out by our system.
Score sophistication
Implement score-based rules, for instance if a learner gets a slow score, you can automatically lock subsequent modules until they achieve a certain score.
Adaptive mastery
Define mastery rules that unlock advanced modules when learners reach a certain competency level, ensuring learners are constantly progressing.
Drip content
Release course content in a structured manner, maintaining engagement and facilitating steady progress. Automatically lock/unlock courses a few days before/after they start/end.
Gamified growth
Add levels and points to your courses, automating the awarding of points and badges to celebrate every step of the learning journey.
Adaptive learning automation
Utilize adaptive learning within courses to strategically reveal or conceal content based on performance, maximizing relevance and engagement and ensuring learners engage with material that matches their skill level. Define mastery rules that unlock advanced modules, ensuring learners are constantly progressing.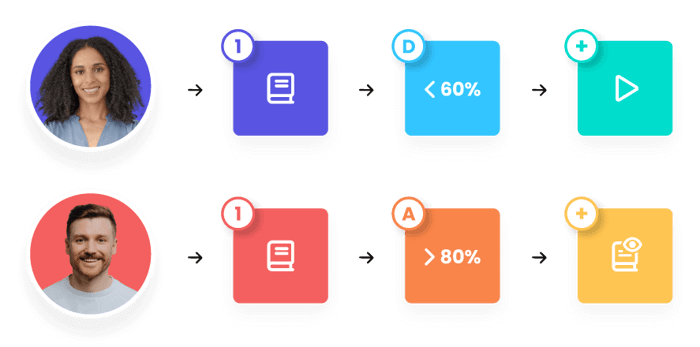 Learning path automation
Define actions that trigger with each milestone in a learner's path, from enrollment to achieving goals to path completion. Integrate gamification in paths to motivate learners, using badges and points to visualize their journey towards expertise.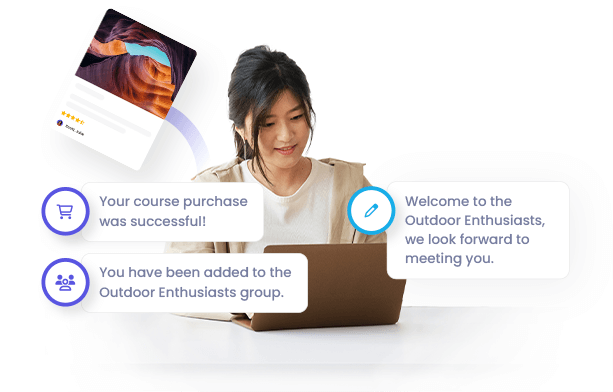 E-commerce automation
Create rules that trigger when users purchase courses, bundles, subscriptions, or media items, such as adding buyers into groups or courses that enhance their learning experience. Manage subscription dynamics, from welcoming new subscribers to addressing cancellations with automated precision.
Automation for groups
Create rules that activate when users are added to or removed from groups. These rules include adding them to learning paths and then reporting changes to an LRS through our xAPI integration. This ensures learners are always in sync with their team's educational journey.
CYPHER enabled us to train more people. It has also allowed us to free up some of our trainer's time.
Since using CYPHER, we have noticed quicker completion times, higher engagement rates, higher completion vs. low dropout rates.