Keeping your company compliant is essential as it is mandated by law in most countries. Knowing how to ensure compliance in the workplace is also crucial for employee physical and psychological safety, fighting discrimination, and protecting the company from legal issues.
However, compliance training is far from being anyone's favorite. The adjectives usually associated with it are: boring, dull, and outdated. Managers push for it because they have to, and employees begrudgingly comply, but there's generally no excitement on either side. Trainers are also not particularly fond of these sessions. While they fully understand why it matters, it's still daunting to have a room full of apprehensive learners.
With compliance being so important, it's time to up your instructional design game and makes these modules engaging, short, and easy to understand. Long and tedious classroom presentations need to be replaced with more concise and to-the-point e-learning courses that can keep the learners' attention.
What are the best practices for ensuring compliance in the workplace?
Each industry has its demands when it comes to workplace compliance. For example, there's a big difference between safety measures in an office than on a construction site. Keeping to the specifics of your company, here are some of the best practices when it comes to compliance:
Document all your processes and procedures.

The key to compliance in the workplace is to be clear on what this means. Employees should find the information easily and have no trouble understanding and applying it;

Reinforce compliance with training.

Repetition is paramount when it comes to building the behaviors you desire. Ensure that your employees benefit from short, engaging modules that remind them of all the rules and regulations they need to follow;

Use technology to make compliance easier.

There are many tools designed specifically for your company's compliance needs. Find the one that works best for you and promote it accordingly to get everyone on board with using it;

Focus on what employees should do, not on what they shouldn't.

While negative scenarios are generally remembered more than positive ones, the point of compliance is to teach your employees how they should act in various situations.
---
Read more: Why intelligent learning platforms help hybrid employees be more productive
---
How to ensure compliance in the workplace
Compliance is essential, and there is obviously no way around it. So, you must find creative ways to ensure compliance in the workplace. The first step is to create online training courses that are engaging and to the point. An intelligent learning platform (ILP) will be your strongest ally.
Here are the steps for building learning content that will make compliance training more enjoyable and effective for learners, instructors, and managers alike:
1. Outline the compliance courses
The process is similar to any other course. You must figure out what the specific needs are. In the case of compliance, you'll need to look into the legislation governing the industry you are designing for. Once you have a complete list of topics, see how many modules you'll have to build.
Avoid information overload at all costs. It's better to opt for smaller modules than cram a lot in fewer sessions. Also, employees must retain and demonstrate what they have learned.
2. Create the compliance courses
The ILP can do a lot of the heavy lifting. You can easily design the modules, arrange them however you want, and create content pages. The ILP's built-in HTML editor allows for all kinds of media, from engaging images to video and audio content.
You have the opportunity to contradict the popular belief that compliance is boring by building rich and engaging content.
Create short and concise modules that will keep learners engaged
3. Personalize the courses required for compliance
Learning needs to be personalized, and compliance makes no exception. The various functions in your company follow different regulations. The people working in the offices do not need to go through the rules for operating heavy machinery, while the employees having to operate it usually do not have to bother with the confidentiality of client information since they do not have access to it.
Just as you curate learning paths for various competencies, you need to curate compliance modules to the needs of employee groups. An easy way to do this is to create learning paths and use filters to show/hide courses required for compliance based on job titles.
You can hide/show compliance courses according to departments, job titles, and more.
4. Establish the completion rules
Skipping various sections can be catastrophic if learners ignore critical safety rules in a high-risk environment.
You can mark all sections as "required for course completion" to ensure learners cover all the content. Plus, you can also set gamification rules for completion – such as awarding badges or points that will allow learners to climb the leaderboard. Gamification is highly engaging and effective in keeping the learners focused on the content.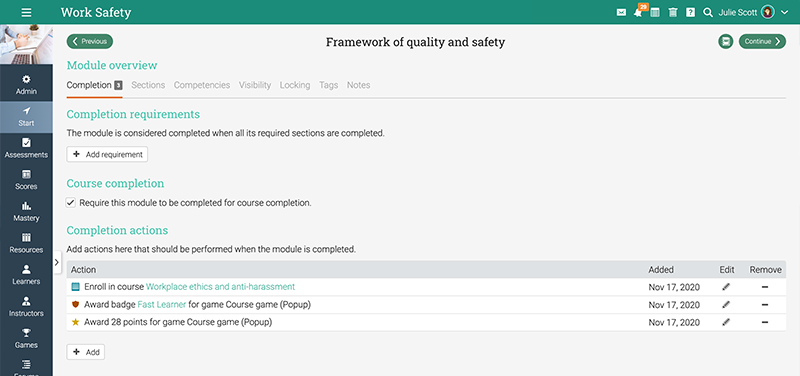 Mark all sections of a course as "required for compliance" to ensure that learners complete each module and assessment.
5. Create quizzes for self-assessment
When it comes to compliance, there is little room for trial and error when discussing safety or legal matters. The safest way to test their knowledge is through self-assessment quizzes that learners can take several times until they feel confident that they understand and remember all the relevant information from the course.
Additionally, you should focus these quizzes (and the final evaluations) on genuinely relevant and useful aspects. Enlist the help of your company's SME— this will usually be your Chief Compliance Officer — to ensure that you've covered them all.

Allow employees to self-assess their knowledge and retake quizzes if needed.
6. Configure compliance actions
Rules and regulations change, so your compliance courses need updates as well. This means that learners need to retake compliance training regularly. Keeping track of everyone's activity is important so your company does not face possible legal action for not following the rules.
The ILP lets you set the duration of compliance and an expiration countdown to let learners know when it's time for a refresh. For example, a particular course can expire after six months and employees get a notification 30 days in advance, so they'll have plenty of time to prepare for training. They can also be re-enrolled in the course automatically, so instructors don't have to add learners manually every six months.
Learners need to renew their compliance regularly, so instructors can set the duration of compliance and what happens (automatic actions) when their compliance is about to expire.
---
Read more: 4 Use cases of training automation you should know about
---
7. Set reminders for learners
People will react better to any type of training if they have time to prepare. If they have to add online courses to an already busy schedule, employees are more likely to be unengaged.
However, the ILP helps you by displaying the compliance courses on the learner dashboard and sending them reminders in advance, as seen at number six on this list. Hence, they always know what to do to be compliant. Providing them with the deadline allows users to choose when they go through the modules, and this sense of autonomy is great for engagement.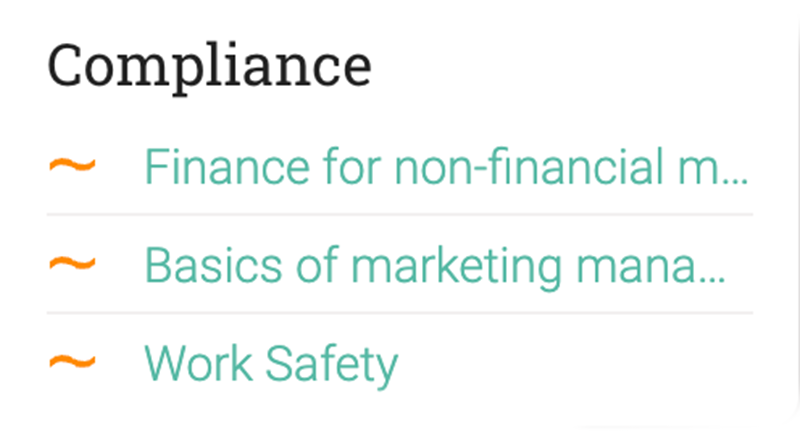 Remind learners that they should take or retake compliance courses by having them displayed on the learner dashboard.
8. Generate compliance reports
Compliance reports are very useful, both for internal and external audits. The ILP provides two built-in compliance reports: the Compliance Summary will show the list of all the courses required for compliance, while the Course Compliance report lists the courses and the compliance of the users enrolled in them.
Additionally, you can run custom reports if you need more advanced data. For example, generate a custom report if you want to see which compliance courses offer certificates of completion or the learners from a specific department who have completed a compliance course. Having all the information at your fingertips will make it much easier to ensure workplace compliance.
Compliance reports are a convenient way to quickly generate data related to compliance courses.
---
Read more: The 12 types of LMS reports your e-learning platform must offer
---
How to ensure compliance in the workplace? The ILP is your ally
Compliance in the workplace is not only essential and mandatory. Compliance training is known for being tedious, so it's time to rid it of its bad reputation.
To ensure a compliant work environment, make the most of online training. An ILP is your best bet for keeping track of compliance courses, setting reminders for employees to complete training, and automatically enrolling learners in courses, among many other benefits. The added bonus is that learners will also enjoy taking compliance training in a gamified training environment, where they can easily test their knowledge and complete modules at their own pace.