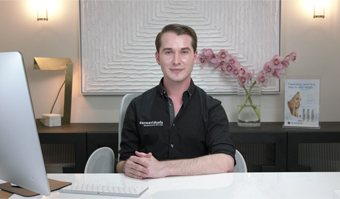 With 30 years of product development, dermaviduals' bespoke skincare range has achieved global success amongst top skin aestheticians and health professionals. dermaviduals products are manufactured by KoKo GmbH & Co.KG to the demanding standards of Dr Hans Lautenschläger, an international leader in pharmacology and chemistry. As with fingerprints, everyone's skin is unique, hence our individual approach to skincare. In 1994, Dr Hans Lautenschläger and his team of research experts created a bespoke skincare range designed to treat individual skin types and conditions, setting the products apart from the conventional blanket-approach skincare solutions of the day.
Read on to learn how Derma Aesthetics used CYPHER to train their learners in a self-paced format.
How did you find out about CYPHER?
Kai Atkinson, Educator, Derma Aesthetics: The team at Derma Aesthetics spent time researching and investigating many of the options available to create a platform that would work with our business model and provide us with a structure allowing for the continued growth and evolution of our educational courses. CYPHER Learning® was originally recommended by others in the industry and after further investigation, we decided that CYPHER was the best choice for our business.
What made you consider CYPHER as a solution?
Kai Atkinson, Educator, Derma Aesthetics: The ease of use and ability to create and upload our educational content easily. We are in control of how we use the platform and have the ability to update and manage how our platform looks and functions at the click of a button.
What improvements have you noticed since using CYPHER?
Kai Atkinson, Educator, Derma Aesthetics: Our 'Education Hub' is a major focus for our business and we have several different initiatives in place so that will see our online education portal reach even more aestheticians, not only in Australia and New Zealand, but globally. Working with CYPHER has allowed us to have a greater reach to provide education to more in the aesthetics industry.
Which 3 features are most valuable to you?
Kai Atkinson, Educator, Derma Aesthetics:
Access & Discount Codes. They provide security to our Learning Management System and allow us to provide a customised and tailored approach to our Education Hub.
The ability to completely customise our Learning Management System to reflect our company's brand colours, visuals, personality and protocols.
The impeccable support from the team at CYPHER Learning. The team are very quick to respond to online enquiries and they go above and beyond with their timely responses (regardless of time zones).
How did the adoption progress go?
Kai Atkinson, Educator, Derma Aesthetics: To simplify and streamline the registration of our learners, we created Step-by-Step Guidelines that were easy to navigate to ensure ease of understanding and a positive learning experience. We also offer prompt customer service with a direct email to the Education Registrar as well as a direct phone line to the Education Department, here at Derma Aesthetics, in case learners have any questions as they go through their materials.
What do you enjoy about working with CYPHER?
Kai Atkinson, Educator, Derma Aesthetics: CYPHER Learning have been a great support and are willing to provide additional ongoing assistance where needed. The Support Forum has been a good touch point allowing us to ask questions and continue to work on the learning platform, regardless of time zones. This makes the portal extremely flexible no matter where you are in the world.
What are the benefits of online learning?
Kai Atkinson, Educator, Derma Aesthetics: Flexibility to learn anytime and anywhere. Affordable, online courses and exclusive access to courses via Access Codes or Discount Codes. We also love how we can customize our learning platform to how we aesthetically want it.
How is the CYPHER user experience?
Kai Atkinson, Educator, Derma Aesthetics: At first it was quite overwhelming because there was so much information, but as time went on, and with support from CYPHER, it became second nature to us. Internally, following the pathway of the CYPHER style, we developed easy-to-follow and navigate guidelines to support our internal and external users who wish to complete courses within our system. We also love that we can showcase what courses are about by writing descriptions and welcome instructions for courses, as well as prompting users with pop-ups and reminders about course completion and deactivation.