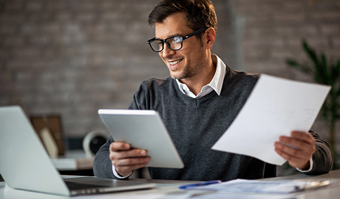 CPD for Accountants was launched in 2018. The company provides e-learning courses for accountants and financial advisors. The content they offer focuses on business development and practice management. All their courses are eligible for CPD hours. Their learners are predominantly working in Australia and New Zealand, but they also have learners based in Canada and the UK.
Read on to learn how CPD for Accountants used CYPHER to train their learners in a self-paced format.
How did you find out about CYPHER?
Dale Crosby, Director, CPD for Accountants: I was looking for an integrated LMS platform to relaunch existing online courses in a self-paced format. Based on my online research, I found CYPHER to be the most fitting option for our needs. I was attracted by the ease of transferring my existing content to CYPHER, the learner experience and the customer support I received. Given the relatively low initial investment, it wasn't a difficult decision to choose CYPHER.
What improvements have you noticed since using CYPHER?
Dale Crosby, Director, CPD for Accountants: In the last three years, there have been many small changes which have helped improve the functionality for instructors, learners and admins. It's good to see that the platform is continually being updated and enhanced.
Name three of the most valuable CYPHER features
Dale Crosby, Director, CPD for Accountants: First of all, there's the ease of access to learner details — so I can see at a glance how learners are progressing and whether they need support. Then, there's the ability to create assessments in qualitative or MCQ format; this is an essential component to the success of my e-learning courses. Finally, I'd like to mention the ability to create new courses relatively simply and quickly, as I can easily respond to industry developments and changes.
How did the adoption process go?
Dale Crosby, Director, CPD for Accountants: Our learners get basic instruction on how to use the platform. Any questions are quickly addressed on a 1:1 basis. Otherwise, no challenges. The platform is always reliable and the level of customer service is very high. We had already been running online courses through live sessions. I wanted a platform that would provide more flexibility for learners to access and complete courses at their own pace. CYPHER ticked the boxes!
What benefits of online learning do you like the most?
Sarah Blackman, learner: I like the flexibility associated with e-learning. I can access content based around my own schedule. I also like the fact that I can learn both through course content as well as assessments.
How is CYPHER's user experience?
Dale Crosby, Director, CPD for Accountants: The platform is easy to navigate. The most challenging action for learners is to set up their account, which is quite a straightforward process. Overall, the platform is easy to use.