A few years ago, the Qatar Ministry of Education and Higher Education (MOEHE) adopted an initiative, Qeducation, to develop educational curricula with a particular focus on competency-based learning designed to meet the job market needs and higher education requirements. The MOEHE chose CYPHER as the best modern learning platform to help them forward the Qeducation initiative.

In March 2023, one year after the successful implementation of the CYPHER platform for all of the public schools in the state of Qatar, CYPHER, in collaboration with the Qatar Ministry of Education and Higher Education (MOEHE), led a well-attended workshop: Providing students, teachers and parents with digital technology for learning for the private schools of Qatar to discuss the best learning solutions for advancing education. The March workshop was held to:
Provide an update on the initiative of launching the Qatar Education System and allow the MOEHE to share their experience
Discuss compelling Qatar Education platform features and characteristics
Discuss the impact of the system on the educational journey of students, teachers and parents
Extend the offering to the private schools of Qatar and create a Founding Members group
Qatar education system initiative update
Before CYPHER, the Ministry relied on a traditional LMS system and a separate, stand alone communications platform. With limited digital capabilities and without mobile device support, teachers, students, and parents became frustrated with the inability to track progress or communicate with each other. Administrators and teachers found it increasingly difficult to manage the educational electronic content, integrate with other ministry systems, create reports, or scale out to support the number of students who needed to access the system.
Compelled by an urgent need for a comprehensive learning management to help them manage the educational process, the Ministry of Education and Higher Education officially launched the e-learning management system for public schools in the State of Qatar, "Qatar Education" in January 2022. The objectives were as follows:
Meet the needs of the educational process in the State of Qatar including its future aspirations
Keep pace with global developments in modern e-learning systems
Provide all the features that educators need to create and deliver the highest level of educational content online.
Provide educational services to both students and parents
To create the best possible learning experience for their students, the Ministry of Education and Higher Education partnered with CYPHER to provide Qeducation.
Positively impacting the educational journey of students, teachers, and parents
In 2022, when Qeducation was implemented, Qatar's education system was enriched with many new classes, videos, and content for a more enjoyable learning experience. Adoption rate in the first month of teachers and students from grade 3 to grade 12 registered on the system was 99% and 91% respectively. And engagement of students, teachers, and parents skyrocketed.
Education


Teachers reported that it was easy to create fun and motivating lessons for students, and that the new learning platform offered a diversity of learning styles including face-to-face education, self learning, blended learning, and micro-learning. Teachers and administrators immediately realized the implications of building automated learning paths, as well as being able to more accurately evaluate student progress available with analytics and reporting tools.

Designed to be simple and easy for students, the stylish and intuitive user interface was well-received. With a mobile application and device support, and tools to increase student motivation and participation, student engagement increased, and students participated more with the ability to interact with the lessons at any time and place and on any device they chose for learning.
Gamification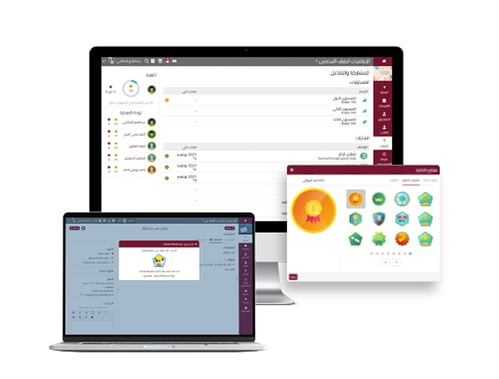 Gamification was a popular topic of the discussion. There seemed to be unanimous agreement that one of the most engaging and impactful features of Qeducation is the site-wide gamification. Taking a proactive and intelligent learning approach, teachers are able to quickly make courses engaging, competitive, and fun by gaming them. Teachers have also quickly discovered how easy it is to build automation-based games where students can earn points and badges as rewards for completing goals during course activities. And the students are responding and trying to put their name atop the leaderboard. Team games with Qeducation were also reported to be highly effective in motivating students to participate in group learning activities.
Cooperation and collaboration
One of the most important features of Qeducation has been the ability to connect through community. Connection and community are crucial for effective digital learning, which is why communication was built into the platform. By prioritizing the ease of communication between teachers, students, and parents, as well as providing a safe means of collaboration and sharing, Qeducation creates a sense of belonging and support that is essential for learning success. Students and teachers also appreciated the variety of interactive tools such as chat rooms, forums, groups, blogs, and more.
Assessment
The accurate assessment of competency is crucial in competency-based learning as it ensures that students have truly mastered the required skills and knowledge. Qeducation allows students to create personalized learning paths and targeted interventions to support students in areas where they may be struggling. These assessments are leading to a more effective and efficient online learning experience for students improving overall learning outcomes:
Multiple question patterns up to 14 patterns
Mathematical and scientific equations
Assessment using Rubrics verbal rating scale
Assessments linked to learning outcomes so student proficiency can be analyzed
Dynamic in considering individual differences and student completion procedures for assessments
Protect tests with a password and close the browser
Detailed grade history and analysis of students performance
Increased Motivation and Participation
Increased motivation and participation means students are actively engaged and invested in their coursework. Both teachers and students are empowered by the ability to link and align lessons and assessments to learning outcomes. Factors leading to a more positive and productive learning experience included:
Motivating students by using gamification and integrating it with learning
Awarding points and badges, and maintaining leaderboards, creating printable motivational certificates
Awarding certificates upon completion of course or learning paths
Being able to more granularly analyze how students achieved learning outcomes
Analysis and Reporting
Without analysis and reporting, it's difficult to glean valuable insights into the performance of students and the effectiveness of their learning resources. Qeducation allows teachers and administrators to analyze data on student behavior, performance, and progress, identify areas where students are struggling and adjust the curriculum accordingly. Reporting allows them to promote transparency and accountability, and ensure all the stakeholders are aware of progress through:
Centralized reports that display immediate information
Custom generated reports
Analytics that measure student progress
Libraries of Digital Resources
Qeducation provides teachers and students with three types of source libraries and digital content that are rich with quality content, easy to use, and accessible to all parties in the educational process. Teachers and students found the resource libraries intuitive and accessible to all parties in the education process.
Qeducation extended to the private schools in Qatar
During the workshop, and in collaboration with the MOEHE, CYPHER extended the Qeducation offering to the private schools in attendance, and many of those schools immediately joined. Subsequently, a group of new founding members was formed. In the second part of this blog series, we'll announce and welcome those new members. In a third, final blog post we'll talk about recent recognition that MOEHE has received for educational excellence and innovation.
Ready to experience firsthand how CYPHER can help your organization with a competency-based learning approach to make learning, fun, meaningful, and effective for modern learners? Schedule a free demo.